LCSTARs
The LCSTARs page was established to recognize the achievements of team members who have gone above and beyond the necessary requirements to be a professional search and rescue person. They are truly an inspiration to other team members. It is also about getting to know our fellow team members and getting a peek at what makes them tick and some insight into the diverse kinds of people that join the SAR community and what they find so captivating about their experience.
Don Davis
by Julie Rasmussen -- Published Summer 1995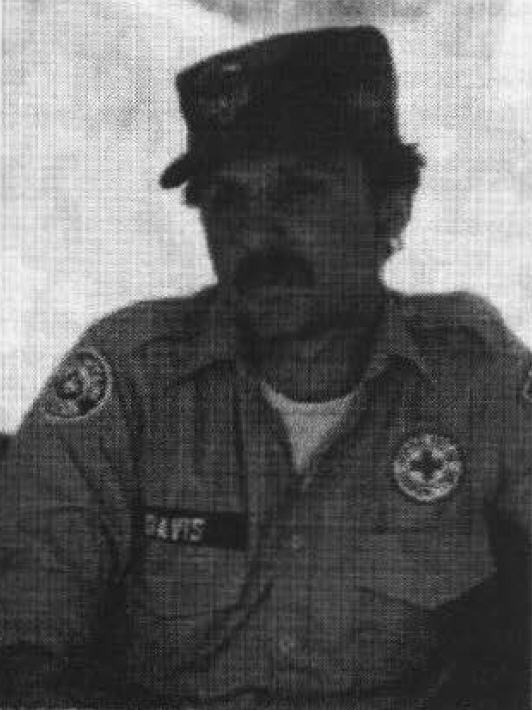 The LCSTAR for this edition of the newsletter is a team member who has been very instrumental in the team's growth and transition for almost fifteen years. Many of his values, such as dedication, goal setting, and promoting a professional image, are applied to his work on the team as well as his personal life.
Formulating and achieving goals has been part of Don Davis' life since he was a boy back in Cleveland, Ohio and he continues to set and work toward them. "l'm doing what l enjoy in life", he says. One of his early dreams as a boy was to move to Colorado, which is now home and has no desire to return to Cleveland. He'd always loved the outdoors and moving to an area like Colorado was particularly attractive. He now lives on ten acres on the outskirts of Loveland with Lynda, his wife of 21 years. He'd dreamed of having a horse someday and, after moving here, took a class at CSU on horseback riding. His menagerie now consists of a horse named Whisper, a dog named Guy, and a cat named TC.
The opportunity to move to Colorado occurred in 1979 when enticed by an employment offer at Hewlett Packard. There he worked as a computer programmer analyst. After nearly eight years at HP and in the computer field for fifteen years, burnout was setting in. "It just wasn't fun anymore", says Don, and he left. As far as careers, Don figured on having two in his lifetime, one being 180 degrees from the other. His next career was just that.
What started as a hobby while he was still at HP, is now Blades Unlimited, his work and his passion. He's had an interest in knives since he was a kid and in 1980 started buying equipment and working his first accounts on Saturdays and week nights. From this, Don developed a knife sharpening business which he sold about a year ago, concentrating his efforts now on creating custom knives. Advertising is by word-of-mouth and Don says, "you have to blow your own horn and tell people you make the best knife in the world, which I do!". The blade making part is coming along real well now and he's interested in knives not only for their functional value but also as a piece of artwork. In the future he wants to do engraving on knives as well as learning how to make Damascus steel, a hand-forged process where two different kinds of steel are layered together to come up with a pattern in the steel. Speaking of artwork, few know of Don's alter artistic talents. In addition to knife making and occasionally nurturing Bonsai trees, he's a painter too. Yes, he speaks with his hands as he oil paints as well! The subject matter he paints is generally outdoor scenes. He wants to take more classes; "I have the ability to be an artist, I just need to develop it", he says.
Don's interest in SAR originated when he was in 8th grade. To him, the most intriguing notion was how people survived overwhelming odds. One of the first books that piqued his interest was The Raft by Robert Trumbull about a man who survived on a raft on the ocean for more than 30 days.
In early 1981, Don attended a presentation about the team given by LCSAR member Ken Miller. Without hesitation, Don joined immediately. During the first year, his personal goal was getting through the new member training program and going to executive board and training committee meetings. He was interested in who the leaders were and how the team operated. Then he concentrated on getting experience. He became a team officer, a SAR manager and started working with the Sheriff's Department to develop a good rapport. At one time he was the only SAR manager. That particular year, he was involved in almost every mission there was. He has been a training officer, secretary, field coordinator, SAR manager and fund raiser extraordinaire! Don was involved for about a year in the early 80's working with Toyota Motor Sales USA. In celebration of their 25th anniversary, Toyota was donating trucks. Don 's persistence paid off after many midnight phone calls to the Toyota representative! In short, that's how we acquired our Toyota team truck.
Don's a major force behind some our biggest fund raising efforts. Currently, he's working with Papa Bear Whitmore's Wilderness Institute of Survival Education. Don met Papa Bear in the early 1980's through the Institute and recently has been assisting with teaching classes. Recent classes held through REI were met with great public favor. Most recently, Don coordinated the team's efforts to teach a map and compass class to the public through REI. Evaluations of the class were very positive and encouragmg. Future plans are to continue teaching as well as be involved in other PSAR and fund raising activities.
The most memorable experience for Don is not any one specific incident but seeing the growth of the team and being involved in building it to where it is today. "Teamwork skills are especially important since we're all volunteers," says Don. "It's important to create an atmosphere of wanting to come back. The nature of the group creates that atmosphere." The team philosophy has also been that the old hands need to stand back and let new people take over; that's what has happened through the years. The biggest lesson learned from the team is how to get along with people. "I've learned more on the team in that vein than any job I'd ever been on!". The best experience is when the person you're looking for is found, they're O.K and seeing the relief in the family's face with the delivery of good news. But, it's not all work and no play. Just wait till December rolls around! Every year, during the team's Christmas party you can bet some unsuspecting (and slightly embarrassed!?) soul will receive the Davis Brothers award. It was awarded to Don, who received it the first year and Drew Davis who received it the following year. The award is graciously passed on each year to a team member whose remarkable verbosity has not gone unnoticed by other team members.
Although fun to tease and quick to laugh, Don's hard work and vision has, over the years, propelled the team forward and has, in many ways, made it what it is today. Thanks, Don for the continued hard work. It definitely would not be the same team without the influence of your vision, professionalism and willingness to set goals and work toward them for the benefit of all.