LCSTARs
The LCSTARs page was established to recognize the achievements of team members who have gone above and beyond the necessary requirements to be a professional search and rescue person. They are truly an inspiration to other team members. It is also about getting to know our fellow team members and getting a peek at what makes them tick and some insight into the diverse kinds of people that join the SAR community and what they find so captivating about their experience.
Kristi Ingram (Doody)
by Julie Rasmussen -- Published Spring 1994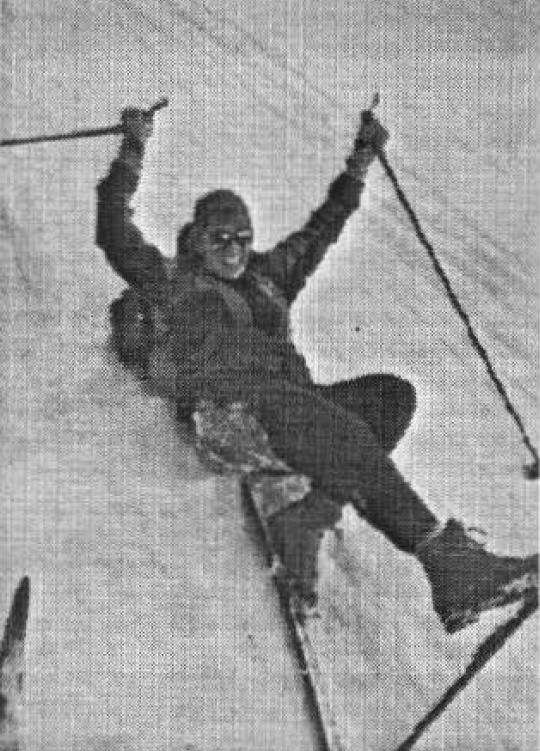 She calls it a transition. It truly was a passage from one place or state to another, literally and figuratively. The move to Colorado in a blizzard was just the beginning of the adventures Kristi Ingram was to encounter after her move west. In January of 1991 she headed from Minnesota. where she'd lived for seven years, to Colorado; unemployed and knowing no one.
First impressions reveal an outgoing, vibrant, and confident woman with a passion for learning."I want to see and do a little of everything." Kristi says, but claims she hasn't always been so extroverted. The move to Colorado on somewhat of a whim, for her, was a transition time in life.
Kristi spent her youth in Chapel Hill, Spruce Pine, and Durham, North Carolina. Her parents live and continue to work the orchard in Spruce Pine that they bad when Kristi was growing up. She has one older brother who now lives in Columbus, Ohio. They worked in the apple orchard and on the one-acre family garden. The four raised a varied assortment of apples which they sold through a co-op. Though her father was an accountant by profession, he was a horticulturists son, who'd rattle off the Latin name of the plants which, for Kristi, the common name would do just fine!
Much of her younger years were spent indoors as an introverted bookworm (hard to believe, bub!?). She says, "I'd read a lot; all that I could get my hands on." Citing the Hardy Boys as a particular favorite, she tells of a photograph her Mom took of Kristi with the library's entire collection of Hardy Boy Mysteries. There were two stacks, like an "in" and "out" pile. In retrospect, Kristi says those adventures quite possibly inspired her now budding "hero complex".
At sixteen, she went back to school in the area where she grew up and was enrolled in an experimental program. She says she learned more in those last two years of high school than she did in college.
Kristi was inspired, probably most through the family business, to pursue biology and botany. She applied to four colleges, didn't like the first three she visited and chose St. Olaf College, sight-unseen. St. Olaf is a small liberal arts college in Northfield, Minneapolis, south of Minneapolis. Her undergraduate work is in biology and her graduate degree is in botany and ecology, which she earned at the University of Minnesota in Minneapolis/ St. Paul. In 1986, during her junior year in college she spent a month in Ireland studying Irish literature.
At a party in 1993, Kristi met SAR members Roger Weir and Vicky McCarley. While inquiring about the fire crew they also told her about search and rescue. Shortly thereafter the ambitious new recruit voraciously joined team activities, hungry for fun and adventure. She also has taken a one week fire training course and is looking forward to getting into the heat as the season unfolds. As one of the most active new members, she is now S2 rated, gaining new skills and working this year as Secretary/Vice-President.
Her passion to participate in team missions. practices and EMT classes gives her an outlet, a focus for all her energy. Recently she used her EMT training to assist a diabetic woman in insulin shock (and she wasn't even trolling, or was she?!).
The Division of Wildlife hired her recently as an assistant volunteer coordinator for the Northeast region and she loves it! The job involves database management, volunteer contact and project coordination. She sees it as a big step forward in the long run although right now it's a seasonal position. She likes the people she's working with who, incidentally, are 100% behind her SAR team efforts.
As far as other interests go Kristi likes to spend time with her friend, Don and go cycling. Piece by piece she is working to complete her brother's wedding present quilt that she hopes to have done before their fifth wedding anniversary! She'd like to spend more time too, travelling and exploring the West via hiking and backpacking. To the team she expresses, "Thanks, to my adoptive family". She values the personal challenges provided and extends thanks to all those who have helped her overcome some obstacles when she has wanted to turn back but decided to go on.
Thanks, Kristi for a great interview and for letting us get to know you a little better. It's interesting to note the remarkable positive transition the team's taken since you've joined.