Larimer County Search and Rescue
Mission Reports 2009
December 25, 2009(Friday/Christmas) - Wellington - Runaway Angry 18YOA Mentally Disabled Male
December 10, 2009(Thursday) - Overland & 287, Laporte - Missing Male From Rollover Accident
November 12, 2009(Thursday) - Loveland 16th & Jefferson - Missing 82YOA Male
October 31, 2009(Saturday) - Blue Lake Trail - Overdue Skiers
October 27, 2009(Tuesday) - Red Mountain Open Space - Overdue Runner
October 25, 2009(Sunday) - Lake County Colorado, Dog Request for Missing Hunter
October 15, 2009(Thursday) - Fort Collins Fossil Creek, Missing 6YOA Balloon Boy
October 11, 2009(Sunday) - Sand Creek Pass, Missing Hunters
October 8, 2009(Thursday) - Greyrock Meadows Trail, Three Disoriented Hikers
October 3, 2009(Saturday) - Near Horsetooth Resevoir, Fallen Hiker
September 30, 2009(Wednesday) - Pingree Park, Missing Hiker
September 23, 2009(Wednesday) - Loveland Sylvandale Ranch Area, Lost Fisherman
September 19, 2009(Saturday) - Lory State Park/Lodgepole Drive, Female Fell Down Cliff
September 11, 2009(Friday) - Pingree Park/Signal Mountain, Missing Deputies
September 13, 2009(Sunday) - Storm Mountain Area, Archery Hunter with Heart Problems
September 11, 2009(Friday) - RMNP Long's Peak Trail, Missing Suicidal Male
September 6, 2009(Sunday) - Bellaire Lake, 17YOA Stuck Climber
September 5, 2009(Saturday) - Brown's Lake, Missing 16YOA Male Hunter
September 5, 2009(Saturday) - Estes Park - Missing 8 YOA Subject
September 4, 2009(Friday) - RMNP Odessa Lake, Carryout Fatality
September 4, 2009(Friday) - Lory State Park, Carryout Female with Broken Ankle
September 4, 2009(Friday) - Loveland Riverview Campground, Missing Blind Male
September 4, 2009(Friday) - RMNP Long's Peak, Medivac Hiker Who Fell
August 27, 2009(Thursday) - Estes Park, Search Elderly Male with MedicAlert Bracelet
August 16, 2009(Sunday) - Crystal Lakes, Evidence Search
August 12, 2009(Wednesday) - Mount of the Holy Cross, Assist to Vail Mountain Rescue Group
August 11, 2009(Tuesday) - Rawah Lakes - Possible Evac, Stroke Patient
August 9, 2009(Sunday) - Horsetooth Mountain Park(Falls), Carryout Fallen Hiker
August 8, 2009(Saturday Evening) - RMNP - Carryout Asssist, Broken Leg
August 8, 2009(Saturday Afternoon) - Round Mountain, Carryout Female with Broken Ankle
August 5, 2009(Wednesday) - Wellington Lake, Hwy 285 Near Evergreen, SAR Dog Request From Alpine SAR
August 3, 2009(Monday) - Lory State Park, Injured Mountain Biker
August 2, 2009(Sunday) - Harmony Gardens Fort Collins, SAR Dog Request - Dive Team Assist
July 26, 2009(Sunday) - RMNP - Carryout Asssist at Black Lake
July 24, 2009(Friday) - East Side of Horsetooth Resevoir, Missing Suicidal Subject
July 23, 2009(Thursday) - Blue Lake Trail Poudre Canyon, Carry Out: Person with Altitude Sickness
July 23, 2009(Thursday) - Soapstone Natural Area - Carry Out: Subject Fell Off Horse
July 21, 2009(Tuesday) - Fort Collins/Lamay & Stuart - Walk-away Alzheimer's Patient
July 19, 2009(Saturday) - Poudre Canyon - Overdue Father & Son
July 18, 2009(Saturday) - Long Draw Resevoir Area - Code Black Carry Out
July 15, 2009(Wednesday) - Boulder County - Search Assist Suicidal Female
July 14, 2009(Tuesday) - Lilly Lake RMNP- Fallen Female Climber
July 13, 2009(Monday) - Chaffee County - SAR Dog Request/Missing 4YOA
July 9, 2009(Thursday#2) - Crosier Mountain- Missing Hiker & Dog
July 9, 2009(Thursday) - Rocky Mtn National Park / Ypsilon Peak- Missing Hiker
July 8, 2009(Wednesday Afternoon) - Poudre River MM102 - Motorcyclist in the River
July 8, 2009(Wednesday) - Mountain Park - Missing Camper
July 7, 2009(Tuesday) - Grey Rock - Missing Hiker & Dog
July 3, 2009(Friday Evening) - Crosier Mountain - Injured 14 YOA Horse Rider
July 3, 2009(Friday) - Crown Point Road - Lost 12 YOA Male
July 2, 2009(Thursday) - Boulder County, Nederland Resevoir Possible Drowning - SAR Dog State Request (SARDOC)
June 29, 2009(Monday Evening) - Lory State Park (Timber Trail) - Mountain Biker Crash
June 21, 2009(Sunday Evening) - Poudre River - Dive Team Assist
June 21, 2009(Sunday) - Greyrock - Curious Scrambler
June 14, 2009(Sunday) - Pingree Park - Missing Intoxicated Males
June 14, 2009(Sunday) - Pearl Beaver near Homestead - Missing Female Runner
June 9, 2009(Tuesday) - RMNP, Above Emerald Lake - Fallen Climbers
June 7, 2009(Sunday) - Tom Bennett Campground - Lost Camper
June 6 and 7, 2009(Saturday/Sunday) - Chambers Lake - Missing Person, Autumn 2008
June 6, 2009(Saturday) - Stone Mountain - Lost Hiker
May 30, 2009(Saturday) - Beaver Meadows - Fallen Horseback Rider
May 25, 2009(Monday) - Sand Creek Pass - Missing ATV'er
May 8th, 2009(Friday) - Horsetooth Mountain - Fallen Climber
May 2nd, 2009(Saturday) - Old Flowers Road - Overdue Runner
April 25th, 2009(Sunday) - Old Man Mountain - Stuck Female
April 20, 2009(Monday) - Dixon Dam, Horsetooth Resevoir, Deceased Subject Carryout.
April 11, 2009(Saturday) - Saguache, CO. - SAR Dogs Request
April 10, 2009(Friday) - Blue Lake Trail - 4 to 5 Overdue Snowshoers
April 9, 2009(Thursday) - Sand Creek Pass - Overdue Hiker
March 15, 2009 (Sunday) - Bald Mountain - Overdue Hikers and a dog.
February 20, 2009 (Friday) - Corral Creek, 9 miles up Long Draw - SPOT Activation
February 7, 2009(Saturday) - Lion Gulch - 2 Overdue Hikers


December 25, 2009(Friday/Christmas) - Wellington - Runaway Angry 18 YOA Mentally Disabled Male
Located by deputies and Fort Collins Police Services 9 Miles from home as searchers were arriving on scene. According to police and Sheriff reports, the subject had to be subdued by officers and was in posession of a large knife. Details appeared on the Larimer County Sheriff's website's "Bulls-Eye". Bulls-Eye
**LCSAR MISSION REPORT PENDING**

December 10, 2009(Thursday) - Overland & 287, Laporte - Missing Male From Rollover Accident
This would have been a COLD one!! Glad it turned out the way it did! Thanks Mark for responding so I could track... I think! I was getting information from O-3 and he was going to send me up to the site to get started when the subject was located (See mission report below) BTW, Jim Lynxwiler (ex-ES personnel) and Tim Murphy (Dive Team) were the PFA members who were following the tracks or at least started to.
12-10-2009 at 0245 we received a page to assist Poudre Fire Authority (PFA) in locating the driver of a rolled over vehicle in the area of 287 and Overland Trail rd. near La Porte. PFA was on scene and they reported finding tracks in the snow but lost them due to the 30 plus MPH winds that were sweeping the area. A call for Searchers, Trackers and Dogs was made and 12 members were going to brave the 6 Degree temps and heavy winds. At 0330 PFA units were able to locate the subject 300 yards from his residence without injuries. It sounded like it was near McMurray Ranch Rd which would have been almost 6 miles from the accident. Subject was Male 6 ft. 250 lbs. L-1 was at Incident Command when the subject was located with L-2 responding to take over so L-1 could Track.
Mission duration: 1 hours
Larimer County SAR members: 12
Larimer County SAR hours: 13
Larimer County SAR miles: 50
LCSO-ES Specialist: Tony Simons
LCSAR ITC: Amy Ho
LCSAR SAR Manager (L1): Dave Hake

November 12, 2009(Thursday) - Loveland 16th & Jefferson - Missing 82 YOA Male
**LCSAR MISSION REPORT PENDING - DON DAVIS**
From the Loveland Reporter-Herald:
Story updated: 11/12/2009 2:29 PM Missing Loveland man found Junior Anderson, the endangered 82-year-old man, has been located and was taken to a local hospital for precautionary measures, according to Loveland police. Anderson was located in the area of 16th street and Jefferson Avenue in Loveland. Authorities put out a call to an east Loveland neighborhood Wednesday evening for help finding Anderson who walked away from his home in the 1700 block of Oxford Drive about 2:30 p.m., according to Loveland Police Sgt. Brent Newbanks. The department sent out an automated call about 6:20 p.m. to homes in the neighborhood, which is north of Eisenhower Boulevard and east of Denver Avenue, Newbanks said. Police took the step because Anderson is diabetic and has slight dementia, Newbanks said.

October 31, 2009(Saturday) - Blue Lake Trail - Overdue Skiers
19:22 Two overdue skiers on the Sawmill Creek trail off of the Blue Lake trailhead. A party of 4 skiers, 2 women, 2 males when up the Sawmill creek trail. At 15:15 the group split up and the women went back to the car. At 19:22 they still hadn't returned.
We were trying to round up 6 to 8 skiers or snowshoers to hasty up the trail. We preferred skiers for speed and ease since this is a great trail for skiing because of the gradual climb up to the open area. This trail is in the middle of a big valley with steep walls, so the chances of them accidently getting out of the valley are slim. If they were not found along the trail or if their tracks were not found leaving the trail in the trees, we were not planning on committing folks too far above tree line at night since we didn't know what the avalanche danger would be. We were going to page out for more snowshoers if we didn't get enough skiers.
Diamond Ski Patrol was also activated to assist in this search and they gave us some good information for the conditions.
19:53 we received information from Jackson County that the skiers had made it out and were ok. We were stood down.
Mission duration: .5 hours
Larimer County SAR members: 2
Larimer County SAR hours: 1
Larimer County SAR miles: 0
LCSO deputies: 1
LCSO-ES Specialist: Tony Simons
LCSAR ITC: John Lee
LCSAR SAR Manager: Dave Hake

October 27, 2009(Tuesday) - Red Mountain Open Space - Overdue Runner
-- Duty SAR Manager(George) paged at 19:26 to call Justin (Ocean 5). Wife had reported her husband, Tarald, overdue from a planned run at Red Mountain Open Space. He'd left their Glacier View home at about 14:00 and was due back about 16:00. Tarald is a 55 year old ultra-runner, and had been in the Norwegian Guard where he learned survival skills. He was wearing a red ski hat and black/red Gore-Tex suit. He had his cell phone along, but his wife said he usually leaves it in the vehicle during his runs. The snowstorm had begun earlier in the afternoon and the access roads were muddy and slick, necessitating 4WD before deputies could reach the trailhead parking lot to verify that the vehicle was there but not Tarald, so they notified ES.
We had four possible scenarios: (1) he had overextended his run and was disoriented and lost, possibly even on the trails in adjoining Soapstone Prairie Natural Area; (2) he had slipped on the slick ground and injured himself such that he couldn't move; (3) he was hypothermic and wandering aimlessly or perhaps immobile, possibly unresponsive; (4) he had been attacked by a mountain lion.
Twelve members with two dogs responded to the Cache to regroup into 4WD vehicles and departed just after 21:00. Tony (Ocean 3) was also enroute bringing the ATVs. Visibility was limited and the roads were slushy and slick from the continuing snowstorm. Justin had arrived at the trailhead at about 21:30, about 15 minutes behind a County Parks ranger, and the deputies departed soon after Justin's arrival. At about 22:00, when the Team was within about five miles of the parking lot, Tarald self-recovered to the trailhead. He told Justin that he became disoriented and lost during the snowfall and oncoming darkness. Realizing someone would likely be looking for him, he bedded down adjacent to the trail underneath pine needles but got cold, so went back to running. He realized he was going in the wrong direction when he didn't see any trees and figured it was the open prairie, so he turned around and eventually reached the trailhead. He said his feet were cold and he was thirsty but was otherwise OK and was able to drive away on his own. He had nothing but the clothes he was wearing.
Learning points: (1) More of us need to know how to get to both Red Mountain Open Space and the adjoining Soapstone Prairie Natural Area. There are two routes, one described on the web page for Red Mountain Open Space and the other coming in from Hwy 287 just north of The Forks. Based on the road conditions, the Parks ranger advised that we take the second route. We also need to schedule some training sessions in each area. (2) The emergency access trail maps of these two areas were not yet on the Team's internal web pages -- they are now -- so members should review the maps and print copies. Note that Red Mountain Open Space abuts Wyoming's Big Hole Open Space at the state line, and the far northern end of the Red Mountain trails joins the Big Hole trail, making a lengthy loop trail that crosses the border.
Mission duration: 5 hours
Larimer County SAR members: 14
Larimer County SAR hours: 70
Larimer County SAR miles: 300
LCSO deputies: 2
LC Parks ranger: 1
LCSO-ES Specialist: Justin Whitesell
LCSAR ITC: Jim Mines
LCSAR radio relay: Jose Negron
LCSAR SAR Manager: George Janson

October 25, 2009(Sunday) - Lake County Colorado, Dog Request for Missing Hunter
0636 hrs - I received a page to contact Lake County Dispatch reference a missing hunter. Dispatch told me that a 55 yoa experienced male hunter was last seen at 1800 hrs last night. When his son could not locate him, SAR was called. The area was described as rugged and temperatures had dropped severely through the night. The male was dressed warm but had no camping supplies. SAR had searched until the early morning hours at which point they ceased operations and were planning to start back up at 0800. They were requesting air scent dogs to assist in the search. I had limited information because there was no IC or SAR person available. Basically, a dispatcher (and probably the only person awake in the county) was given the responsibility to call for resources. It limited the information I could get but he was really trying and we agreed that he would seek out additional info (current weather, snow, terrain, scent articles, etc) as soon as he could. I had plenty of info to start spooling up teams.
I contacted Bill Y. who authorized SARDOC resources.
I contacted Ann Marie who was available to go. I went down the list and had difficulty in locating an additional dog. Several handlers were trying to make arrangements for a variety of reasons. It sounds like several other counties have been much busier than Larimer. I worked my way up to Larimer County, I spoke with both Dave and George. Since today was a practice day, all the teams were up the canyon and out of cell contact. I had trouble reaching them on the radio so George relayed for me. George was on the radio with Robin attempting to arrange a team when Lake County called me back and said the hunter had been located and was ok.
Notes: My call sheet was out of date..... The sheet contradicted itself on who the current Dog Coordinator was and I initially called Dan instead of Bill, Dan helped me get a few things straightened out. I also called and woke up Laura and found out that she is no longer a member of a SAR team since Gilpin SAR folded (I tried recruiting her to come up here). My sheet also still showed Ann Marie as only being Avalanche certified. Ann Marie stated she thought there were even more resources available closer to Lake County than Larimer that I was not aware of. She said she was going to email me an updated certified handler list.
SARDOC/LCSAR Dispatcher: Jim M.

October 15, 2009(Thursday) - Fort Collins Fossil Creek, Missing 6YOA Balloon Boy
It all starts with a UFO, and a missing boy.............
I can't provide a specific time when this started. Unlike other missions, when we get initial information from our pager, this mission was presented to many of our SAR members through the national media (CNN, MSN, Yahoo, AOL, etc). Reports on the internet and TV advised that a 6 year old boy was in a UFO shaped balloon which had launched from south Fort Collins. The balloon was an experimental aircraft created by his family, filled with helium. Around 1100 hours, it was thought the boy had crawled into the basket of the balloon, which then took off.
Neighbors took pictures of the balloon as it left the area. And then it was out of sight. Eventually, it was located again, and media helicopters chased it while officials tried to figure out a way to safely bring the balloon down. The balloon lost altitude and crashed in a field approximately 50 miles southeast of Fort Collins. However, the basket and boy were not with the balloon. So the ground search began for the boy.
The SAR team was paged at 1442 hours to respond directly to the neighborhood where the boy lived. By the time the SAR team arrived, the area was already busy with media, law enforcement, fire personnel, and looky-loos. Incident command had it's hands full with multiple resources, including the posse, Poudre Fire Authority, deputies, investigators, other law enforcement personnel, military helicopters, and two news helicopters that were going to provide "air support" in the search. The SAR teams' assignments included doing fine grid searches under the projected flight pattern, using the search dogs to check the perimeter of the reservoir, and to send some SAR folks with the media helicopters to search from the air. We suggested that a search dog go through the house, but were told that it had already been thoroughly searched 4 times (a lesson is to be learned here).
Just as the initial SAR teams were going to go into the field, it was reported the boy had been found---hiding in the attic of the home. No aliens. No abduction. Nobody lost. Nobody hurt. A good day in Larimer County.
Resources:
2 Emergency Services deputy
21 SAR personnel
1 In Town Coordinator
1 SAR manager
53 man-hours
330 miles - Estimated personal vehicle miles
A bunch of other resources unrelated to SAR (e.g. PFA personnel, investigators & deputies, posse, etc.)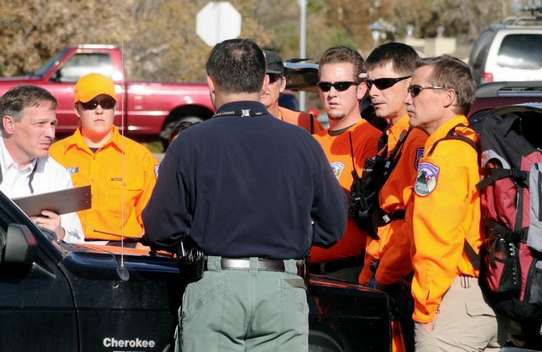 Dawn Madura/ The Coloradoan:Larimer County Search and Rescue team members are briefed Oct. 15 near 5434 Fossil Ridge Drive in southeast Fort Collins. They were searching for 6-year-old Falcon Heene who was thought to have been aboard an experimental aircraft that had broken free and drifted over Larimer, Weld and Adams counties. The boy has been found alive and well near his home.
--Just in case you were wondering... I fielded in excess of 350 calls for this incident between the hours of 1300 and 2100 Thursday. I did 5 radio interviews and the spot on CNN with Wolf Blitzer right after Justin Smith. Fox requested us for a Friday morning 5am spot in Denver for which they were sending a limo - I had turned this over to Don Davis and during discussions the boy was found so they cancelled- as was a follow-up phone interview with CNN also scheduled for Friday morning. It was invaluable to have a Blackberry and support from several team members with updates from the incident and a briefing from Allen Weaver on what the strategy was going to be for LCSAR participation in the search. Although it was not the perfect search story that I will still hope for, the experience was priceless.
Mike Fink - LCSAR PIO

October 11, 2009(Sunday) - Sand Creek Pass, Missing Hunters
2132 hours: Page for on call SAR manager to contact Emergency Services regarding a search in the Deadman area. O2 advised there was a group of missing hunters, but "this could be a tough one". He was right.
Scenario: hunters in the Deadman area heard a call for help on their FSR radios late in the day. The party on the other end said his name, and the report is that he was with two youth and were lost. Then the hunters lost contact with the lost party. It was believed that the lost party had been using channel 4 on the radio, but the hunters heard them on channel 8. The hunters did not have any other information regarding the lost party. They lost contact before the lost party could give any additional details. The area had received 8-12 inches of snow recently.
Our SAR teams had it's initial staging and briefing at the SAR cache at 2300 hours, and proceeded to Red Feather, with support group members and the snowmobiles in tow. As we approached the Deadman area, the roads became increasingly more snow packed and slick. O2 and the support group chained up their vehicles. The lead SAR members also chained up their vehicles. The majority of the team and team truck & trailer staged down the road from Deadman, when the road became too difficult to pass due to the snow depth.
Initially, this was like search for a needle in a haystack. We had no information on a last seen point, no vehicle location, and no camp location for the lost party. And although the FRS radio communication is limited to "line of sight", that can be a considerable distance if one of the parties in on a high point. So the potential search areas was huge----and now mostly inaccessible due to poor road conditions.
The initial SAR team made it to the highpoint where the fire lookout is located. It was very windy and very cold up there. The team (which eventually became known as a critical "radio relay") tried for some time to communicate with the lost party on the FRS radio with no initial success. Just as we were about to call off the search (for lack of clues, lack of communication, and inability to access the area) the team made radio contact with one of the individuals (this was probably around 0200 hours)! However, it was immediately determined there were FOUR members to the group, and two of them had gotten separated from the two others. In other words, we now had two searches to conduct.
Communications with the first group was very sketchy. From time to time, the radio relay team was able to get information from them, and then the radio signal would get lost. But based on the information now available, it became apparent the lost party was quite some distance from the radio relay team and it would be necessary to continue farther into the area, despite the weather conditions, in order to narrow the search area. Once we got to a more probably search area, the snowmobiles were utilized to start searching the roads (which we could not access with vehicles). The radio relay team was a critical element, not only to continue repeated contact with the lost party, but also to relay the information to incident base. The radio relay team, who remained at their original location on the highpoint through the night, was able to help direct the lost hunters to a road, where the snowmobiles could more easily locate them. The first group of lost hunters was located in the early daylight hours, and returned to incident base.
Upon the arrival of the first lost hunters, we were able to obtain further information about the second group, including a last seen point, where the parties left their vehicles, etc. This helped us further narrow the search area. Plows/graders from the road and bridge department were called in at daybreak to plow the road (otherwise not maintained in winter). This made the road passable for other SAR members to get to incident base. O2 also called for other ES personnel to bring the snowcat to incident base. The SAR members were then dispatched into the field using a snowcat to shuttle them deeper into the search area.
One of the search teams was very observant regarding tracks in the snow. Through the use of attraction and following the tracks, the foot teams (on snowshoes) located the remaining two lost hunters. All were returned to incident base using the snowcat. All lost hunters were cold, tired and hungry, but otherwise in good condition. It turned out the second group of hunters had FRS radios also, but the batteries in the radio went dead. The second group also had a GPS unit, but were not familiar with how to use it.
Most SAR members returned to Fort Collins between 1500 and 1600 hours on Monday, October 12. Mission duration was approximately 18 hours.
Resources:
(3) Emergency Service Specialists
(1) SAR manager
(1) ITC dispatcher
(9) SAR members
(4) ES support group members
(1) snowcat
(2) snowmobiles
(3) plows/graders from road & bridge
600 miles driven
180 hours (approximate amount of SAR hours)

October 8, 2009(Thursday) - Greyrock Meadows Trail, Three Disoriented Hikers
16:22 page for search for 3 individuals on Grey rock who are confused. ES specialist Dave Mosier (O2) was contacted and he said one of the subjects called on cell phone after they attempted to reach the summit and got confused on the way down. They said they were on the trail but it was obvious they were stressing out and concerned about finding their way down before dark. They were told to continue down and stay on the trail. If it gets dark, stay put and the SAR team would be on there way to intercept them. It was decided to send two hasty teams of 2 or 3 up both the main trail and the meadow trail to see if they could connect up with the group.
Team one (Scott Evans and Jill Reynolds) were deployed up the Meadows trail since it sounded like that was the trail they went up. Team two (Jose Negron and Dick Borowaski) were sent up the main trail. Team 1 intercepted the subjects about half way down the meadows trail. They were ok and escorted them down. It was 20:00 when the subjects were back at the trail head and all resources departed the trail head.
Duration: 4 hour
LCSO ES: O-2
4 LCSAR Search members
LCSAR ITC: Dan Fanning
LCSAR SAR manager: Dave Hake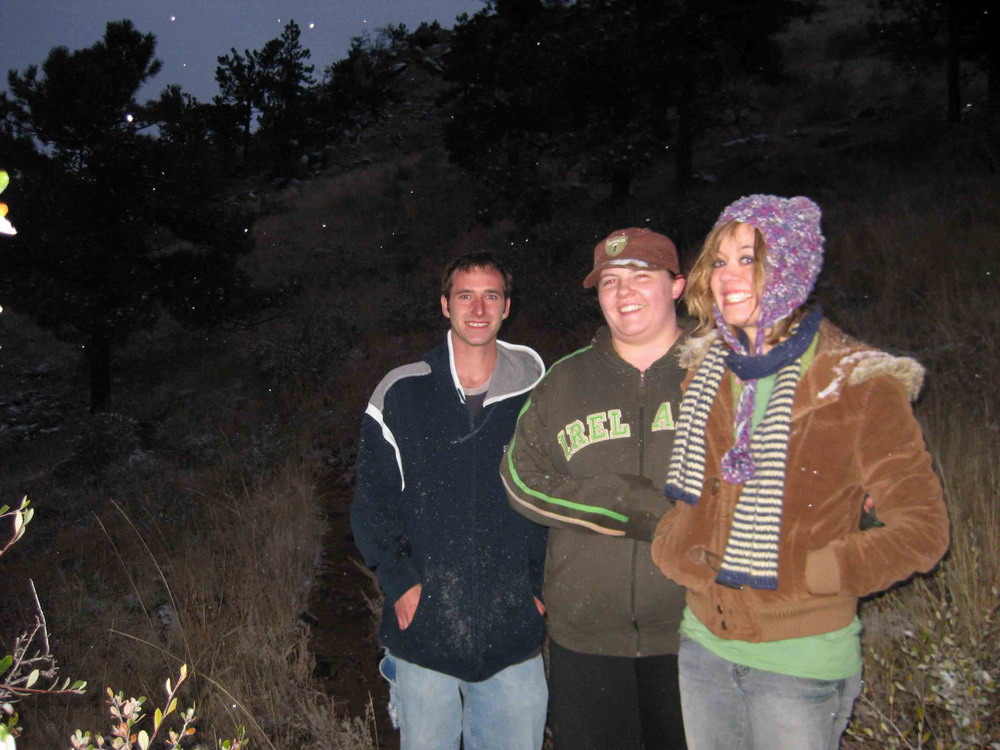 October 3, 2009(Saturday) - Near Horsetooth Resevoir, Fallen Hiker
**LCSAR MISSION REPORT Pending**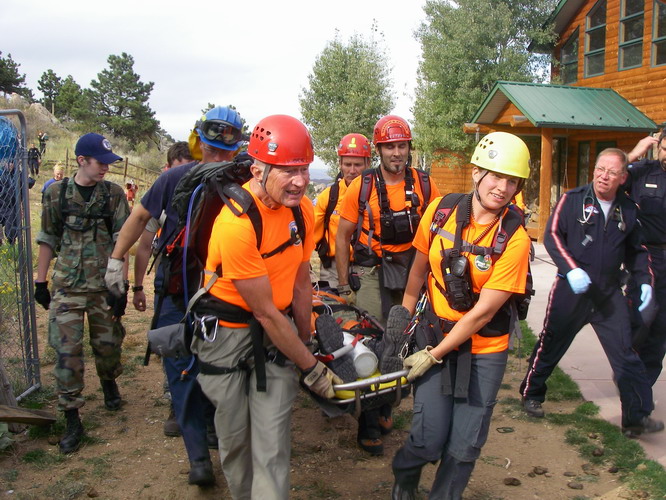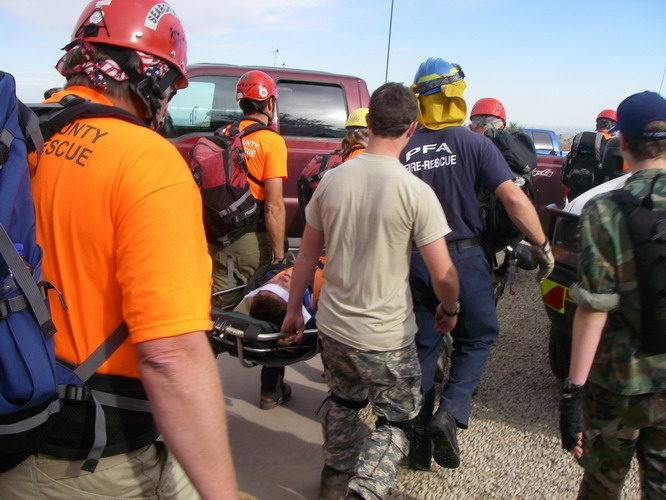 September 30, 2009(Wednesday) - Pingree Park, Missing Hiker
1115 page for SAR manager to call O2 reference search in Pingree Park area. I took the call because Mark was unable to leave work at that time.
A 23 YOA male was planning on a hike starting at Pingree Park on Sunday the 27th and returning Monday the 28th. He had worked at Pingree Park but was recently laid off so one of the camp Directors knew him and what his plans were. When he didn't return on the 28th they weren't too concerned because someone had seen him somewhere along the trail still heading up on Monday the 28th, so he evidently didn't get started when he planned. Today (Wednesday the 30th) he was still overdue so the Director decided to get something started. It was unclear what he had with him but they knew he planned to hike up the Stormy Peaks trail and camp on top of Stormy Peaks or somewhere near there. This meant he had overnight provisions and was probably ok as far as gear goes. RMNP was contacted and they had a Ranger South of Hague's Peak and we assumed at the time, they would start someone up to Hague's to check from there side.
Because of the high altitude and long distance. It was decided by O2 (Dave Mosier) and I that we would just start with 2 hasty teams to hike up the trail and see what they find. No sent articles were available besides the care and we didn't have a current address for the subject. I was on a project and trying to finish up, so I didn't have access to maps or other planning material. I asked ITC John Lee to round up 4 to 6 hasty team members and let them know it's going to be a hike to Hague's Pk. via Pingree Park area.
Shortly after the page went out to the team, I received a call from O2 saying the subject had just returned to camp and the team was stood down.
After I came home and pulled up some maps, I realized how nice that stand-down page was! It appears that his 'assumed' route would have covered 12.3 miles with 6,340 ft of elevation gain with 1,800 ft. of drop. Had I known this information, the page would have said to be prepared for overnight bivy at high altitude. With the cold fronts moving in, this could have been a very long and dangerous assignment. I don't believe I would have committed folks to the overnight with weather moving in.
Attached is the assumed route and the profile of the hike that you missed out on.
Duration: 1/2 hour
LCSO ES: O-2
0 LCSAR Search members
LCSAR ITC: John Lee
LCSAR SAR manager: Dave Hake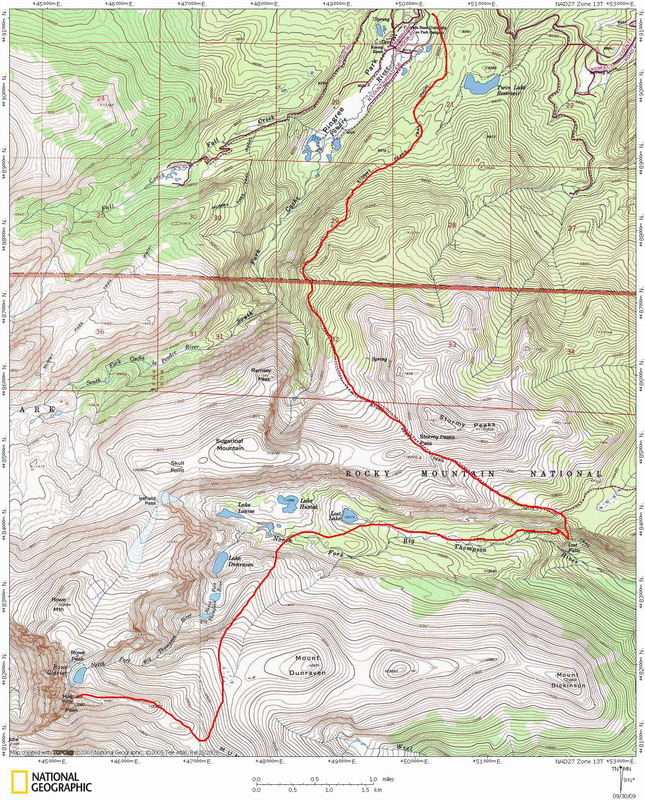 September 23, 2009(Wednesday) - Loveland Sylvandale Ranch Area, Lost Fisherman
**LCSAR MISSION REPORT PENDING - SARAH BABBITT**

September 19, 2009(Saturday) - Lory State Park/Lodgepole Drive, Female Fell Down Cliff
**LCSAR MISSION REPORT PENDING - SARAH BABBITT**

September 11, 2009(Friday) - Pingree Park/Signal Mountain, Missing Deputies
21:14 A page was received for a search. There had been a fugitive search going on all day in the Pingree Park/Signal Mountain Trail area. 2 Deputies who had been assisting with the search had become disoriented as they were in pursuit off trail and into the wilderness. Incident Command lost radio communication with them so as a back up plan, they wanted to have 6 searchers and trackers attempt to locate them. Since the fugitive was still at large, they would include an armed deputy with each search team. Because of the fugitive situation it was discussed whether or not it was worth the risk of deploying dogs. Since they had LE K9 teams on scene most the day, should the teams encounter the fugitive we didn't want him to mistake our search dogs as attack dogs and have a confrontation.
As team members were getting ready, we received word that the deputies were back in radio contact and working their way towards a trail. We were still planning on deploying as a back up in case they didn't locate the trail. As we were heading towards the in town staging area a stand down page came out after they connected up with other deputies on the trail.
Duration: 1 hour
LCSO ES: O-2
15 LCSAR Search members
LCSAR ITC: Mike Fink
LCSAR SAR manager: Dave Hake

September 13, 2009(Sunday) - Storm Mountain Area, Archery Hunter with Heart Problems
19:00 Page to SAR managers reference search in Storm Mountain area. Subject was archery hunting in the Storm Mt. area and had called his son saying he was having heart problems and his phone lost reception. Because 911 wasn't called dispatch didn't have any location information except for the fact that the subject was hunting somewhere in the "Galuchie Valley" which is along Storm Mt. road west of Cedar Park subdivision.
18 sar members were returning from Estes Park after doing a fundraiser event at the Highlands festival. We had noticed Loveland's Fire Department and ambulance in route up the canyon. A few members were still in Loveland and were re-routing to the area when we received a stand down page that the subject was located and in medical care.
Duration: 1/2 hour
5 LCSAR Search members
LCSAR ITC: Mike Fink
LCSAR SAR manager: David Hake

September 11, 2009(Friday) - RMNP Long's Peak Trail, Missing Suicidal Male
Got a page from LCSO to call Woody at Alpine SAR regarding a SARDOC request. RMNP was looking for a male that was possibly suicidal and was reportedly on the Long's Peak Trail on Wednesday morning. Rocky wanted a search dog to work it. They had a scent article. Paged LCSAR for dog resources and Dan and Jayne both called. This was a viable trailing request (less than 48 hours and no rain)for Jayne and Lakotah (Trailing Team). As Jayne was being briefed at RMNP ICP a body was discovered in the Boulder Field.
Report by ITC/SARDOC Dispatcher: Mike Fink

September 6, 2009(Sunday) - Bellaire Lake 17YOA Stuck Climber
2009-9-6 17:06 Page: "SAR TEAM-DIRECT RESPONSE TO CAMPSITE #10 AT BELLAIRE LAKE FOR A 17 YOA MALE THAT IS STUCK IN THE ROCKS."
This was a code 3 response (lights and siren) due to the distance and time of day in hopes of getting the situation solved before nightfall. 19 members responded to the staging area which was re-located to an access road west of the rocks that the subject was located at. It took a spotter and a few folks from the Sheriff Office (SO), Emergency Services (ES) and the Forest Service (FS) to find the best access to the subject.
The subject had hiked up to the top of a set of rocks West of the camp ground by means of a trail and rock scrambling. He decided to try a short cut on the way down and jumped down to a shelf and found that he could not climb back up nor could he climb down. That's when his friends called the camp host for help. Dispatch was contacted and the team was paged out. Allen Weaver was in Red Feather at the time so he was first on scene to evaluate the situation. They could only see the subject from a distance and waited for ES and FS to check out possible roads to get everyone closer. It was decided to approach the rock from the North side and all resources were re-located to that location.
It was about 3/4 of a mile hike into the top of the rock from staging. 16 SAR members took gear to the top of the rock and set up a pick-off system and 3 were held back in case other gear was requested. A pick-off is a system that lowers an attendant down to the subject, fitting them with a harness and helmet and connecting them to the system. Both the subject and the attendant are lowered or raised together to safety. It was dark before the system was set up and safety checked. It took 18 minutes from the start of the lower to getting the subject and attendant safely to the bottom. The subject was on a narrow ledge and was getting cold by the time he was reached. Scott Evans was the rescue leader and Sarah Babbitt was the attendant with everyone else playing a major role in setting the system up and running it. The team performed flawlessly.
All gear was gathered and packed out after completion. It was a very cautious climb down due to the heavy gear, steepness and not being able to see your foot and hand holds.
Mission duration (from door to door): 3.5-hours
Larimer County SAR members: 19 and 1 ITC
Larimer County SAR hours: 67
Larimer County SAR miles: 850
LCSO-ES Specialist: Tony Simons
LCSAR SAR Manager: Dave Hake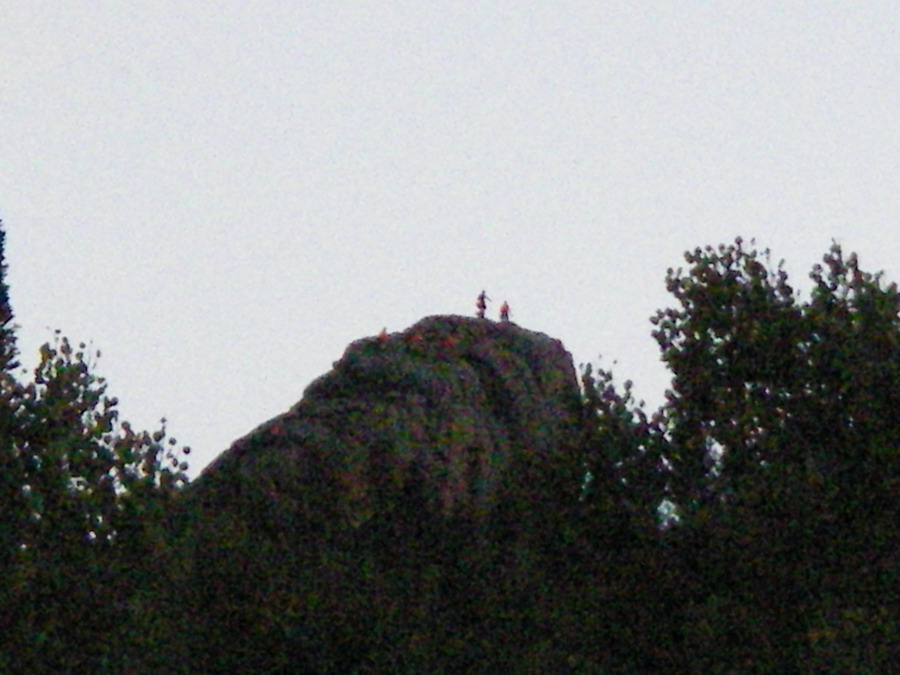 September 5, 2009(Saturday) - Brown's Lake Missing 16 YOA Male Hunter
**LCSAR MISSION REPORT PENDING**
Preliminary report from Dave Hake: It was a great night for a search, we found his track and followed it to his location, he was cold, wet and very glad someone showed up!! Thanks Scott and Todd for searching above the road. As we learned, you would have had a 50/50 chance at finding him up there as well, because he made a couple trips up and down before settling down where he was after dark. Thanks everyone else for trying to block him from below. His track seemed like he was determined to follow that stream until he found something.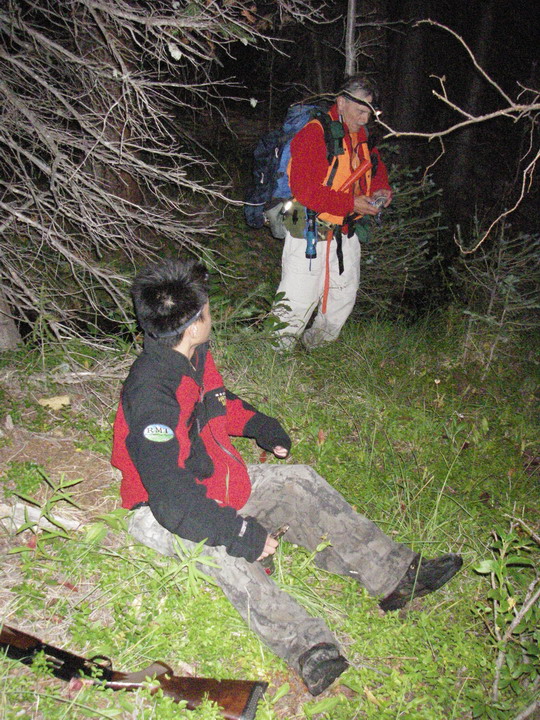 September 5, 2009(Saturday) - Estes Park - Missing 8 YOA Subject
13:58 received a SAR manager page for L-1 to contact O-3 reference a missing 8-year-old female from her home in Estes Park. The parents work alternate shifts and the girl was at home with her father and two brothers. When the mother arrived home from work around 1:30 pm no one knew the where about of the girl. Law Enforcement Investigators on scene requested LCSAR assistance. Two dog teams that live in the Estes area were enroute while a page for additional team members to meet at a staging location was sent. Because of the high volume of visitors in town for the Labor Day Arts and Crafts Fair, additional resources were requested to respond without the use of light and sirens. A reverse 911 was phoned to all the homes in the search area informing residents of the missing girl and to contact authorities if they had further information. At the scene, scent articles were collected and the first dog began searching the area. As additional resources, arrived teams were sent to go door to door and speak with residents near the family's home. Through continued investigation, the girl was located with her Grandmother who had picked her up earlier in the day. SAR team was stood down at 16:30.
Duration: 4 hours
Miles to Location: 42
SAR miles: 588
LCSO ES: O-3
8 LCSAR Search members
2 LCSAR (RMT) Dave H., Doug G.
3 LCSAR (SARDOC): Jaynie/Lakota, Estelle/Thunder, Kathy/Jake
LCSAR Truck 10: Lee L.
LCSAR ITC: Dan F.
LCSAR SAR manager: Robin A.

September 4, 2009(Friday) - RMNP Odessa Lake- Carryout Fatality
15:04 received a SAR manager page for L-1 to contact Rocky Mountain National Park reference an assist to carry out a female that had fallen while hiking the Fern Lake Trail near Odessa Lake. A 62-year-old woman had fallen down a 25-foot embankment into a creek approximately 5.5 miles back from the trailhead. The woman reportedly suffered head injuries and was found to be hypothermic when rangers arrived. Additional resources arrived on scene to assist with the carry out. An extremely heroic effort by all resources was offered in an effort to save the woman with the strenuous hike into the subject's location followed by medical treatment being given including CPR for more than an hour. Duration: 10 hours 26 minutes
Miles to Location: 45
SAR miles: 275
LCSO ES: O-3
LCSAR members: 6
LCSAR ITC: Dan F.
LCSAR SAR manager: Robin A.
MEDIA RELEASE FROM RMNP: At 12:30 a.m. today, September 4, 2009, a 62-year-old woman from Boulder, Colorado, fell between 25 to 50 feet on the Fern Lake Trail near Odessa Lake, landing in a creek. Other hikers contacted park dispatch by cell phone about the incident around 1:00 p.m. but it was unclear from initial cell phone calls as to where the incident occurred and the extent of injuries. A hasty team of two rangers left the Fern Lake Trailhead at 1:56 p.m. The hasty team traveled roughly 5.5 miles reaching the patient near Odessa Lake at 3:41 p.m. It is unclear how long the victim was in the water. As more calls came in the location was determined and other rangers were dispatched from the Bear Lake Trailhead to the location, roughly 3.5 miles.
Upon the initial rangers' arrival the victim was hypothermic and her level of consciousness had decreased. Other rangers began to arrive on scene. CPR was initiated and performed at 4:56 p.m. for over an hour.
Cardiac medications were administered and an Automated External Defibrillator (AED) was used. She was pronounced dead at 5:56 p.m. The body recovery is ongoing and next of kin are being contacted. She was hiking with a friend.
The Larimer County Coroner's office will determine cause of death. Twenty-two people were involved in the field, including a team from Larimer County Search and Rescue.

September 4, 2009(Friday) - Lory State Park - Carryout - Female with Broken Ankle
**LCSAR MISSION REPORT PENDING - GEORGE JANSON**

September 4, 2009(Friday) - RMNP Long's Peak - Medivac Hiker Who Fell
**LCSAR MISSION REPORT DELINQUENT**
From NPS Morning Report of Friday, September 04, 2009 Rocky Mountain National Park (CO) Injured Climber Medevaced From Longs Peak On the afternoon of September 1st, a 53-year-old man from Glen Ellyn, Illinois, took a 25-foot tumbling fall in the Trough area of Longs Peak. The Trough is a long, steep gully with loose rocks. The man and his son, who is in his mid 20s, had climbed to the summit of Longs Peak and were descending when the incident occurred. The man suffered numerous injuries, including a leg injury and numerous bruises and abrasions. A few bystanders tried calling for assistance around 5:30 p.m. on their cell phones, but the calls were dropped after limited information was given to park dispatch. The dispatcher was only able to hear that a hiker was in distress near the Trough. The two men had camped on Monday night and were planning to camp again on Tuesday night at a backcountry campsite at the Boulderfield. Not knowing whether rangers had been contacted, the son hiked down to their camping gear and hiked back up, bringing a sleeping bag, first aid kit, food and water to his father. He then proceeded to hike down to the Longs Peak trailhead. Two rangers, responding to the earlier calls, met the son on the trail at 8:30 p.m. roughly two miles from the trailhead. The two rangers proceeded to the Boulderfield and spent the night there. At first light Wednesday morning, they hiked through the Ledges to the injured man, reaching him at 6:00 a.m. Two teams of rangers and a paramedic from the Estes Park Medical Center left the Longs Peak trailhead at 3:00 a.m. and at 5:00 a.m. to support the two rangers on scene. With assistance from the initial two rangers, the man was able to move slowly to the Keyhole area. He was flown from the Boulderfield (elevation around 12,760 feet) at 10:30 a.m. by St. Anthonys Lifeguard One to Medical Center of the Rockies. Eighteen park staff were involved in this incident. [Submitted by Kyle Patterson, Public Affairs Officer]

September 4, 2009(Friday) - Loveland Riverview Campground, Missing Blind Male
05:34 received a SAR manager page for L-1 to contact O-3 reference a missing 23-year-old, blind, male, hiker in the area of Riverview Campground. At the time, there was no point last seen and no known direction of travel. SAR manager phoned a direct request for dog teams rather than page the whole team until a defined search area could be established. Mean while continuing investigation located the subject in one of the local hospitals. Dog team stood down 05:55.
Duration: 21 minutes
Miles to Location: 15
SAR miles: 0.0
LCSO ES: O-3
LCSAR (SARDOC): Jaynie/Lakota
LCSAR SAR manager: Robin A.

August 27, 2009(Thursday) - Estes Park - Search Elderly Male with MedicAlert Bracelet
**LCSAR MISSION REPORT PENDING - GEORGE JANSON**

August 16, 2009(Sunday) - Crystal Lakes Evidence Search
A request from LCSO Dispatch for trackers to assist Mountain Deputy, E-19 after daylight in an investigation of a crime scene in the Crystal Lakes area. Bill Daniel, Doug Grimm, Keith Black, Larry Sanders and Dave Hake responded at 7:45 AM and were up there till 5:00 PM. They gathered information regarding tracks and sign in and around the area of the crime scene and will turn in a detailed report to the Larimer County Sheriff's Office.
Duration: 10 hours
Miles to Location: 55
Miles Driven: 220
LCSO: 1
LCSAR Members: 5

August 12, 2009(Wednesday) - Mount of the Holy Cross - Assist to Vail Mountain Rescue Group
More detailed article from Vail Daily, with pictures:
Missing hikers found alive in Vail Valley
http://www.vaildaily.com/article/20090812/NEWS/908129994/1078&ParentProfile=1062
Two hikers from Michigan had been lost on Vail Valley 14er since Monday
Lauren Glendenning Vail, Colorado, VAIL VALLEY, Colorado
A Colorado National Guard Blackhawk helicopter found two missing hikers in Reeds Meadow, west of the Mount of the Holy Cross summit, around 8:30 a.m. Wednesday.
The two men, Andy Westergard and Bill Hird, both in their 40's and from Michigan, went missing around 3:30 p.m. Monday when they were last seen at about 13,500 feet, hiking toward the summit of the mountain. The men never returned to their campsite and another hiker at the campsite reported them missing.
Westergard and Hird left their cell phones at the campsite so they could not call for help. The men were tired and a little dehydrated when rescuers found them, but they were not injured, said Shannon Cordingly, Eagle County Sheriff's Office spokeswoman.
The men had more gear with them than rescuers originally thought, Cordingly said. They likely went missing as they descended from the summit and lost sight of the ridgeline, she said. As search and rescue teams looked for them, they were also moving around, which make the search more difficult, she said.
We were kind of circling each other, Cordingly said.
Vail Mountain Rescue Group advises anyone who gets lost in the backcountry to stay put and retrace your route back toward the trailhead until you pick up the trail or find someone who knows the area. If you cannot retrace your route, stay put, conserve energy and water, make yourself visible and await rescue.
Eight different agencies helped with the search and rescue operations The Eagle County Sheriff's Office, Vail Mountain Rescue Group, the Colorado National Guard High Altitude Aviation Training Center, Summit County Rescue Group, Douglas County Search and Rescue Team, Larimer County Search and Rescue, Teller County Search and Rescue and El Paso County Search and Rescue.
The search and rescue began around 8 a.m. Tuesday and ended at 5 p.m. Tuesday. The search resumed at 7:45 a.m. Wednesday, when the Colorado National Guard High Altitude Aviation Training Center helicopter located the men.
---
News Report:
EAGLE COUNTY - Searchers found a pair of missing hikers in good condition Wednesday morning.
Search crews say they found the hikers, who were from Michigan, around 8:30 a.m. They had been missing since 3:30 p.m. on Monday, last seen hiking toward the summit of Mt. Holy Cross.
Vail Mountain Rescue sent two teams out early Tuesday morning to try and find the pair. The hikers were reported missing by another person who was waiting for them at their campsite at Cross Creek.
---
LCSAR Report
Assist to Vail Mountain Rescue Group - Mount of the Holy Cross (8/12/2009 Initial page: 10pm on August 11th "Searchers with strong hiking skills needed for assist to Vail Mountain Rescue Group at Mt. Holy Cross. Need to be at Vail at 0700 for helo lift" We didn't expect a large turnout on such short notice and so far out of county. Jared K. and I (Tim Burton) drove the 4 ½ hours to the incident command. We were added to the Teller County SAR team, because neither of us were SAR leader rated. The Blackhawk fielded one team and was about to drop off the second team when the subject was located and loaded into the helo. We were released for the 4 1/2 hour drive back home.
Duration: 2 hours
LCSAR Members 2
Miles Driven: 331
LCSAR Manager - Mark Sheets
Author: Tim Burton

August 11, 2009(Tuesday) - Rawah Lakes - Possible Evac - Stroke Patient
2009-8-11 approximately 18:59 page goes our to SAR Manager to call Dave Mosier re: 79 YO Male camping at Rawah Lake #2 - possible stroke. The subject was with his son up at Rawah Lake #2 when he started to feel confused and disoriented. The son was worried that it may be a stroke as his father had one in the preceding year.
The subject was pretty much mobile and functional so it was decided to send a hasty team in to assess his condition and possibly walk him out that evening. Otherwise a carry-out, horse back-out or Helicopter-out would have been requested first thing in the morning while SAR spent the night with the subject.
North Colorado Medi-Vac (helicopter) was requested to respond. After some refining of an LZ by Dave Mosier (the Helo crew was not comfortable with the first coordinates) they decided to attempt to fly the mission. Hasty team assembled for a 20:00 hrs departure from the Cache when about the same time, Medi-Vac reports they are airborne, transporting the patient to hospital.
SAR was cancelled at 20:00 hrs.
Mission duration: 1.0-hours
Larimer County SAR members: 6 and 1 ITC
Larimer County SAR hours: 7
Larimer County SAR miles: 24
LCSO-ES Specialist: Dave Mosier
LCSAR SAR Manager: Mark Sheets

August 9, 2009(Sunday) - Horsetooth Mountain Park(Falls) - Carryout Fallen Hiker
Initial page at 1630: "SAR team, respond to the 6550 W CR38E, the trail head for Horsetooth Falls for carryout of a person who fell off some rocks."
That address is for Horsetooth Mountain Park, which I hope most folks figured out easily! Not sure why they gave the address instead of the park name..
Mark Sheets was SAR manager on the incident. The first LCSAR members arrived and 6 of them got driven up the park road in one of the ranger's trucks at 1720, to access the patient from above (faster than walking in the 2+ miles up the trail from the parking lot). Dave Hake was in that vehicle and was designated Rescue Group Leader for the incident.
The second group of us (7) started up the road in a personal truck. At that time we didn't know that the first vehicle had gone the wrong way so that we were the first LCSAR folks actually headed to the patient. When we discovered this, Rescue Group Leader was changed to Sarah Babbitt who had been in the second vehicle and was now on the trail headed to the patient. The patient had been moved by his friends (he'd been climbing w/3 others), and was now located at the top of the Horsetooth Falls area, just off the trail.
When we got to the patient, the Park medical folks and some paramedics from PVH had an IV going and were holding C-spine for him as there was concern about his head injury and possible c-spine compromise. He had lost consciousness for a couple of minutes, but was now completely alert and oriented and joking with the rescuers. He had various lacerations, including a large one next to his right eye (though he had good occular movement). Probable broken clavicle and ribs on the right side, and a left ankle injury.
We had decided that the best way out was the most direct, dropping down just a short way then ascending a large open meadow straight up toward the vehicles. This would be much shorter than going either direction on the trail, and probably smoother as well. One park ranger had flagged a route, and Josh Carnes was asked to assess that route w/our needs in mind, so he did a quick recon. He verified that though it got steep at the top of the slope we weren't going to need to do any up-hauls.
The temporarily-lost first group of LCSAR folks arrived with all the gear. Patient was immobilized on a spine board and secured in the litter, and was moving by 1746. We used just a running brake for the short downhill, then turned the litter around and had 6 folks on the litter w/a few folks on the rope as "sled dogs". It rained on us for about 10 minutes, then cleared off again. It was an easy carry-out, with folks very focused on making the ride very smooth because of his possible neck injury. The patient was loaded into one of the park pickups, secured, and was moving by 1825. He arrived at the ambulance at 1843.
All SAR members were home again by 1930.
STATS
SAR Members - 15
Miles Driven - 280
ES Specialist (Tony Simons) - 1
SAR Manager (Mark Sheets) - 1
LC Park Rangers - 6
Poudre Valley Hospital Medics - 2
Thanks for a great turnout! --Sarah Babbitt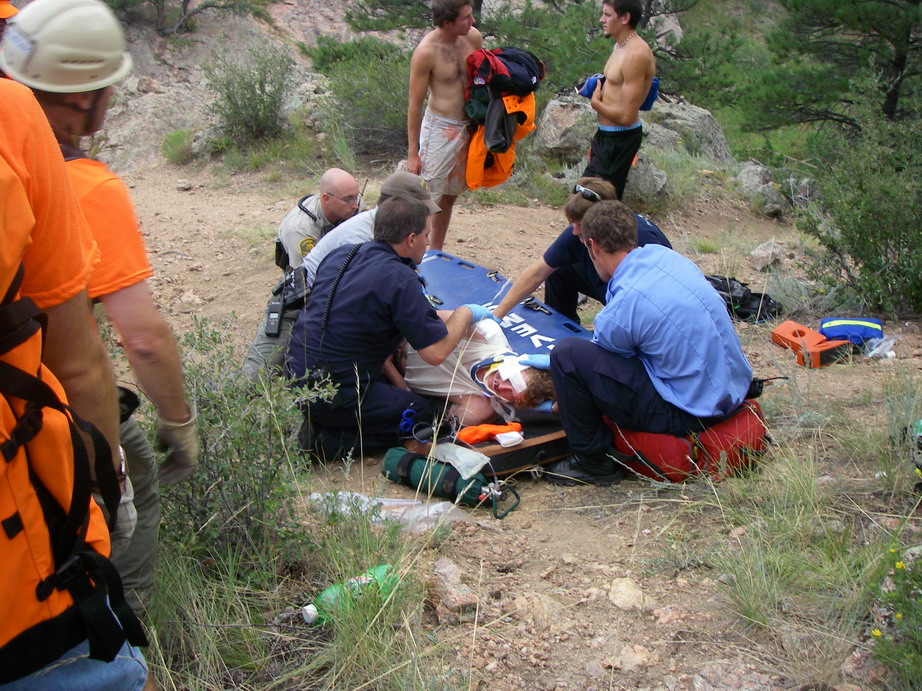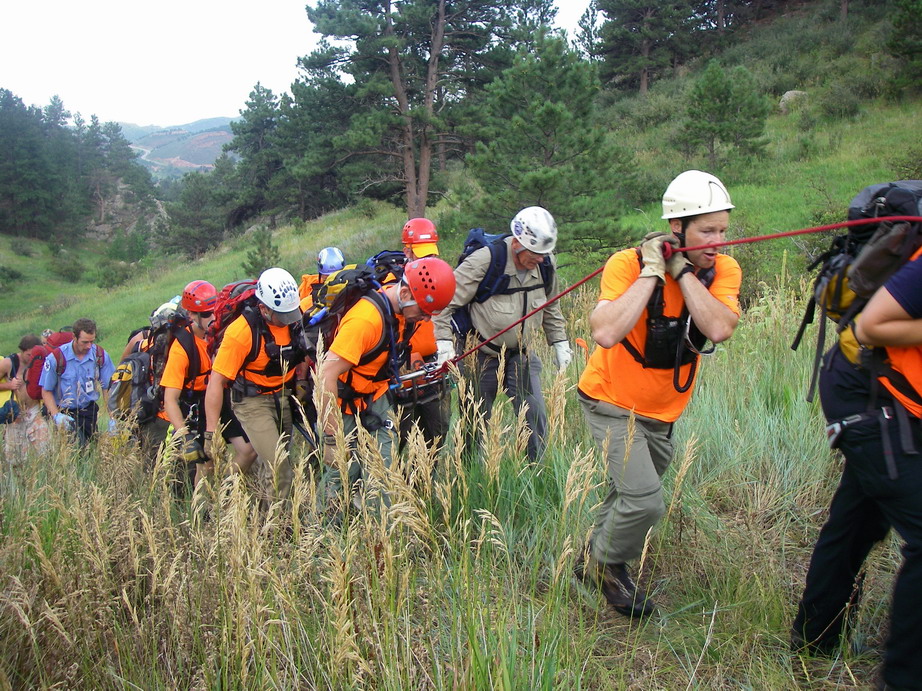 August 8, 2009(Saturday Evening) - RMNP - Carryout Asssist, Broken Leg
Saturday Evening Page (kinda) - Rocky Mountain Park requesting help on a 4.5 mile carry out.
Second Page (kinda) - Rocky Mountain Prrk requesting help for a 4.5 mile carry out on Sunday morning meet at RMNP SAR cache at 6 AM.
I did not actually get the pages... so I am not exactly sure what they said.
I pick Ryan Peters up in FC around 4:45 and we drive to the RMNP SAR cache, as we arrive.. we both note there are only 4 RMR blue shirts... not other orange... soon after Eric arrives... that puts LCSAR at 3 people... we mill around some... Eric and I talk about the carry-out... we both figure it is hike into some lake.. and have a nice carry out......
Unofficailly talking with a ranger... they have requested out help because their SAR people have been beat-up in last couple weeks...
Mission Briefing -
On Sat. afternoon, a 200 lb guy hiking below a ridge line on Mt Ida broke his leg, he is beleived to have a tib/fib fracture. They have 4 people on scene that O/N with the patient. He is 4.5 miles in. The equipment on scene is 4 RMNP rangers. The litter and wheel were left about 1 mile below the patient. It took a long time for the patient, once found it was determined that a technical rescue was required. RMR and LCSAR are being brought in to conduct rescue operations. RMR is to run the rescue and LCSAR is to assist. Plan A is to do a raise identify a LZ and fly the patient out. The trail gains ~2400 feet in 4.5 miles and rescue operations will be occurring someplace around 12,500 ft. Total resources will be 3 LCSAR, 4 RMR, 4 RMNP onscene, 2 RMNP walking in with us, and 2 RMNP medics being brought in to push morphine.
The Story -
We all are outside... kinda looking shocked... obviously thinking what happened to our "casual carry out?" We focus on our new mission, and pick gear with the intention to minimize weight. The haul is suppose to be ~300 ft on 35-40 degree scree and snow. The gear - some rock pro, a bunch of webbing, cord, 1 300 ft rope, a 200 ft rope, and a 100 ft rope and 4 pulleys and a handful of prusiks. We figure can make it work with that gear. We also decide to take the vacuum splint in which is in a large haul bag.
The trail head is like a 40 minute drive from the SAR cache.. so I figure we start up the trail around 8 AM. After ~3.5 miles we reach the litter and wheel. Luckily, 2 RMNP trail crew members on their day off, doing a day hike for fun, happen along and are "volunteered" by the RMNP ranger in charge. The last appox mile is the most grueling, with significant climbing in rocky scree/tundra terrain. The wheel and litter are brought up through this. I figure we got on scene between 10 and 11 AM.
On the hike in, and especially on top Plan A is looking grim, the winds are close to the max for landing a chopper. It is also cold. The 4 ranger that spend the night had given up their clothing to keep the patient and another person on scene warm, and had spent the night in their wind breakers/rain gear cuddled together under a space blanket. The patient had been kinda stuffed in the flattest area under a boulder. The rangers "slept" on like a 25 degree incline. To put it simply... they were worked... Anyway, Eric was assigned to go down as part of the litter/patient team. Ryan was assigned to help on topside. And the head heli-ops guy assigned with one other RMNP ranger to identify and prepare the LZ.
The haul turns out to be ~450 ft over scree/boulders and a snow field and ranges from 35 degrees to, according to Eric, 45+ degrees. Eric rides the litter up, Ryan is assigned to watch a "kinda scary" anchor on the haul system, and I am part of the 5/6 man haul team. During the haul, the wind changes by 180 degrees, making the LZ useless, but luckily a window opens and the winds subside some. When the litter reach a ridge line on the snow field, the Denver Flight for Life is launched. I figure we have the patient on the ridge around 1:30-2 PM.
The pilot decides to do a cold load... everybody is happy about... the patient is loaded and the chopper is gone by ~2 PM. Note - In image_0626 the RMR guy wearing my orange shirt... the heli-ops ranger deemed everybody on the litter going to the chopper must be wearing red or orange, and since it was to cold to give him my red jacket.. and I could make a RMR guy wear LCSAR orange.. well I could not pass the chance up... there were a lot of pictures taken by everybody of this...
Anyway - we packed up and headed down the slope.. sadly the patient's pack was not flown out.. so we ended up taking more weight out... I figure we reached the trail head around 4-4:30 and were back at the SAR cache between 5-5:30 PM.
Report and pictures by Lee Lang.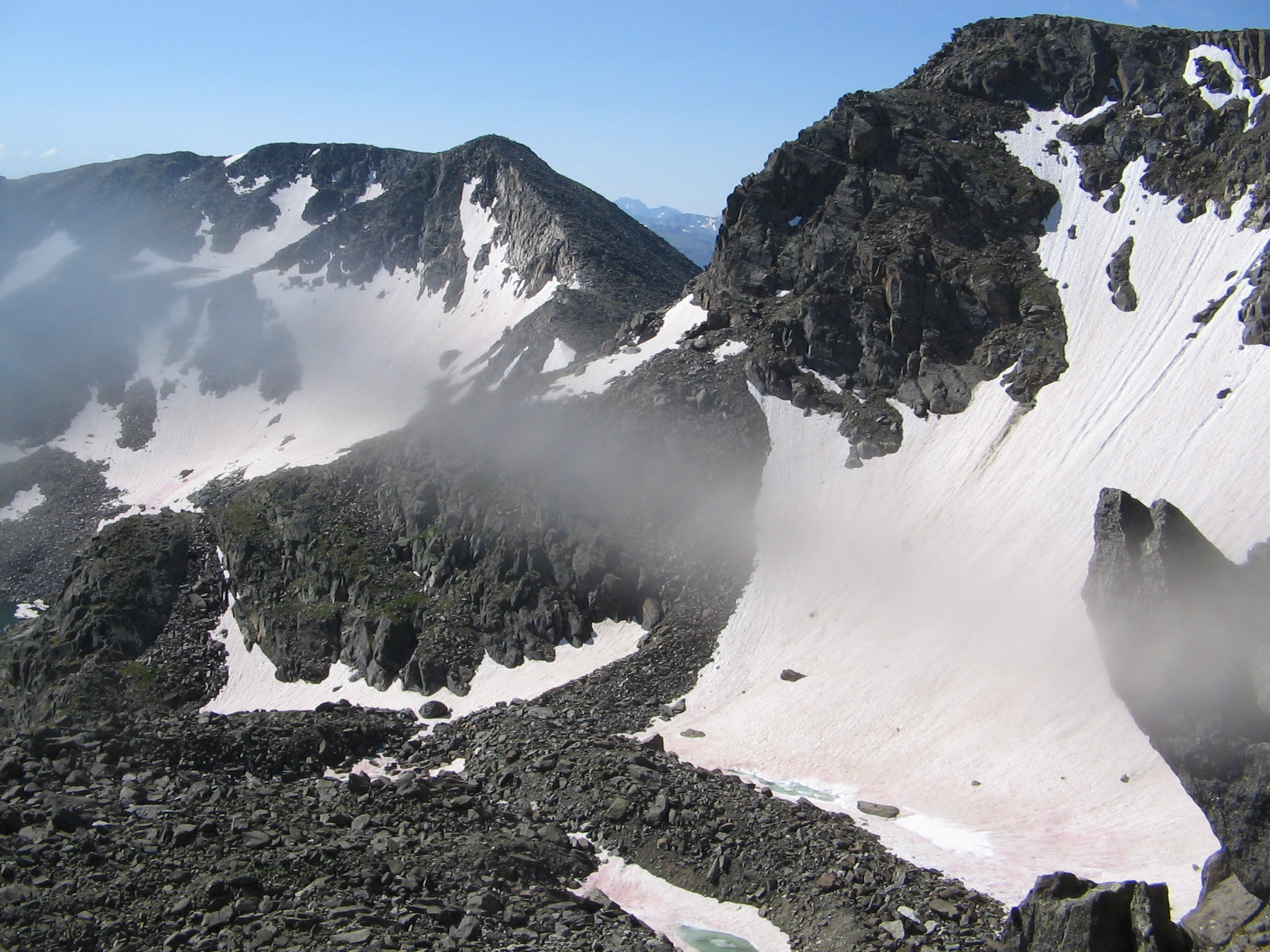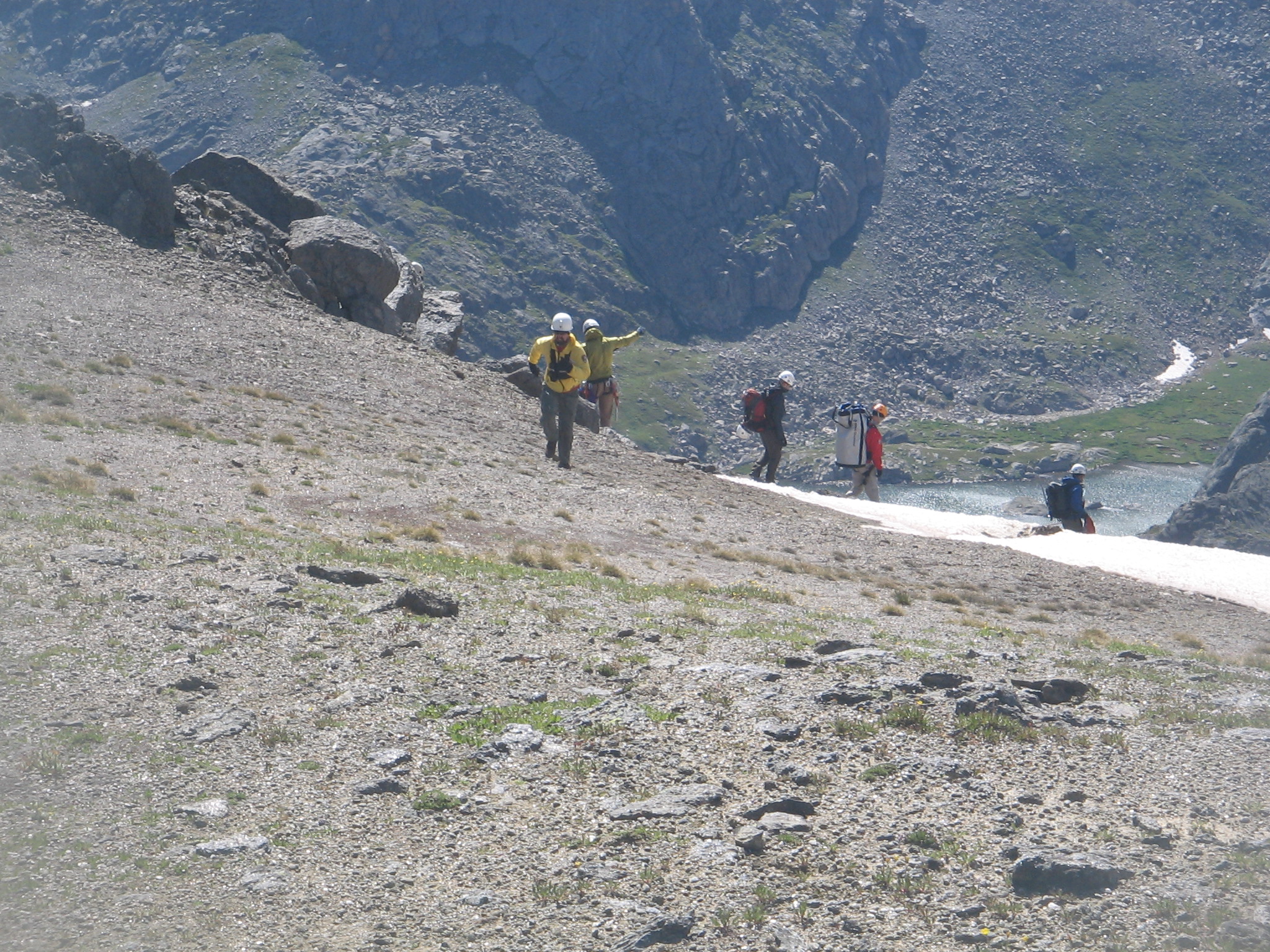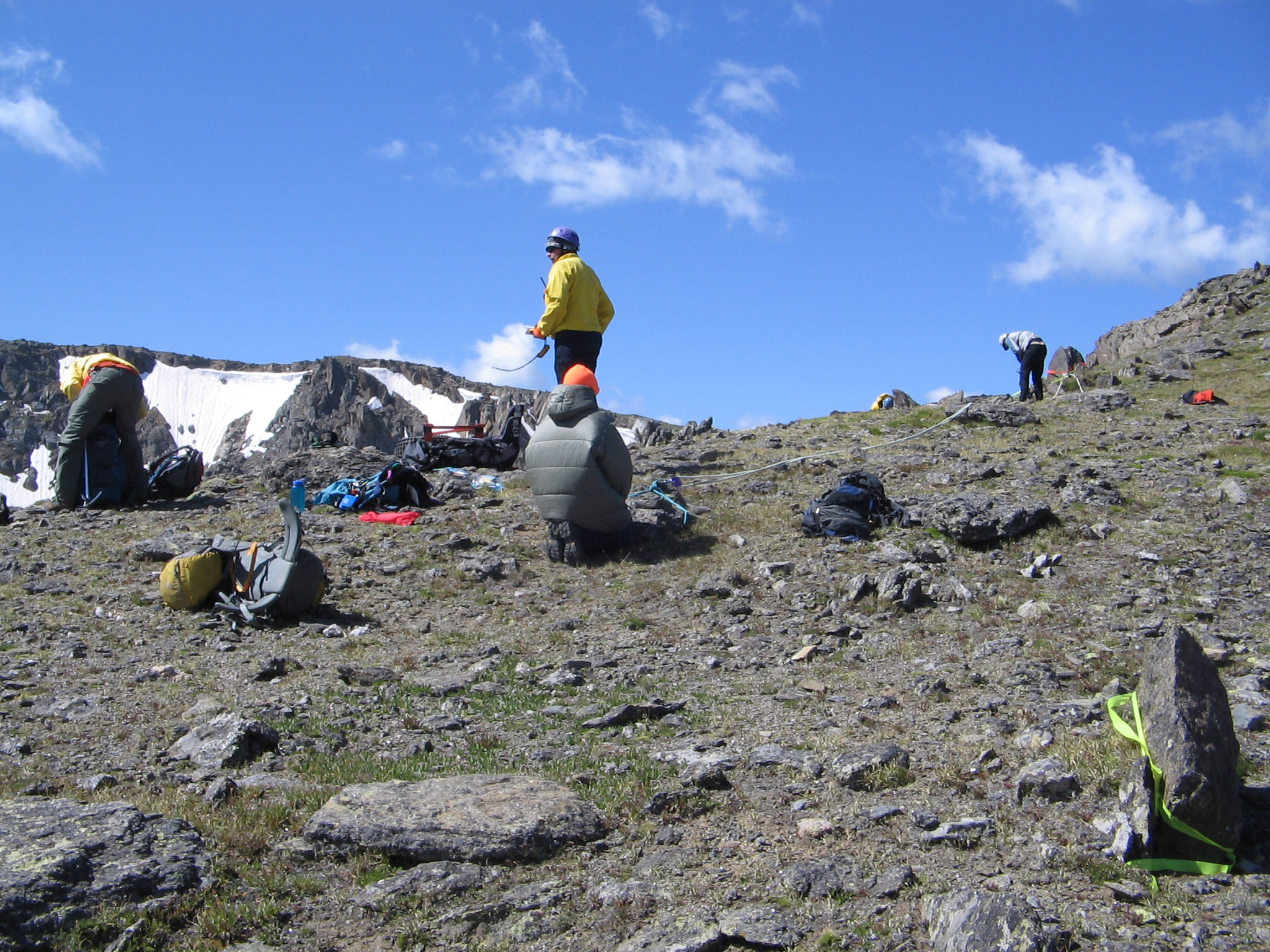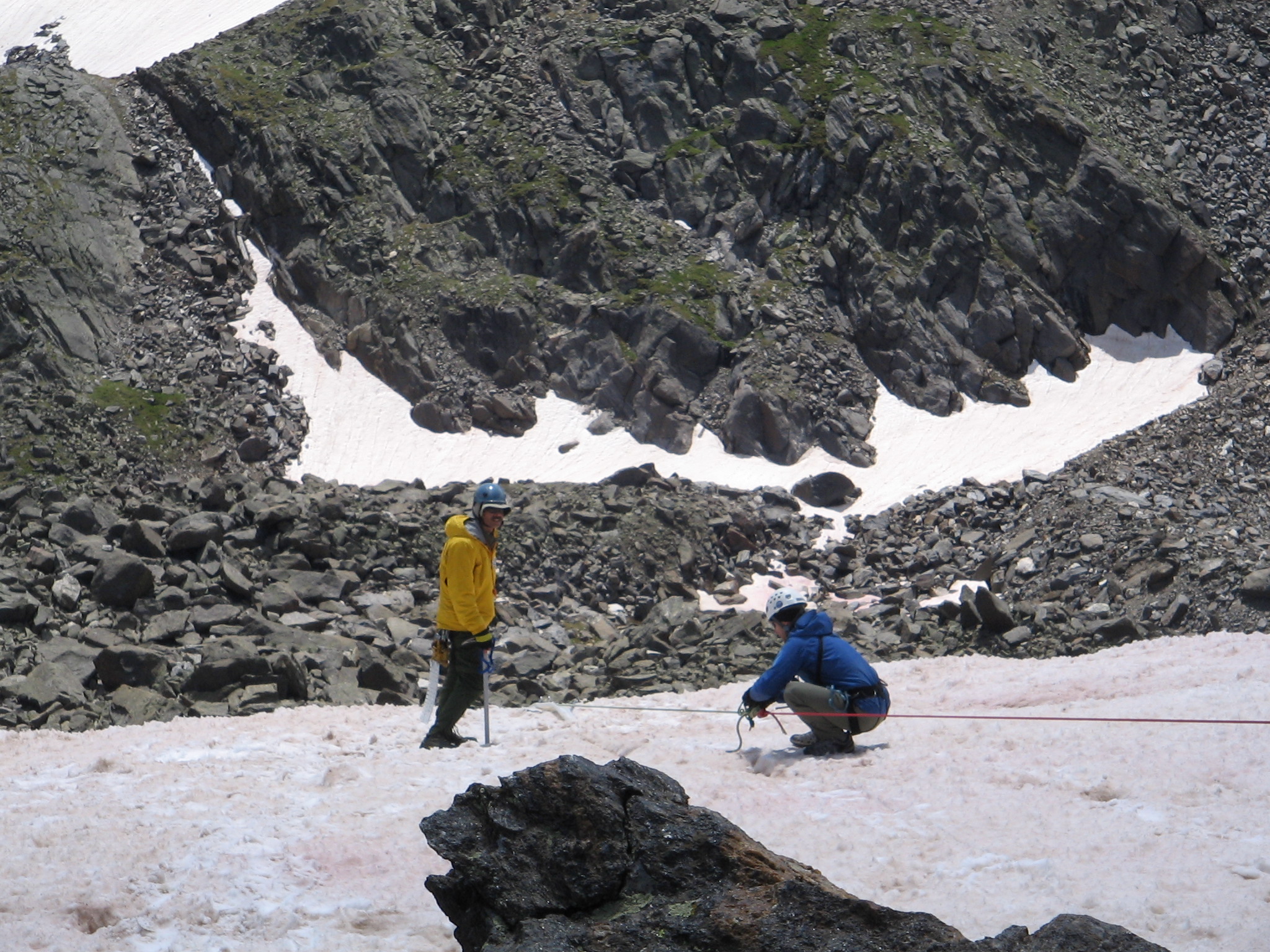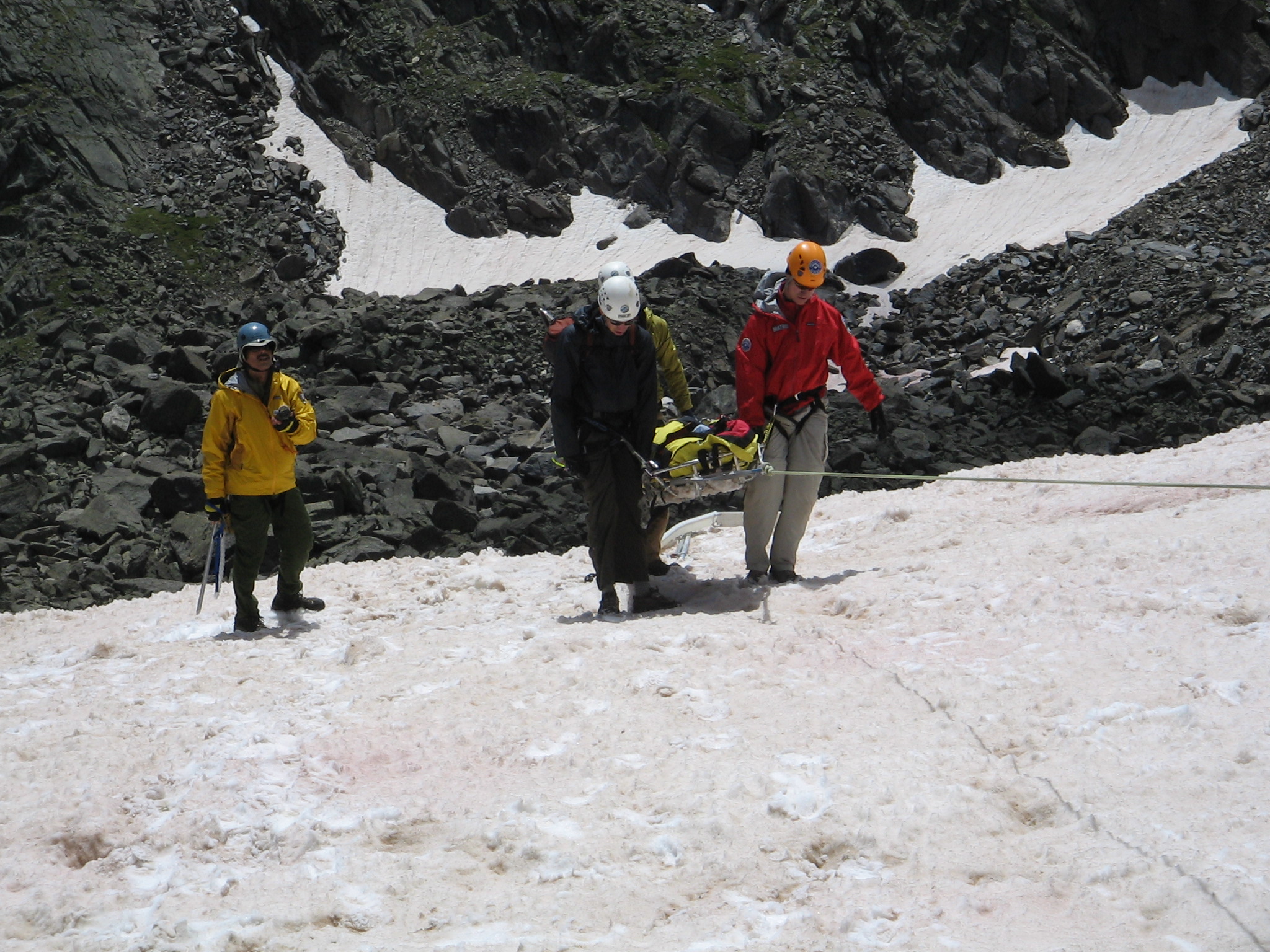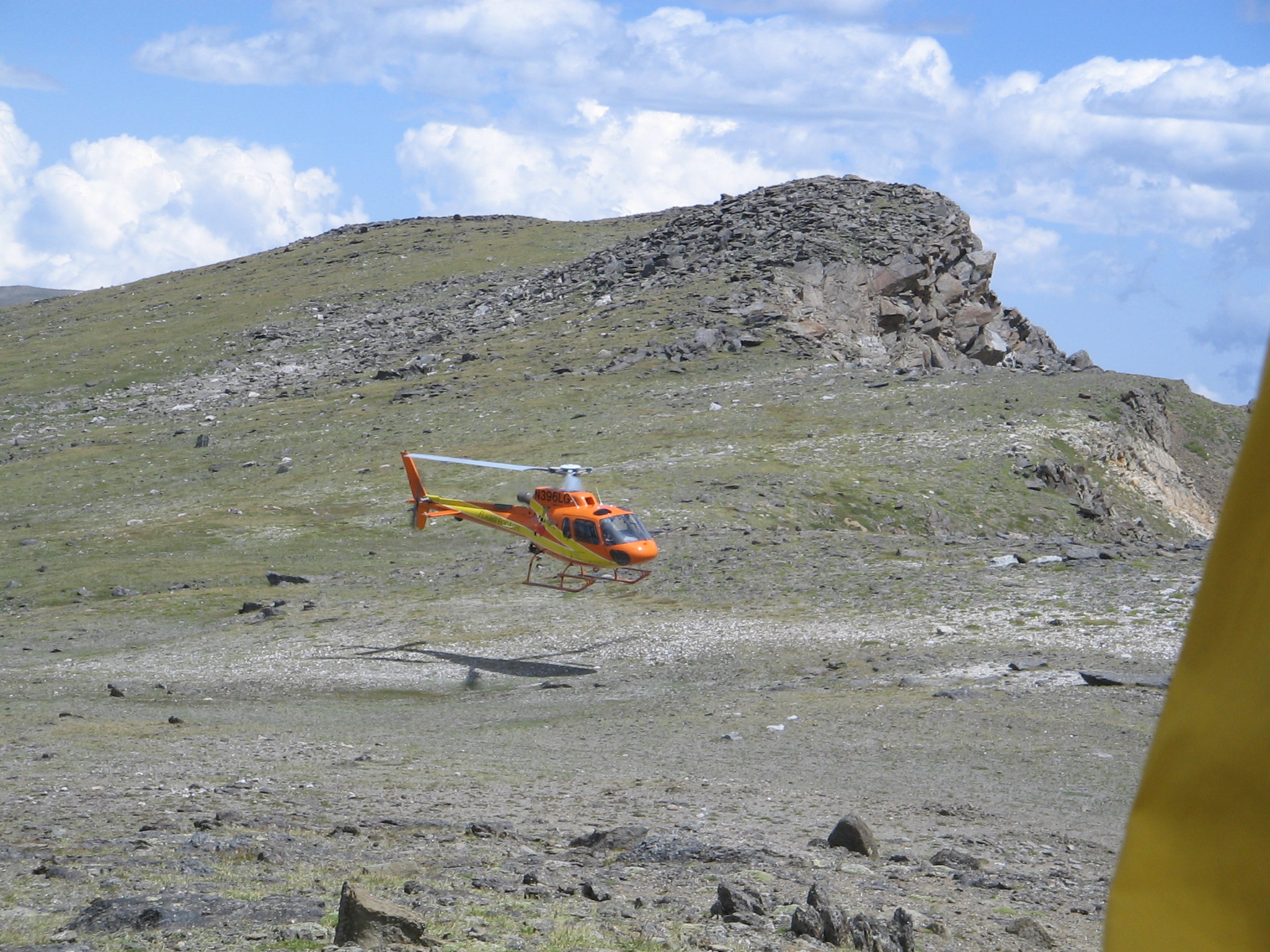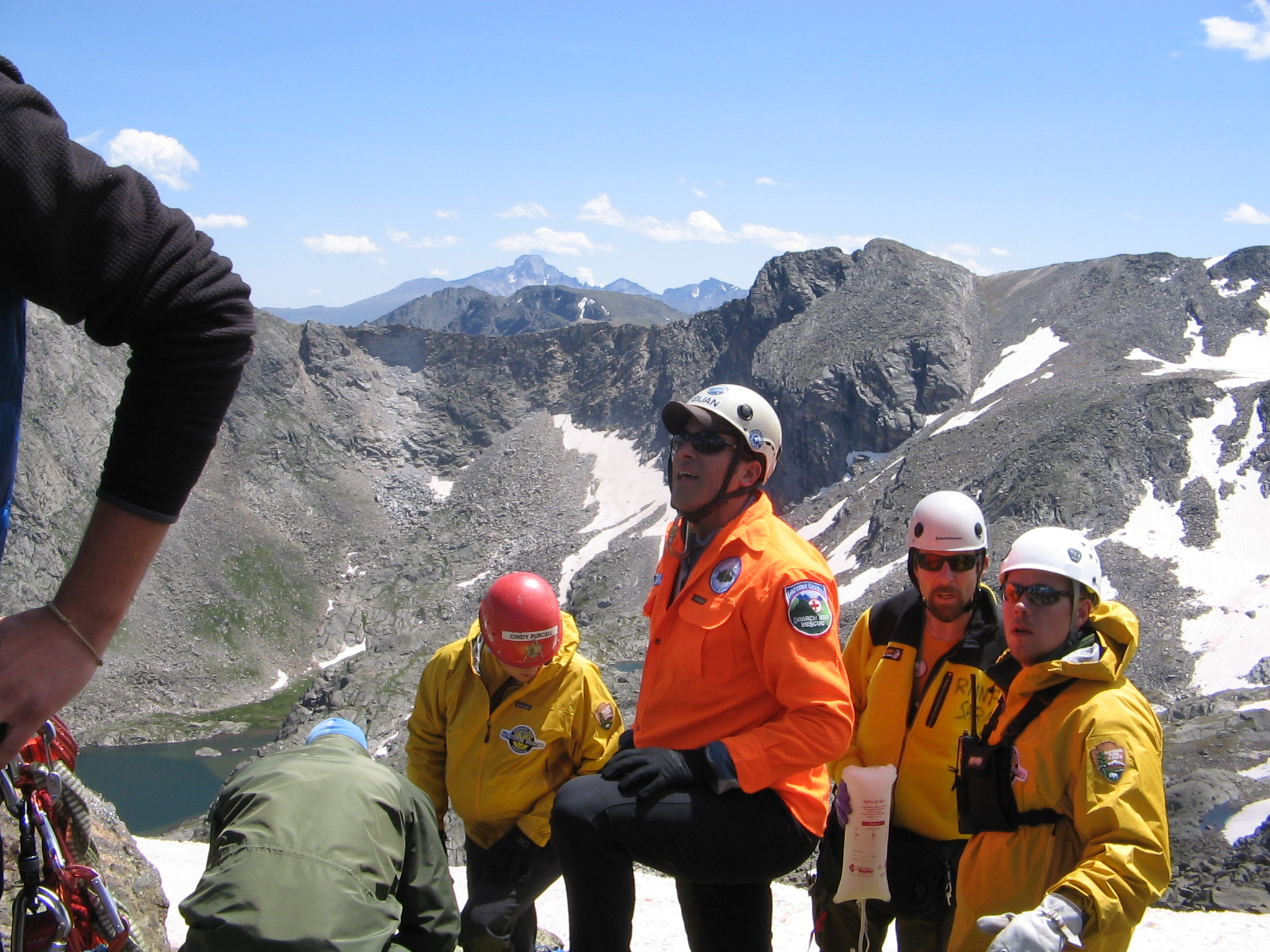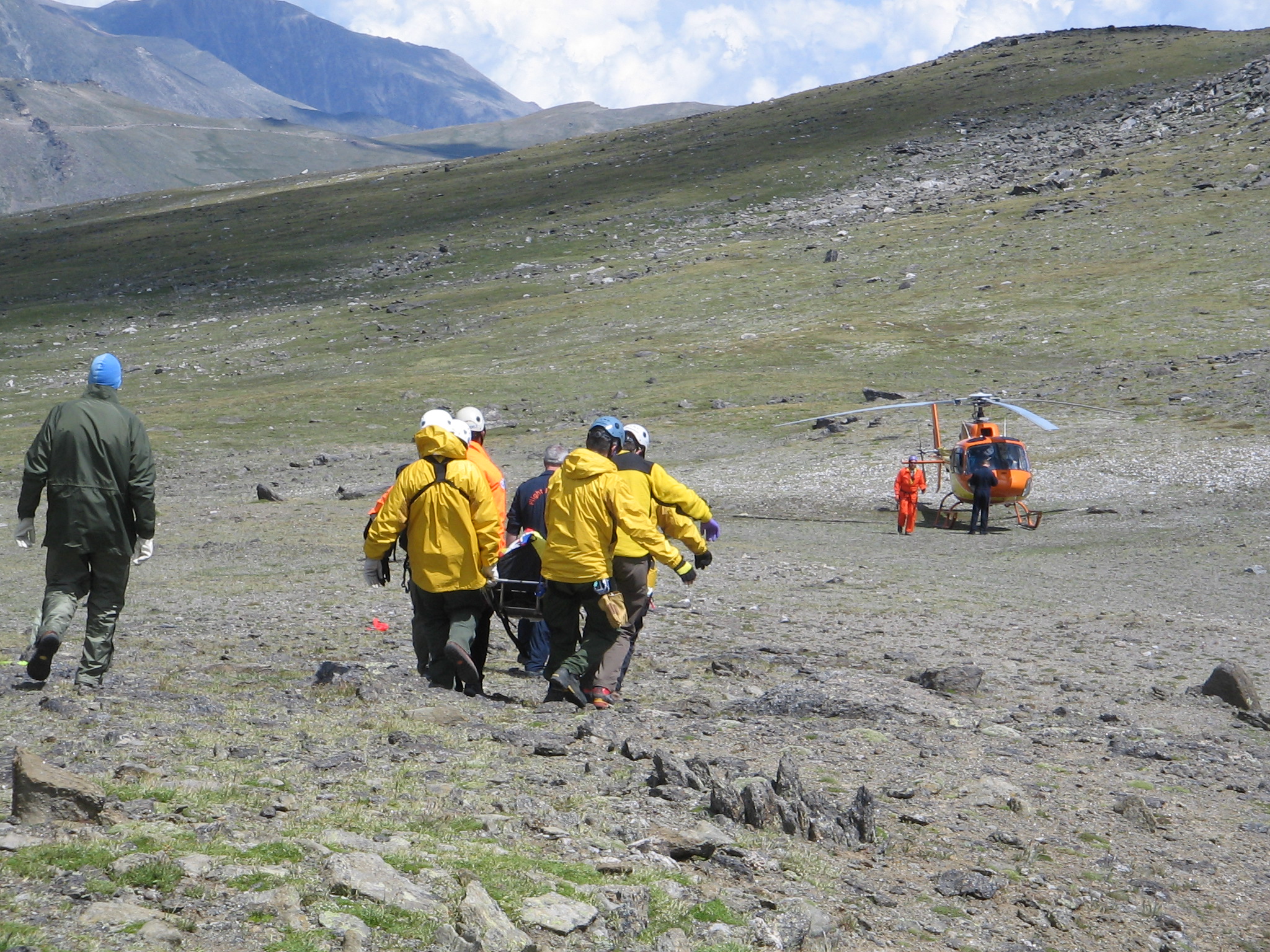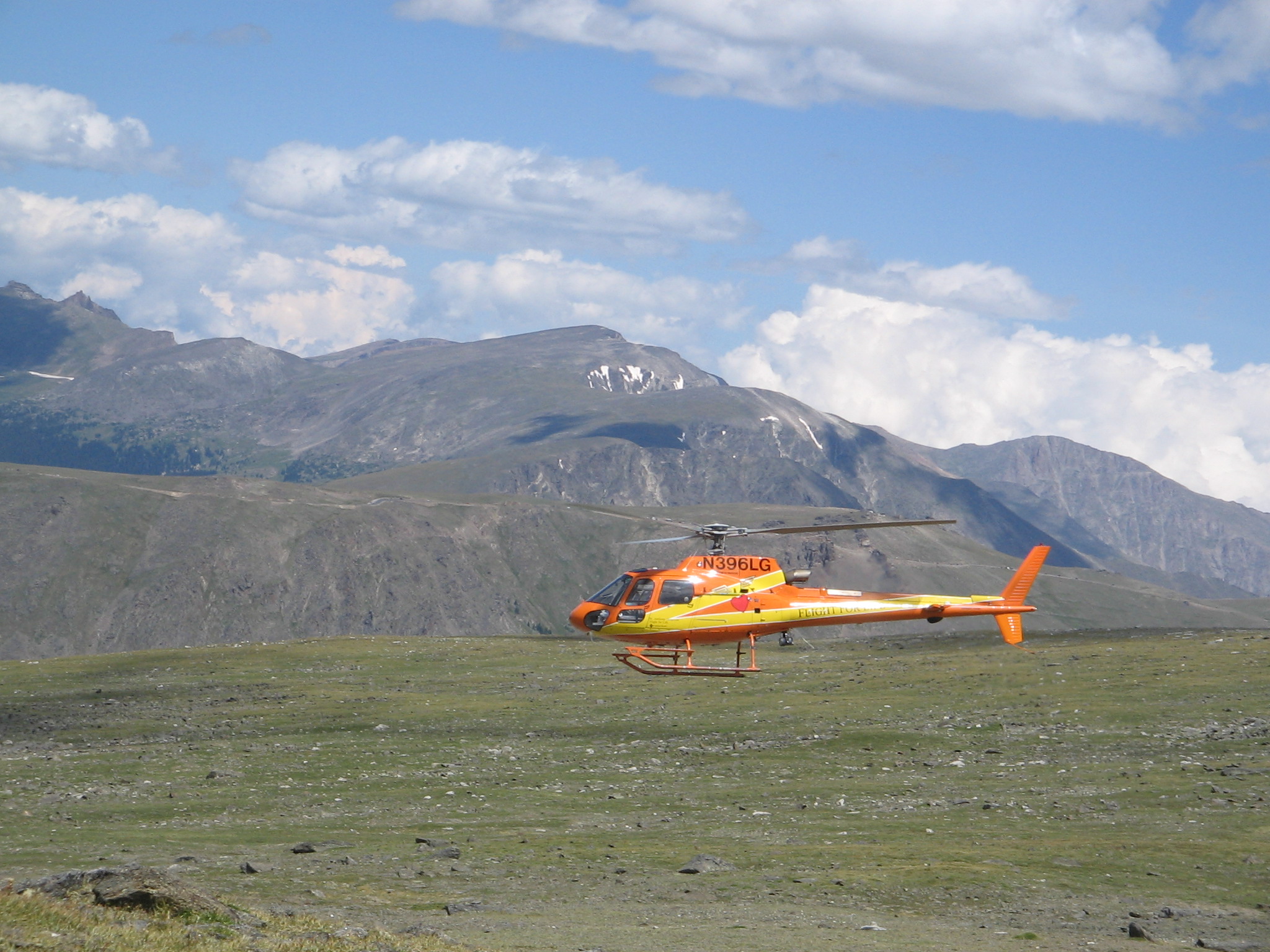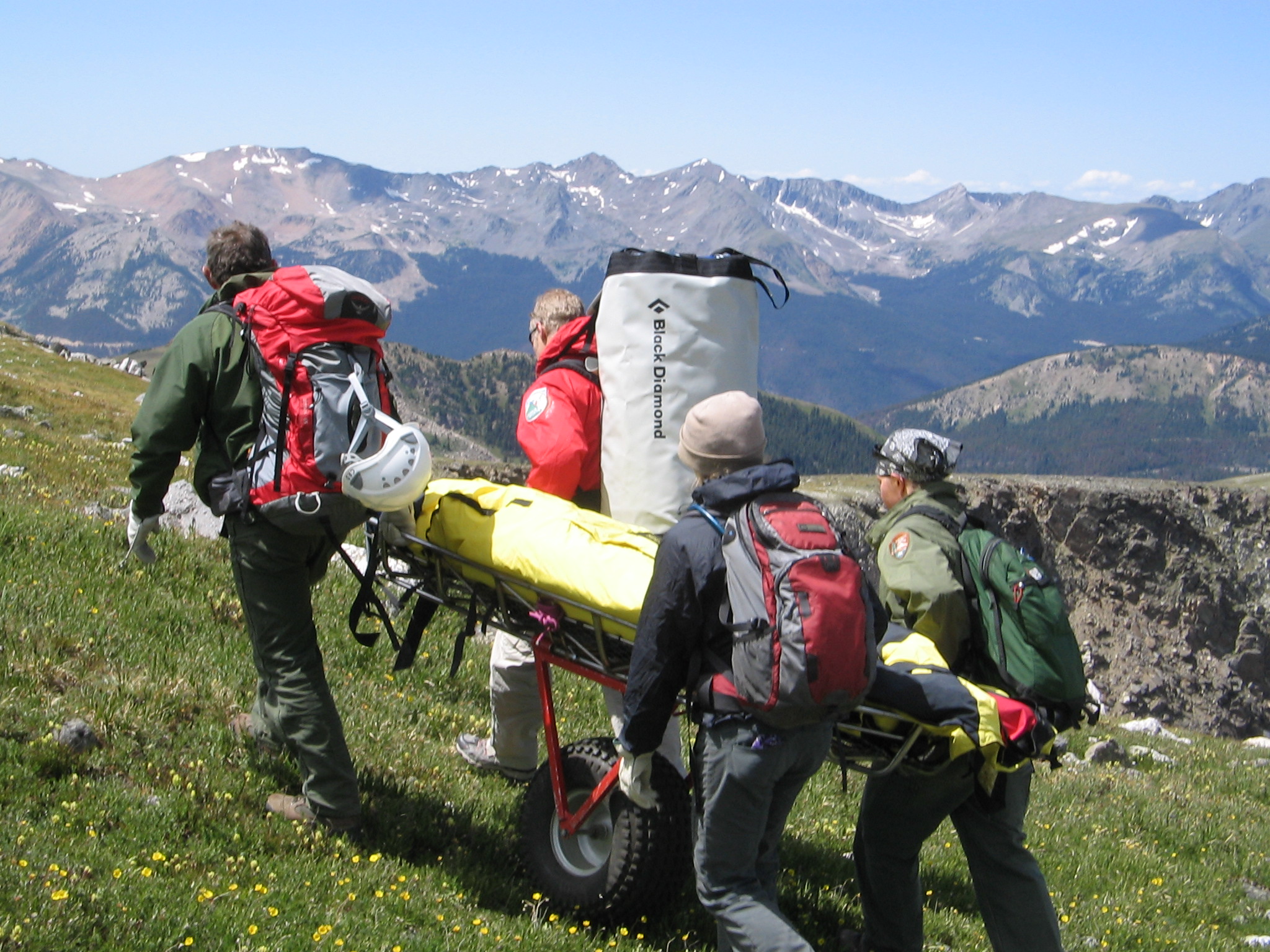 August 8, 2009(Saturday Afternoon) - Round Mountain - Carryout Female with Broken Ankle

August 5, 2009(Wednesday) - Wellington Lake, Hwy 285 Near Evergreen, SAR Dog Request From Alpine SAR

August 3, 2009(Monday) - Lory State Park - Mountain Biker
Two people were mountain biking in Lory State Park when they got separated. A passing boater reported a mountain biker in distress.
LCSAR was paged out at ~1215 hours for a Mountain Biker who appeared to be cliffed out on the west side shoreline of Horsetooth Reservoir. The team responded to assist.
The mountain bike was spotted by a Larimer County Parks Boat Ranger and retrieved the person from the shore. The person was OK.
LCSAR Members: 8
LCSO ES Specialist: 1
Duration: 2.5 hours
Lory State Park: 2
Larimer County Parks: 4

August 2, 2009(Sunday) - Harmony Gardens Fort Collins, SAR Dog Request - Dive Team Assist
SAR manager page at approximately 1930 hours.
I spoke with O3 (Tony Simons) who was requesting one dog team to help establish whether a missing person had exited a pond in the area behind Harmony Gardens, SE of Harmony and I-25. They had a person's clothing, and it appeared that they had gone into the lake, but it wasn't clear whether they had gotten out of the lake. The Dive Rescue team was on scene at the lake, also. I was given no information on the identity of the subject.
ITC Dan Fanning started calling dog handlers.
At 2005 Dan got back to me saying he was on his way to the lake with Trace, and Jacob Udel was going with him as support. Dan was still trying to get hold of handlers Erickson and Zmijewsky. I had Dispatch page O3 to let him know a dog team was on the way.
The Dive Rescue Team found the subject at approximately 2045 hours. Dan and Trace had worked one side of the lake by then. Handler Anderson was enroute, as well.
LCSAR members: 4 + 1 dog
ES specialists: 1
Hours: 1.25 (1.25 x 4 = 5 total person-hours)
Miles driven in personal vehicles (guesstimate): 20
thanks! Sarah Babbitt SAR Manager

July 26, 2009(Sunday) - RMNP - Carryout Assist at Black Lake
17:40 SAR manager page for L-1 to contact S-17 reference an assist to carry out a female with a possible broken ankle on the Black Lake trail. After speaking with S-17, L-1 contacted Donna with RMNP: requesting up to 10 members to assist with the carryout. Rangers had tried horses but the trail was too muddy and slick. 18:00 ITC sent a priority page for team members to respond. One LCSAR member living in Estes Park responded direct. Additional members from the valley were in route and stood down at approximately 19:00 since the fielded teams were making faster progress than expected. By 19:30 L-1 verified that the 5 LCSAR members not on scene received the stand down page. The carry out continued and the final LCSAR member contacted L-1 approximately 00:00 July 27 with details(see below) and that he had returned home.
Duration: 6 hours 20 minutes
Miles to Location: 50.8
SAR miles: 152.4
1 ES: S-17
1 LCSAR members: 6
1 LCSAR ITC: Mike F.
1 LCSAR SAR manager: Robin A.
Robin --
After the LCSAR page around 6:10 PM, Sunday (7/26/09), I checked in with Mike F. and reported directly to the RMNP SAR Cache at 6:35 PM. The subject was a 47 year-old female who had tripped on the trail near Black Lake and possibly broken her lower leg. The IC assigned me to Litter team #2 which fielded at 6:45 PM via Glacier Gorge TH in RMNP. Team #2 met up with the carryout litter at the west end of Jewel Lake, 3.5 miles from the trail head at about 8:10 PM. Because of the rapid progress of the litter, RMNP had released the other LCSAR respondents that were staging at the Safeway in Loveland. The combined RMNP SAR team, totaling 16 responders, reached the trail head with the litter at about 11:30 PM, debriefed, and signed out at about 11:45 PM. -- Tom D.

July 24, 2009(Friday) - Horsetooth Resevoir Area - Missing Suicidal Subject
02:18 SAR manager page for L-1 to contact S-17 in reference to a search for a possible suicidal male. Due to the potential danger suicidal persons may exhibit to SAR team members all SAR team fielded during the night would be accompanied by a deputy. A dog team and deputy searched the area east of the of the subject's car and a tracking team was sent to check for tracks near the location of the subject's car. At 05:32 addition SAR teams were requested and sent to cover the eastern side of the roadway and to the western side. At 07:00 a Lory park ranger would begin patrolling the eastern shoreline of Horsetooth reservoir by boat. Subject was located by the boat patrol approximately 09:05. Ambulance was requested and SAR teams preformed a short carryout over rocky terrain to the Ambulance.
Duration: 7 hours 42 minutes
Miles to Location: 9.9
SAR miles: 90.9
1 ES: S-17
1 LCSAR members: 9
1 LCSAR ITC: Mike F.
1 LCSAR SAR manager: Robin A.

July 23, 2009(Thursday) - Blue Lake Trail Poudre Canyon - Carry Out: Person with Altitude Sickness
16:17 Direct response page for SAR team to respond to Blue Lake Trail head to carry out a male with possible altitude sickness. Scout staff and troop from Ben Delatour Scout Ranch (BDSR) had been hiking the Blue Lake trail when they came upon a male that had been visiting the area over the last 5 days expressing symptoms similar to those of altitude sickness. Scout Staff members, carry the Spot locater beacon and were able to send a request for assistance back to BDSR for help at their location. The Spot when activated sends a preset message and is unable to relay further information other than the message that has been preset and the location coordinates. Once additional BDSR Staff members arrived, a request for SAR was sent by the nearest emergency phone on hwy 14. Three of the BDSR staff were able to begin walking the subject out toward the trail head. Once SAR arrived, the patient was carried to an ambulance and taken to the hospital.
Duration: 5 hours 20 minutes
Miles to Location: 64.5
SAR miles: 645.0
1 ES: O-5
1 LCSAR members: 9
1 LCSAR ITC: Mike Fink.
1 LCSAR SAR manager: Robin A.

July 23, 2009(Thursday) - Soapstone Natural Area - Carry Out: Subject Fell Off Horse
15:22 Direct response page for SAR team to respond to Soapstone Natural Area to carry out an injured horseback rider. A party had ridden seven miles back on the Cheyenne Rim Trail where one of the horses fell on the rider. The party was able to ride and return four of the seven miles and then called 911 needing assistance. Rescues crews were able to drive a vehicle into the subject who was flown to the hospital by air ambulance. SAR members were stood down at 16:17 for Soapstone and diverted to the Blue Lake Trailhead.
Duration: 50 minutes
Miles to Location: 26.7
SAR miles: 213.6
1 ES: S-17
1 LCSAR members: 7
1 LCSAR ITC: Mike Fink.
1 LCSAR SAR manager: Robin A.

July 21, 2009(Tuesday) - Fort Collins/Lemay & Stuart - Walk-away Alzheimer's Patient
2009-7-21 approximately 18:45 while I was conducting a tracking class for Emergency Services Support Group (ESSG) Dave Mosier with Emergency Services received a page about a walk away Alzheimer's patient at 1000 Lemay/Stuart. Since he was first on call and I was first on call it was decided to cancel the training; start working on the search and get the ESSG involved with the search as well. We had the ITC John Lee put some pages out for Searchers, Dogs and Trackers to respond directly to the address and staging would be at the Ridgeway Classical school parking lot.
We had a great response of 21 members and 5 ESSG members to help blanket the area in search of our subject. We had 10 teams and one more dog teams enroute from Estes along with 2 other dog teams on standby and one more member. This is an exceptional turnout for an in town search! Thanks to all who responded! Teams covered Spring Creek Trail and Eudora park along with drivers sweeping the neighborhood streets and interviewing people and places of business. This is a good reminder to have an area street map in your car and a highlighter to mark the areas covered.
There was conflicting reports coming from the 7-11 store down the street, so it was unclear as to whether or not our subject had been there. There was also reports of him escaping earlier and calling for a cab. Finally we had a confirmed report of him catching a ride to a car dealership at College and Horsetooth so our search was about to shift. We pulled all teams in and before we could start organizing a different search area a call came in that our subject had been located and in good condition in Loveland.
All teams were called in and a stand down page was sent to all responding members at 20:45.
Mission duration: 2-1/2 hours
Larimer County SAR members: 22 and 1 ITC
Larimer County SAR hours: 55
Larimer County SAR miles: 500
LCSO-ES Specialist: Dave Mosier
LCSAR SAR Manager: Dave Hake

July 19, 2009(Saturday) - Poudre Canyon - Overdue Father & Son
We had a SAR Manager page for a possible search at 18:54.
Dave Mosier with ES was enroute up the canyon to locate the vehicle of a Father and Son party who was overdue from a hike that they left for 7 hours ago. With it being this early in the evening, we were just given a heads up.
19:16 paged out that the Father and Son had returned home and were ok.
No resources paged out and one SAR manager (Dave Hake) was put on standby.

July 18, 2009(Saturday) - Long Draw Resevoir Area - Code Black Carry Out
12:45PM - Request for LCSAR resources to carry out a deceased subject approximately 2 miles on a trail near Long Draw Resevoir.
This one started out kind of different. A call came into Emergency Services for a Kayaker who was in the Long Draw Corral Creek area so they called out for the Dive team. Jackson County was also enroute since they can get there faster in some cases. Both groups thought it had to do with Long Draw Reservoir but thought it was odd having a kayak involved. While enroute, they learned that the Kayaker had been pulled from the water and CPR was being administered or it had been and they stopped around 10:30. The Dive team was stood down since the subject was out of the water. 12:43, ES specialist Dave Mosier had dispatch page the SAR Manager to put us on standby until we have someone on scene to see just what we have. I contacted the ITC and had him page it out to see who's available. By the time the page went out, Dave M. decided to have us respond Code 1 to at least get us into the area. I opted for a staging at the Cache at 1:30 in hopes of getting some car pooling for the long drive up. It took 3 pages to round up 7 SAR members for this carryout. It was a busy weekend for everyone.
It ended up that the kayaker was kayaking the Cache la Poudre river from Rocky Mountain National Park down to the Big South Trail head. The incident happened in the area of where Corral Creek dumps into the Cache la Poudre. The closest access was from the trail starting at the Long Draw Ranger Station. The location of the scene was actually closer to Peterson Lake but Dave Mosier tried to access the trail at Peterson and it was a very rough 4WD road that we would have to hike in, just to get to the trail. The Corral Creek trail looked to be the best access. It was still a 2 mile hike to get to the subject. State Park Rangers were on scene along with Jackson County Fire crews in bunker gear. Two miles in bunker gear, then back out! My hat's off to them!
Approximately 15:45, the first team (Jose Negron, Dan Fanning and Lee Lang) was inserted with the litter and wheel and body bag. Shortly after that, Mike Erickson and Jarrod Kouma fielded with another park ranger. 16:00, I fielded because of the low turnout and Greg Soffe fielded as soon as he arrived. The litter team arrived at the subject around 16:35. The litter was loaded after photos were taken of the scene by E-19 (Larimer County Mountain Deputy) who hiked in before us. The evac started around 16:45 and we made it to the trail head around 18:00. It was a long 2 mile uphill carry. We could have used 15 to 20 but had to take lots of breaks with the 7 SAR member, 3 Jackson County folks and a State Park ranger who helped at times. E-19 was a real trooper and helped carry the whole way out. Even the Coroner helped in the rotation 3/4 of the way after we met up with her! The others had medical equipment to carry, so if they weren't carrying that, they were helping on the litter. Everyone was tired by the time we made it up the hill. Thanks Jose, Jarod, Mike, Dan, Lee and Greg, for your hard work and persistence in making this happen!
It was unclear whether the reporting party was with the subject at the time of the drowning or if he happened across the accident.
It was a busy day along the Poudre Canyon with another Dive call to respond to the possible location of the Motorcyclist who went in the Poudre last week. It was later confirmed that it was. Jackson county fire crew had to leave as soon as they got to the trail head for another call for a broken hip. Mishawaka was booming with people and hoards of people floating the river, so I'm sure this won't be the last call for the evening!
Mission duration: 8 hour
Larimer County SAR members: 7 and 1 ITC
Larimer County SAR hours: 60
Larimer County SAR miles: 665
LCSO-ES Specialist: Dave Mosier
LCSAR SAR Manager: Dave Hake
Here are some photos of the mission. A beautiful place with an unfortunate situation...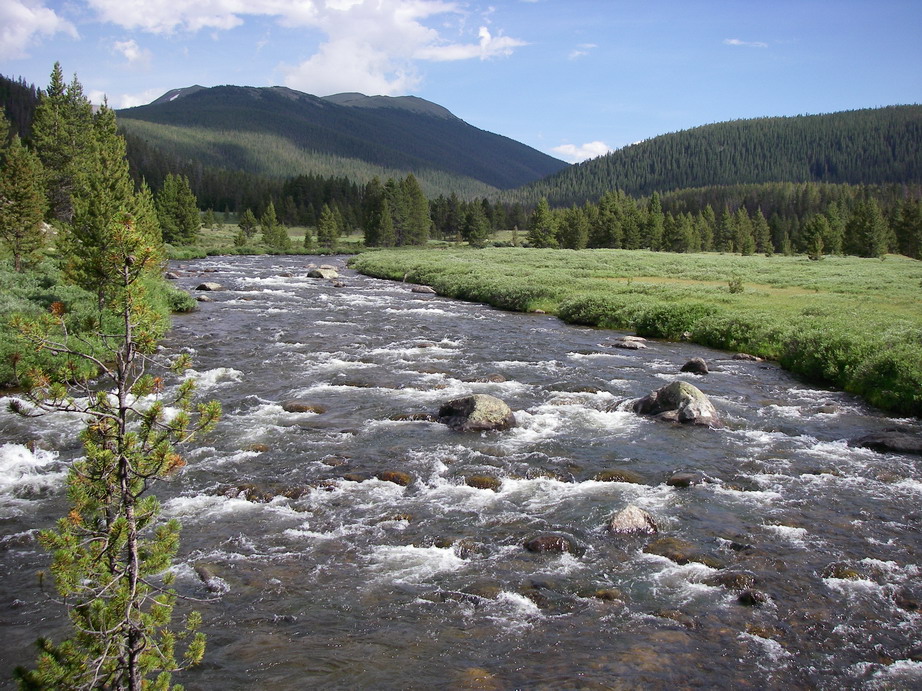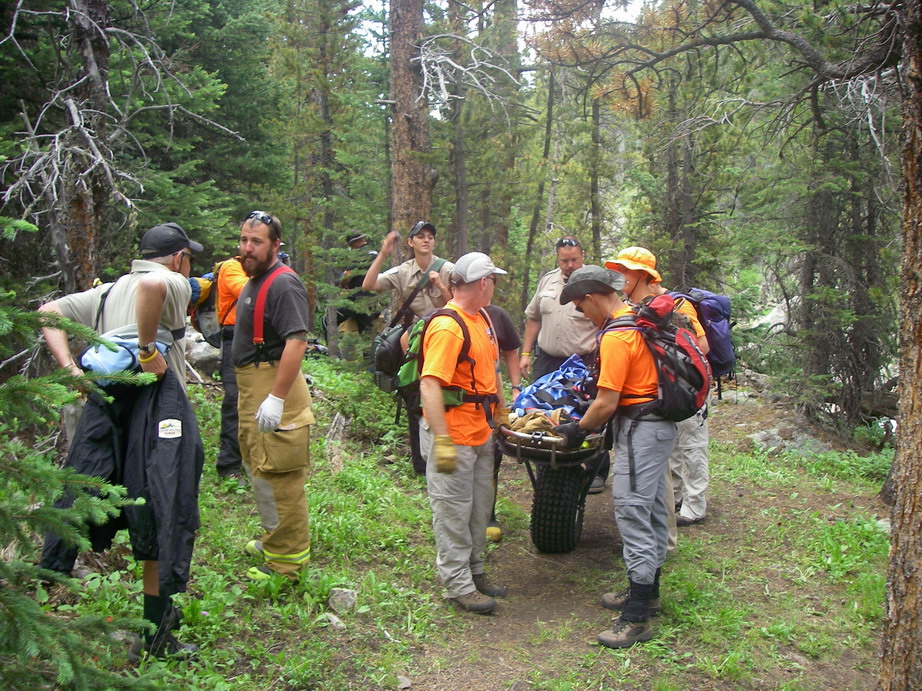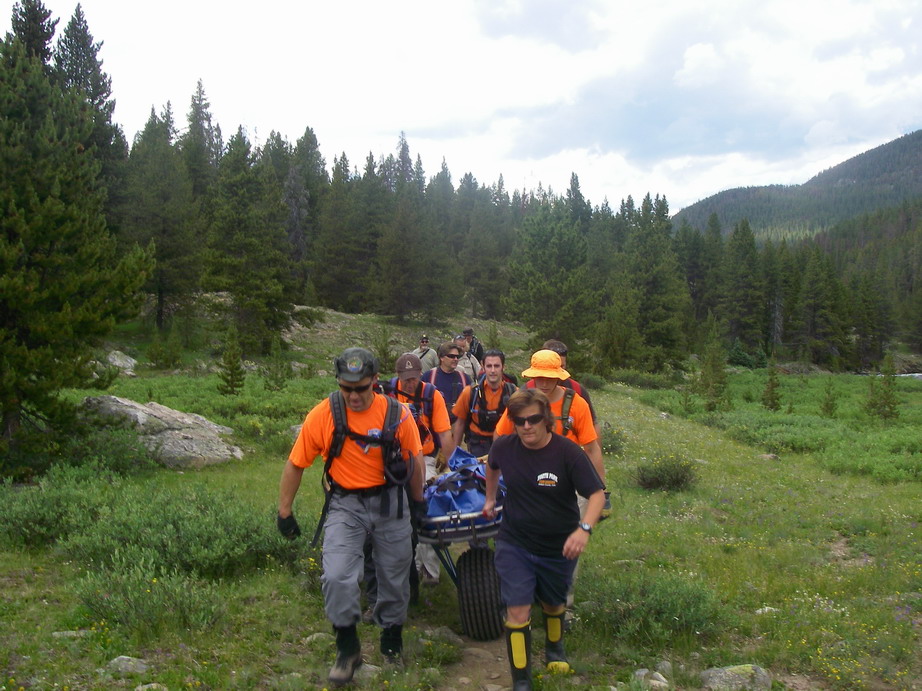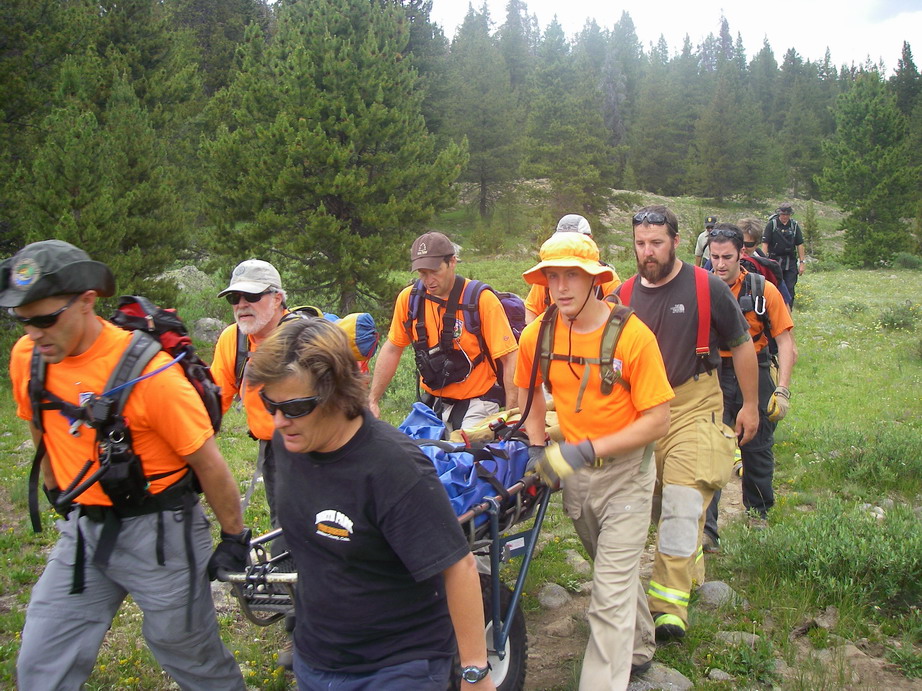 CONTACT: Kathy Messick, Larimer County Sherifff's Office Pager: 970-419-5198
SUBJECT: Body of Kayaker Recovered
DATE: July 19, 2009

On July 18, 2009 at approximately 12:00 noon, Larimer County Sheriff's Office Dispatch received a call from the Rocky Mountain National Park Dispatch on a potential drowning in the area of Long Draw Reservoir. Larimer County Search and Rescue, Larimer County Dive Team and Sheriff's Deputies responded to the call.
A man kayaking the Big South Fork of the Poudre River had gone underwater and hit his head. An acquaintance following behind pulled him out of the water and began CPR. The acquaintance left to get help and hiked approximately two miles to the Corral Creek Trailhead where he located a Rocky Mountain National Park Ranger. The ranger contacted authorities for assistance.
Six Larimer County Search and Rescue members; three Colorado State Park Rangers, out of Gould, Colorado; and three members of the North Park Volunteer Fire Department responded to assist in the location and recovery of the body.
The body was turned over to the Larimer County Coroner who will determine his identity.

July 15, 2009(Wednesday) - Boulder County - Search Assist Suicidal Female
20:03 SAR manager page for L-1 to contact O-3 reference an assist to Boulder County for a woman missing since June 20th she was recently diagnosed with terminal cancer and then purchased a handgun. Her vehicle was discovered near NCAR. Boulder teams were searching. Requested assistance of 5 LCSAR members to field in the morning. Wednesday is an LCSAR training night. Two team members attending the training would respond no addition members responded since the mission was stood down 20:24 woman was found deceases 3miles in from her car.
Duration: 21 minutes
Miles to Location: 50.8
SAR miles: 0
1 ES: O-3
1 LCSAR members: 2
1 LCSAR ITC: Mike F.
1 LCSAR SAR manager: Robin A.

July 14, 2009(Tuesday) - Lilly Lake RMNP- Fallen Female Climber
5pm - Page came out requesting a direct response to the Lilly Lake area near Estes Park to assist with a fallen Climber. Approximately 12 LCSAR members were in-route when the stand down page came out indicating that the injured party had walked out to the parking lot and would be transporting themselves to medical care

July 13, 2009(Monday) - Chaffee County - SAR Dog Request/Missing 4YOA
9:55am - SARDOC Dispatcher Fink could not cover so Fanning took this and just started to make the call when the stand-down page came out saying the child was found and was okay

July 9, 2009(Thursday#2) - Crosier Mountain- Missing Hiker & Dog
Wednesday 8 July 2009 -- Crosier Mountain -- Duty SAR Manager (George Janson) paged at 21:52 to call Dave Mosier regarding a lost hiker on Crosier Mountain. A 22 year old female, Trista, and her Shih Tzu went hiking at about 20:00 on the trail from Glen Haven (behind the Inn of Glen Haven and the stables). She and her family are here on vacation (from northern Kansas, based on the 785 area code of her cell phone). Since Trista had no headlamp nor any gear to spend the night, no food and only a small bottle of water, and was dressed in shorts, tee shirt and tennis shoes, her mother became concerned when the night became fully dark and called 911. Trista did have her cell phone, and Dispatch was routinely calling it after having left a voice message to call 911 on their first call. Dave and George discussed putting hasty teams in at three of the trailheads (Garden Gate, Gravel Pit, and at the ranch on the west side where we've had lost folks exit) with the trackers and dog team starting at the LSP at the Glen Haven trailhead. By the time the Team would get there, after midnight, Trista would have had 4+ hours lead, and could be on any of those trails, especially given the numerous paths in Piper Meadows that could be confusing in the dark. Radio communications would be a problem that we'd deal with as needed.
Link to Crosier Mountain Info on SummitPost
While George was on the phone with Dave, a page came in asking for the SARDOC coordinator to call RMNP to provide dog teams for the next morning -- OK, two local missions needing dogs. ITC Mike Fink was handling the RMNP request when George called him to also task a dog team for Crosier Mountain. Mike requested George task another ITC for the searchers, and Brian Walsh stepped up to handle it. While George was on the phone with Brian, the stand down page came from Dispatch at 22:20 saying that Trista had returned to the trailhead and was OK.
Mission duration: 1/2 hour
Larimer County SAR members: 3
Larimer County SAR hours: 1
Larimer County SAR miles: -0-
LCSO-ES Specialist: Dave Mosier
LCSAR SAR Manager: George Janson

July 9, 2009(Thursday) - Rocky Mountain National Park / Ypsilon Peak- Missing Hiker
July 9, 2009 Missing hiker OK after night out in RMNP By Coloradoan staff A 71-year-old woman reported missing yesterday in Rocky Mountain National Park walked out on her own this morning and was reunited with her husband. The woman, who park officials identified only as a Boulder resident, walked out at the Chapin Pass Trailhead at 6:30 a.m. She did not need medical attention, park officials said. The woman and her husband reached the summit of 13,514-foot Ypsilon mountain yesterday but became separated on the hike down. Her husband notified park staff she was missing at 4 p.m. Two teams of park rangers searched for the woman and spent the night in the backcountry. When the woman hiked out this morning, a ranger was waiting at the Chapin Pass Trailhead and drove her to the Beaver Meadows Visitor Center. Temperatures in the park were mild Wednesday night and there was no precipitation in the area.
Publish Date: 7/9/2009... Woman spends unplanned night atop mountain Loveland Reporter-Herald ROCKY MOUNTAIN NATIONAL PARK A 71-year-old Boulder woman survived a night in the national park after becoming separated Wednesday from her husband during a hike. The woman, whose name was not released, walked out on her own at the Chapin Pass trailhead about 6:30 a.m. today. A ranger was parked at the trailhead and drove her to the Beaver Meadows Visitor Center, where the woman was reunited with her husband. She did not require medical attention, according to park spokeswoman Kyle Patterson. The woman and her husband summited the 13,514-foot Ypsilon Mountain on Wednesday, then became separated after she started down ahead of him, Patterson said. He called park officials and reported his wife missing at 4 p.m. Wednesday. Rangers began searching about 7 p.m., and stayed the night in the backcountry. Temperatures overnight were mild.

July 8, 2009(Wednesday Afternoon) - Poudre River MM102 - Motorcyclist in the River
FOR IMMEDIATE RELEASE
Larimer County Sheriff's Office
Eloise B. Campanella
July 8, 2009
Subject: Motorcycle Accident in Poudre Canyon Highway
At approximately 2:00 PM on July 8, 2009, Larimer County Sheriff's Office Dispatch Center received a report of a motorcycle accident in the Poudre Canyon near mile marker 102. A witness reported having seen the accident and that he saw a rider go under a guard rail and into the Poudre River. He further reported that he searched the river and when he was unable to locate the rider, he reported the accident.
Larimer County Sheriff's Office Emergency Services, Poudre Canyon Fire, Larimer County Search and Rescue, Larimer County Dive Team and Poudre Valley Ambulance responded to mile marker 102. They immediately searched the area but were unable to locate the rider. The motorcycle was recovered.
Based on information from the motorcycle they were able to locate the registered owner who reported that his father, a 60 year old, who resides in Hawaii and Missouri, had borrowed the motorcycle at 10:00 that morning. Search and rescue personnel were unable to locate any sign of the male. They will search this evening and suspend operations at nighttime.
Emergency Services said that the river is running dangerously high and it unknown at this time when the search will resume. With the water as deep and turbulent as it is, certainly the safety of the responders is a concern.
Emergency Services has asked the witness of this accident to please contact Larimer County Dispatch Center at 416-1985.
Further information will be released as it becomes available.
From Allen:
1415 hours: Page to SAR team from dispatch for emergent response to Stevens Gulch for report of a motorcyclist that hit a guardrail and "rider possibly launched into river." The page indicated the dive team and Poudre Canyon QRT's were also responding.
At Stevens Gulch (staging), additional information was provided to the teams responding. Witnesses reported seeing the cyclist hit a guardrail in the Narrows, a few miles upstream from Stevens Gulch. The cyclist went underneath the guardrail into the river. The biker had not been seen since. There was a report of a helmet floating downstream, but it was not located. The bike remained near the accident site. Biker is reported to be 60 years old and had borrowed his son's bike for a day ride.
Dive teams were immediately dispatched by command to start searching the area in the river upstream from the accident site to the highway bridge (BM6198). SAR teams were dispatched to search the river from the river banks, from the highway bridge to areas downstream from Stove Prairie Landings. 7 teams of SAR members, including 3 dog teams, were fielded starting at 1515 hours.
Search efforts continued through the afternoon and early evening, without finding the biker. About 1900 hours it was determined that all likely areas of the river had been searched to the extent it was safe to do so. The river was running very high, and certain areas were treacherous and deep. Therefore the search was suspended, with no plan for a second operational period.
Agencies responding:
ES specialists (O2 and S17) - 2
LCSAR members - 13
LCSAR ITC - 1
LCSAR Manager - 1
Colorado State Patrol - 3
Larimer County Dive Team members - 15 (approximately)
Poudre Canyon QRT members - 4 (approximately)
US Forest Service Personnel - 1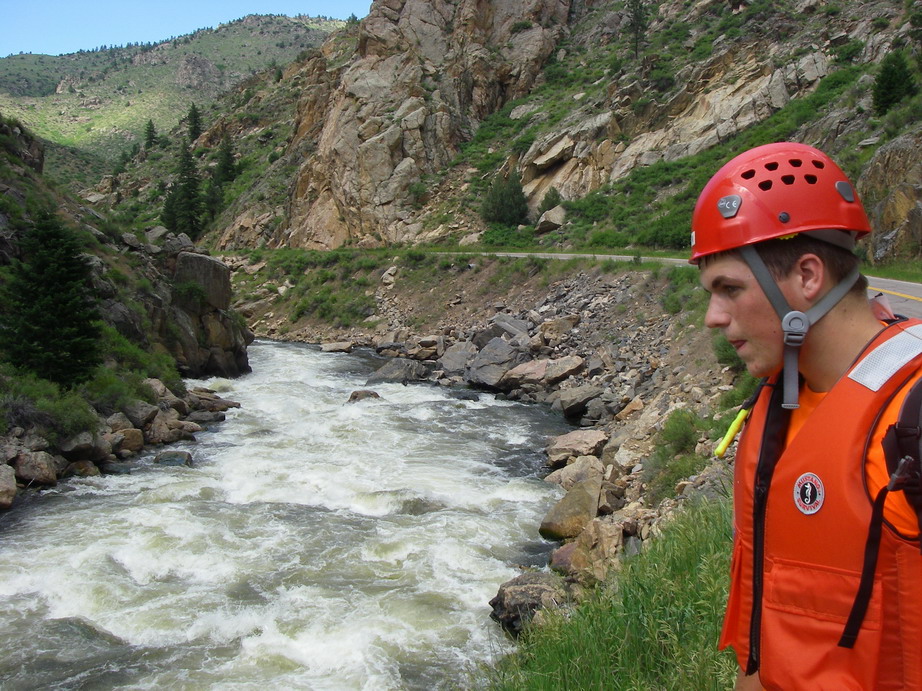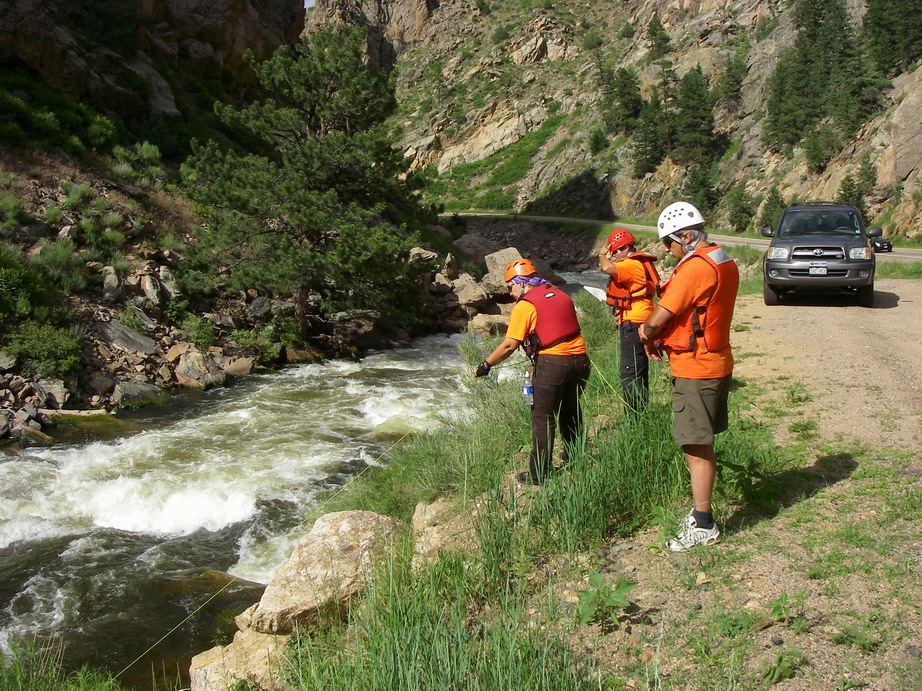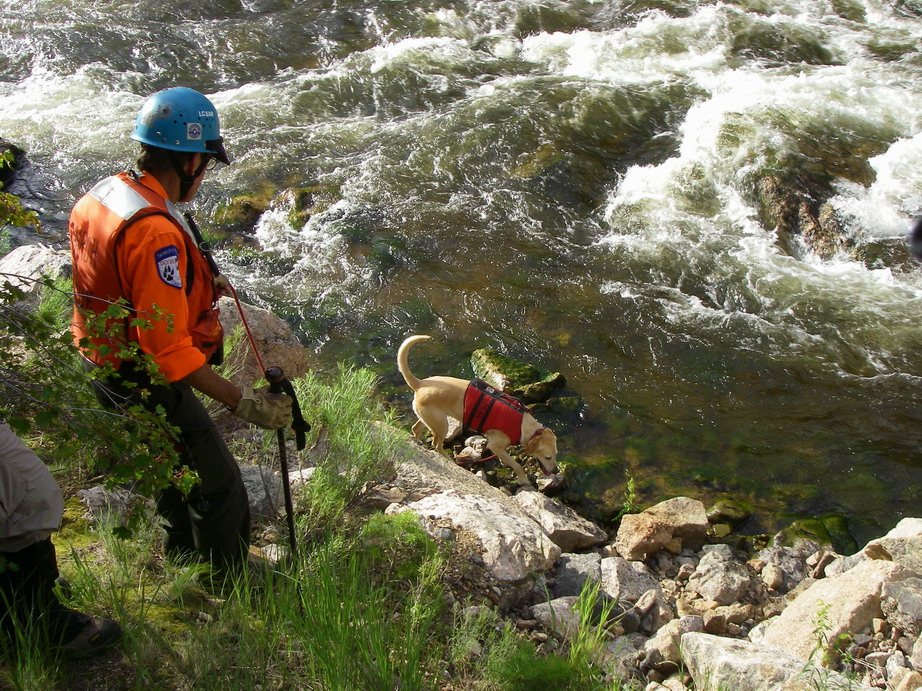 July 8, 2009(Wednesday) - Mountain Park Campground - Missing Camper
00:59 SAR manager received a page to call S-17 regarding a missing male at the Mountain Park Campground. At 01:37 SAR manager duties were passed to an alternate SAR manager who contacted the ITC to request SAR team response. S-17 was already in route to the Mountain Park Campground looking for the male last seen wearing a brown shirt, khaki short and tevas. Earlier in the day, the subject and the girlfriend decided to hike the loop trail that is about 2.5 miles in length. During their hike the two had a disagreement and separated with the subject going on head mentioning he would "catch a ride back home". When the girlfriend arrived back at the campground, the subject was not there. She waited but later assumed he must have hitchhiked back to Fort Collins when he did not appear. She reported him missing after arriving home and not finding him. Meanwhile, the subject returned to the campground. Finding the vehicle gone he attempted to place a call from the camp's host home but was told the phone would not work until the morning. The Subject then chose to shelter in the outhouse where he was located by S-17. All SAR members were stood down at 02:54.
Duration: 1 hour 55 minutes
Miles to Location: 32.3
SAR miles: 161.5
1 ES: S-17
1 LCSAR Truck 10: John L.
1 LCSAR (RMT) Tracker: Dave H.
2 LCSAR (SARDOC) Search dog team: Dan F. /Trace, Robyn B.
1 LCSAR ITC: Jim M.
1 LCSAR SAR manager: Robin A. covering for Allen W.

July 7, 2009(Tuesday) - Grey Rock - Missing Hiker & Dog
"Babe" rescue...
1833 hours: Page to on call SAR manager to contact S17 of emergency services. S17 advises that a male contacted 911 dispatch at Weld County, and stated that he was "overlooking the Hewlett Gulch trailhead". Weld County then attempted to transfer the call to Larimer County, and lost the call. When dispatch tried to call back, it went straight to voicemail. S17 just was alerting the SAR team of the possible mission, but did not want to deploy the team yet.
Dispatch and ES had the phone number of the subject, and was able to determine what cell tower the subject reached. But information on the subject did not match up with the addresses available. (So scent articles could not be obtained from the residence.) No information was available as to whether the subject had medical conditions, whether he was lost, whether he was hurt, or if he even needed help. Weld County did not secure any info from the subject before attempting to transfer the call, since it was not in their jurisdiction.
S17 drove up the canyon and located the subject's vehicles at Greyrock parking. S17 then contact the SAR manager again to page the team for a response---still not knowing if it was a search or a rescue. Several team members were already at the cache for other team business, including the SAR manager. The SAR manager and 3 team members left immediately from the cache with two trackers responding direct. Other team members were going to stage at the cache and respond from there.
The initial assignments sent foot teams to Hewlett Gulch trail, and trackers up the Meadows Trail of Greyrock (about 2024 hours). Other teams were about to be fielded, when the initial team up the Meadow Trail reported voice contact with the subject and then met up with the subject (about 2054 hours at UTM 746/049). The subject was fine, and uninjured and not lost. However, his 100 lb Rotweiller dog (named "Babe") had severely torn pads and would not walk another step. SO... it became a Larimer County DOG Rescue mission. The team was deployed to Babe's location with litter, 75 foot anchor rope, and the wheel. The team performed a well executed trail carryout of Babe, who was glad to reach the car around 2215 hours. "We got you, Babe"
All resources were back in Fort Collins around midnight---to allow about 45 minutes of sleep before the next page at 0102 hours for a search at Mountain Park Campground (see separate report for that mission info).
Agencies responding:
1 ES specialist (S17)
16 LCSAR members
2 SAR managers (Weaver & Anderson)
Miles: 750 miles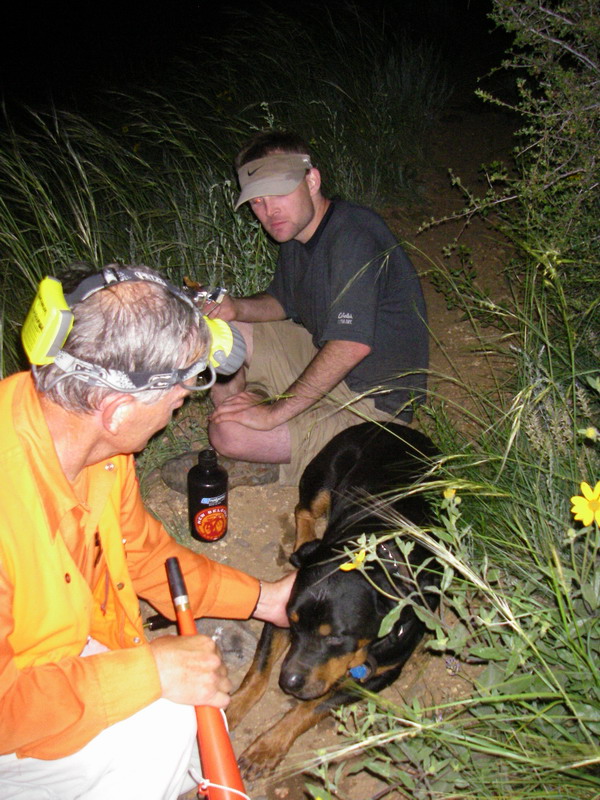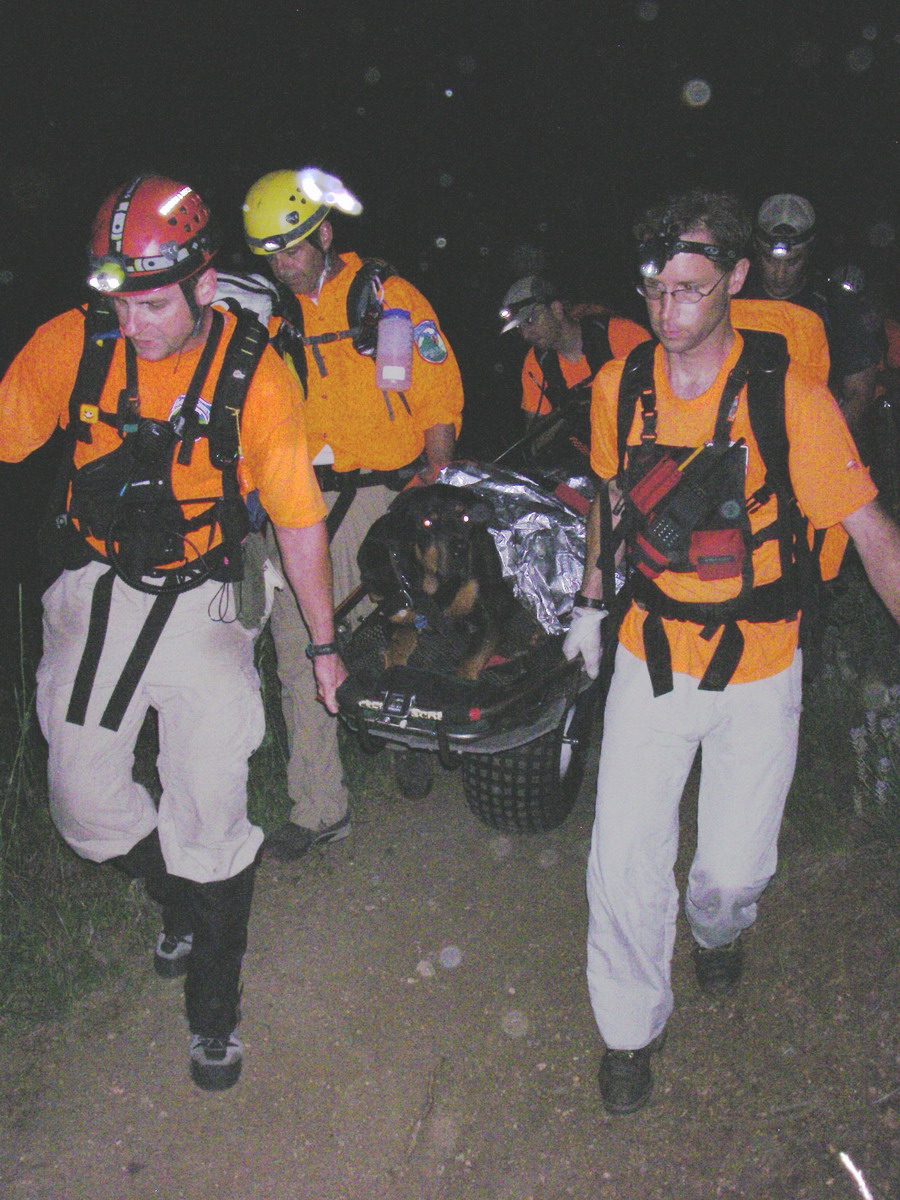 July 3, 2009(Friday) - Crosier Mountain - Injured 14 YOA Horse Rider
1804 hours: Priority team page requesting the team respond directly to Crosier Mountain for injured horse rider. Enroute, O2 from emergency services advises by radio this is a 14 year old boy who was riding a horse, and put a tree limb through his leg. It is believed the boy is about 1-1/2 miles up the trail. The best access point was still being determined.
The initial response by team members, as reported to dispatch, was relatively low, and no one had reported picking up the team truck. A second page for resources was sent to the SAR team, and request for someone to pick up the truck. Shortly thereafter, it was determined that Loveland Fire & Rescue was at the trailhead and had a litter and wheel available. Therefore, team members were advised not to bring the team truck, since it would mean going out of their way to get it.
A total of 16 team members responded. An excellent response, considering the team had been a paged for another mission less than two hours prior! Of those responding, 14 members were fielded. Prior to our arrival members from Loveland Fire & Rescue and the ambulance had started up the trail.
The patient had been in Colorado with his family for the past few weeks, and was on a trail ride with the camp where they had been staying. While riding, the horse picked up it's pace while near a tree, and the boy's leg was impaled with a tree branch approximate 1/4" diameter. The branch had been cut off, and left in the boy's leg for transport. Medical personnel indicate there was very little bleeding, and the limb entered the knee joint in a position very similar to arthroscopic surgery.
As personnel were going up the trail, Flight for Life was put on standby. After determining a suitable landing zone, the helicopter was launched. All but 2 members of LCSAR made it to the patient prior to the arrival of the helicopter. Team members helped carry the patient to the helicopter, including the use of a long caterpillar line.
The accident happened about 1630 hours. The boy was loaded into the helicopter about 2014 hours.
Personnel involved:
LCSO ES specialist: 1
LCSO Mountain Deputy: 1
LCSAR members: 15
LCSAR manager: 1
Approximately 12 members from other agencies (Loveland Fire & Rescue, ambulance, etc.)
Miles driven: 750 miles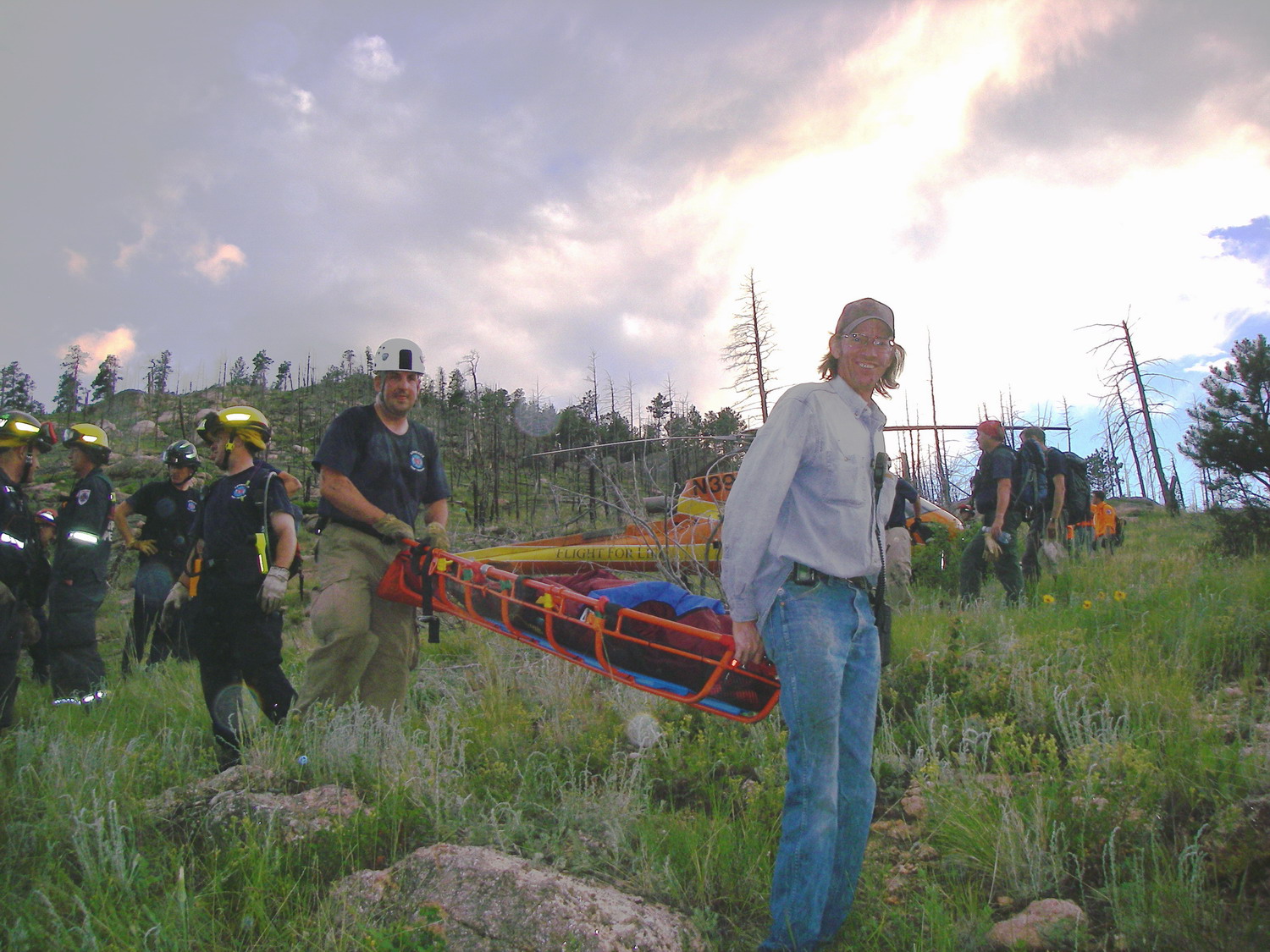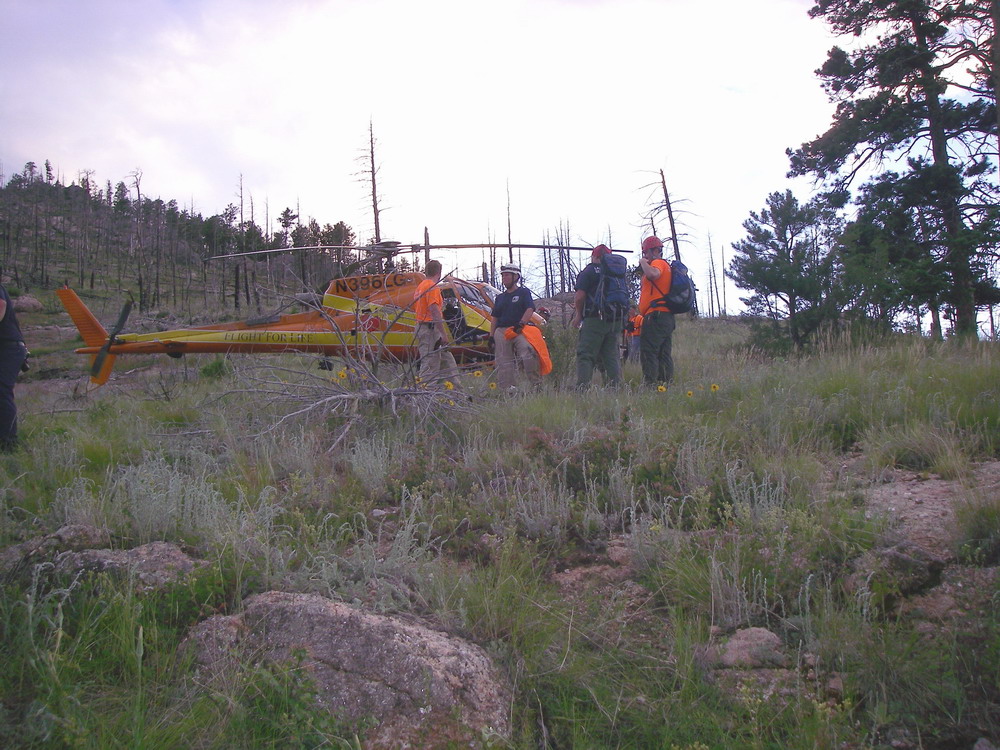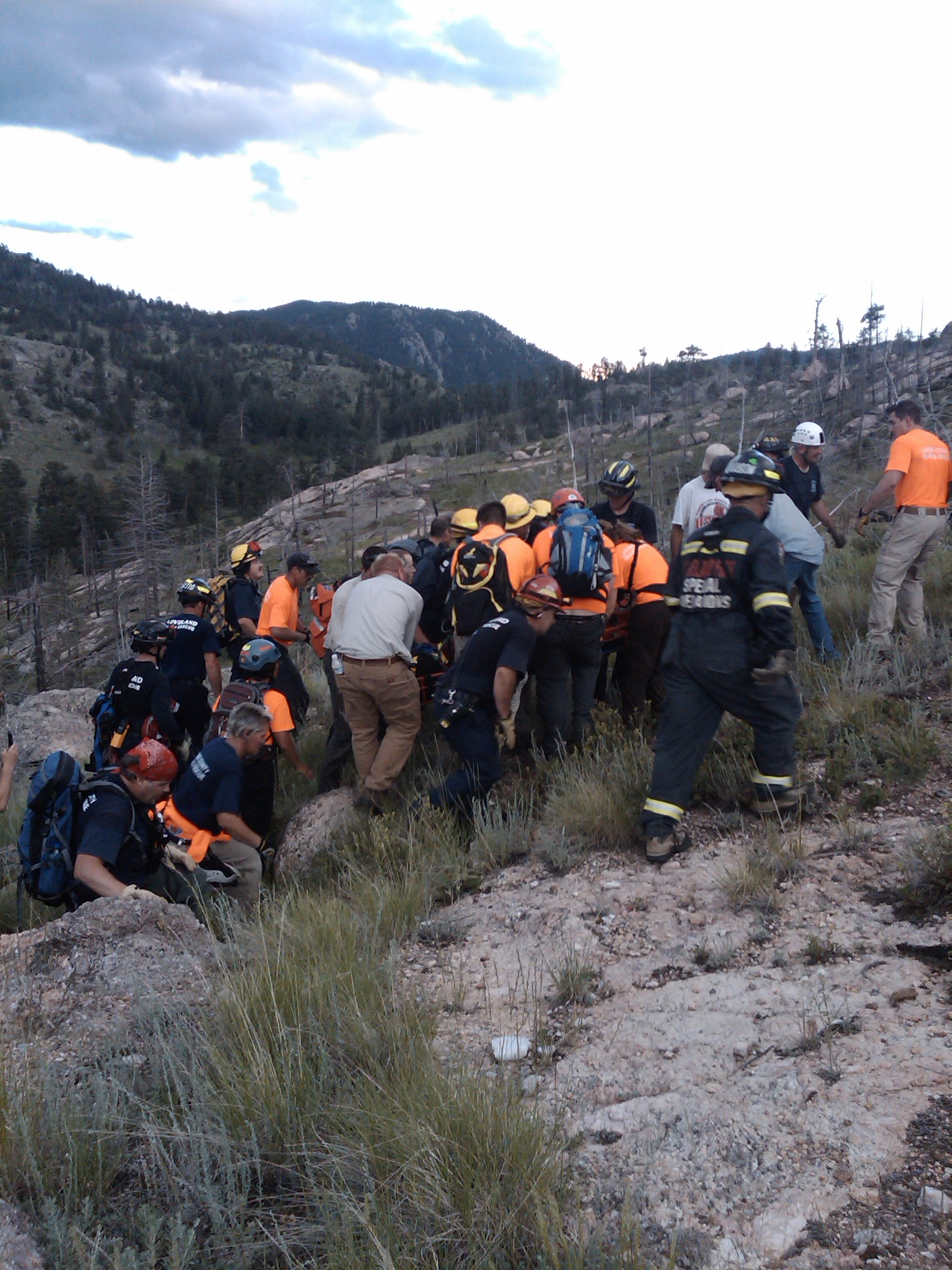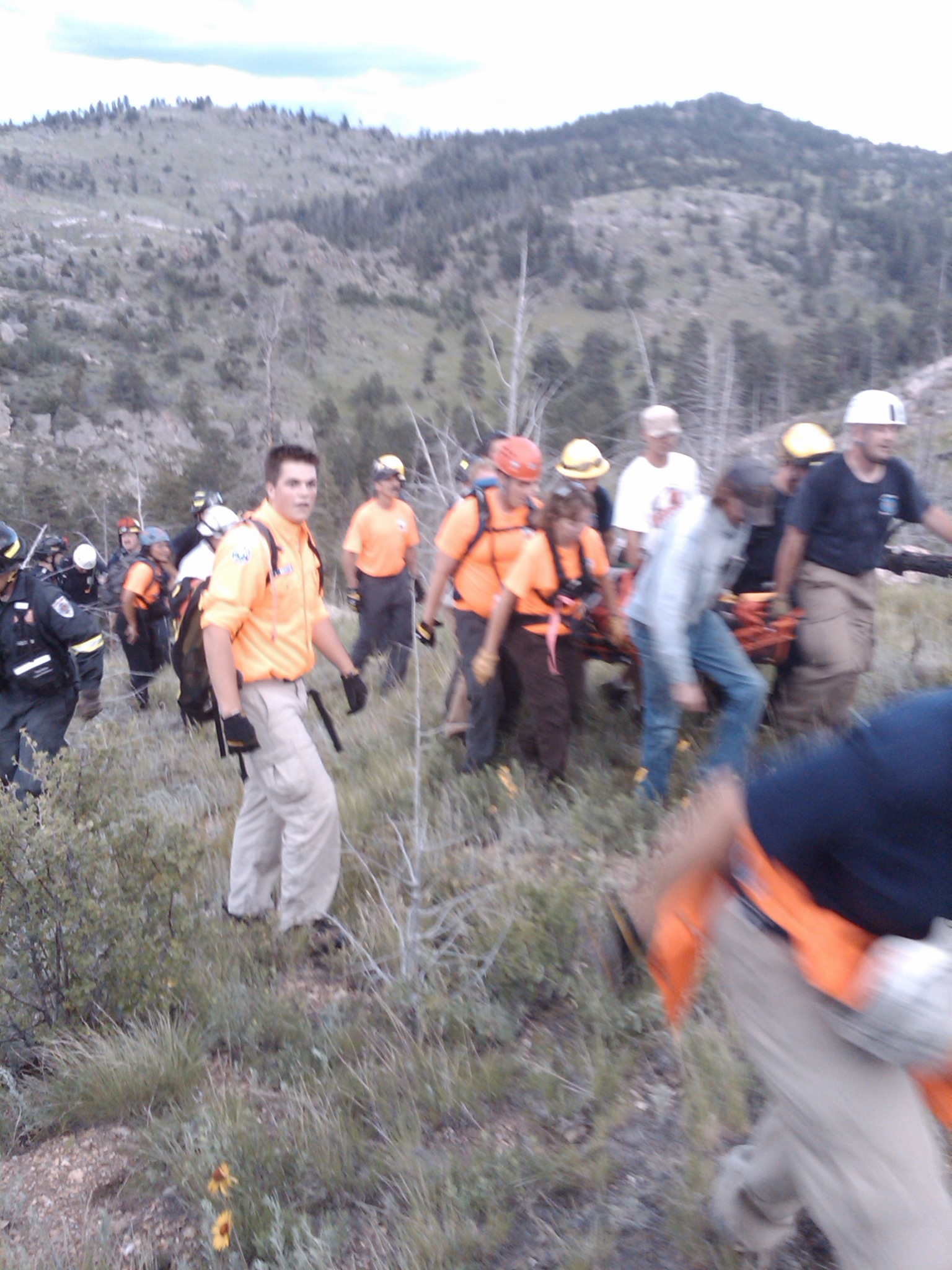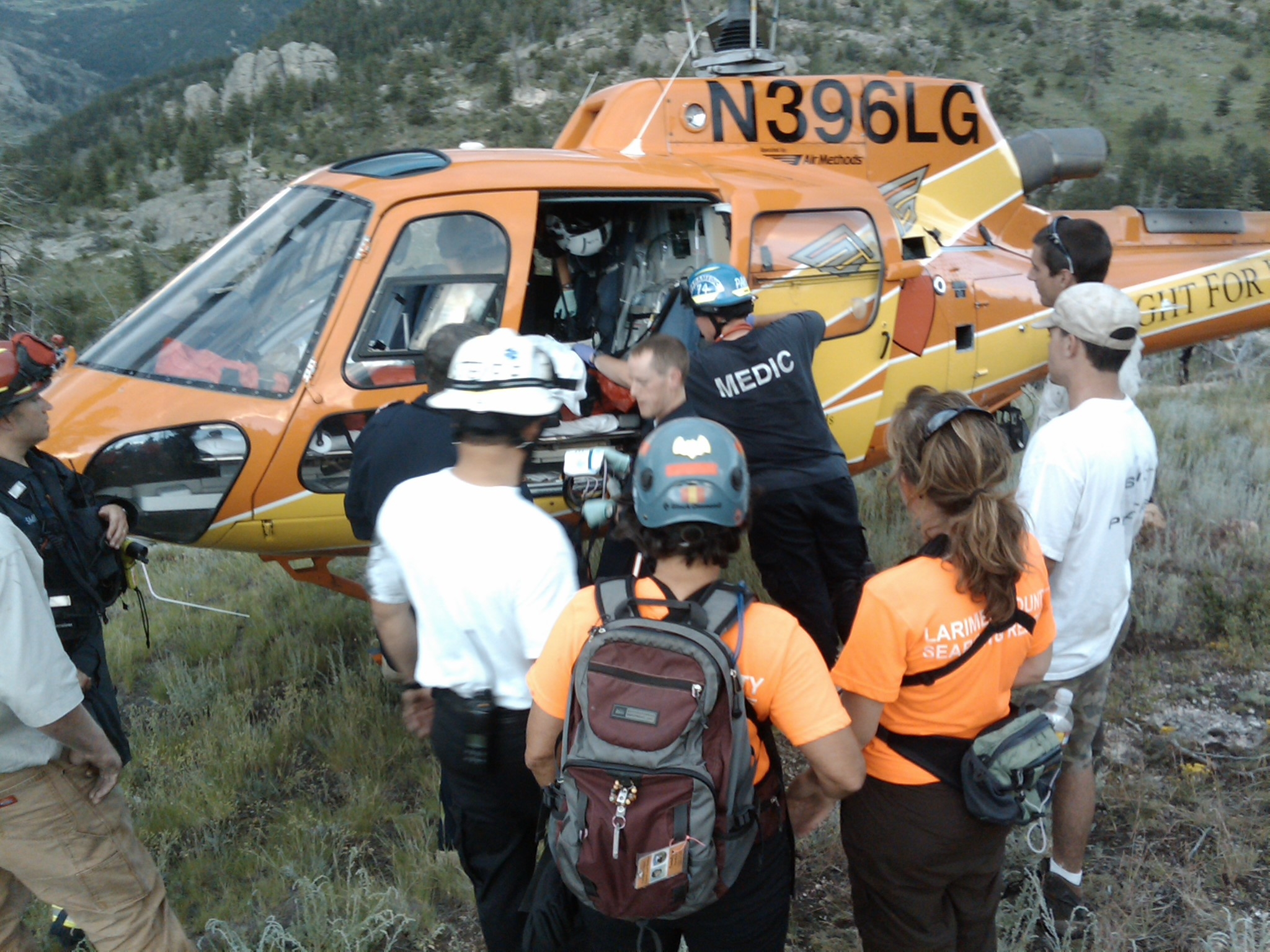 July 3, 2009(Friday) - Crown Point Road - Lost 12 YOA Male
1626 hours: Page received from SAR manager to contact O2 with emergency service. O2 indicates they have a report from the forest service that a 12 year old male is missing in the Crown Point area. The boy was camping with his family. It is unknown how he initially became lost.
Forest service personnel are with the family, and the family is in contact with the boy via FSR radios. The family has told the boy to stay in his current location, until help arrives. Forest service indicates they are at 40d40m26.3s and 105d33m13.2s with the family.
1634 hours: ITC is contacted and a team page sent out to the team at 1639 hours requesting search dogs, trackers and searchers. Although the child is only 12 years old, and normally may justify a direct response, it is determined by ES that staging can occur at the SAR caches since the boy is in radio contact with the family and the weather is good. But an expedited staging is requested.
1659 hours: Forest service personnel and the family locate the boy, and the SAR team receives a stand down page.
Personnel involved:
1 ES specialist (O2)
2 Forest Service Personnel
11 LCSAR members
1 LCSAR ITC
1 LCSAR manager
Miles driven: 100

July 2, 2009(Thursday) - Boulder County, Nederland Resevoir Possible Drowning - SAR Dog State Request (SARDOC & CSRB)
1241: Second page for me to call Bruce with CSRB (my first page was garbled)
1242: I call dispatch to page out that I am handling the call. I never got the page, not sure if anyone else did.
1245: I talk to Bruce and he requests water dogs for assist to Boulder County for missing (and suspected) drowning victim in a Nederland reservoir. A Front Range dog is enroute but is three hours away, they want to know if we can get there faster.
1250: I talk to Marcia and she verifies that Jaynie is the only water certified dog.
1254: I leave a message for Bill Y.
1257: I leave a message for Jaynie to find out her availability.
1310: Jaynie calls me and states she would be available tomorrow morning but not today.
1320: I update Bruce and he agrees to let me know whether they want Jaynie tomorrow.
1330: Page comes out standing us down.
Thanks, Jim

June 29, 2009(Monday Evening) - Lory State Park (Timber Trail) - Mountain Biker Crash
1804 hours: Page to LCSAR team to respond to Lory State Park to assist with the carry out of an injured mountain biker. The initial report came in to Fort Collins dispatch via a cell phone call from the mountain biker himself. The report was that he had serious head injuries. As a result, this met the city's criteria for an automatic launch of Flight for Life. PFA Engine 12, along with O3 were already at the park entrance (ICP/staging) when Truck 10 and the SAR manager arrived. PFA Brush 7 was enroute up the service road to try to get closer to the subject. As of the time Truck 10 and the SAR manager arrived, there was no one on scene on in contact with the subject. It appears that the Parks rangers were not aware of the incident in their park. The Parks units were not with the subject, and did not have communications with IC or Operations during the rescue. Dispatch apparently tried to call the Park, and received a recording the office was closed.
LCSAR had a good turn out, with about 6 SAR members arriving quite early (at total of 12 LCSAR members and the SAR manager responded to the initial page). A truck load of SAR members was started up the service road with the basic equipment for a carryout (litter, bash kits, 150' rope, and wheel). Other SAR members were held at ICP/staging until it was determined if additional equipment would be needed.
1848 hours: It was determined sufficient resources were on scene for the situation, so all LCSAR members not on scene were stood down.
The location provided by dispatch, from pinging the subjects cell phone was off by a considerable distance. However, Flight for Life was able to locate the subject from the air and provided coordinates. The subject was roughly at the intersection of West Trail and Timber trail....on the service road.
Brush 7 (with 3 crew) was the first to access the subject. It was determined that he had significant facial lacerations, contusions and abrasions. However, he was alert and oriented, and able to walk to the vehicle. Subject was checked out by several medical personnel (from PFA, PVH, and Flight for Life), and brought by vehicle to the road.
All units cleared the scene approximately 2024 hours
Personnel involved:
LCSO ES specialist (O3): 1
LCSAR members: 12
PVH ambulance crew: 2
PFA crew (Brush 7): 3
Flight for Life crew: 3
LCSAR manager: 1 (L41, Weaver) Report Author
Miles driven: 260

June 21, 2009(Sunday Evening) - Poudre River - Dive Team Assist
7:35 PM page: SAR team please respond to Diamond Rock Picnic Area map page E9, will need 8-10 members to assist with a rope and four line boat system. Thanks.
Since I'd had to miss the eariler mission that day (work keeps getting in the way of SAR fun!), and since it was Father's Day so I knew many folks were trying to do family things, I figured I'd better get going on this one. As I got on the road I heard on the radio that Larimer 1 had not yet been heard from. The In Town Coordinator was trying to find him and coordinate those who were responding. I headed to the cache for Truck 10.
The Dive Rescue Team had also had a training and a mission earlier that day, and with Father's Day they were light on resources, too, which is why they called for us right away. Diamond Rock is just west of mile marker 111 in the Poudre Canyon (the map page indicated in the page was for the big "run books" that the county folks carry----we have one in truck 10, also, but I find them impossible to use).
The problem: a hiker and his dog had gotten off-trail from the Hewlett Gulch loop, but knowing that the river was to the south he'd not worried and just decided to bushwhack to the river and then follow the river back to the Hewlett Gulch parking lot. Only problem was that he couldn't go very far along the river before getting cliffed-out. Luckily for him, a pair of cyclists had seen him bushwhacking away from the trail, and when they finished the trail they rode up-canyon to see if they could see him along the river and if he was OK (very thoughtful of them). They saw him and his dog, and called for the dive team. About 7 Dive members and 10 of us responded. They put 3 swimmers on the far shore, got the line across, and were able to just use a simple 2-line system to ferry the boat across with another member in it (one line off either side of the bow, and the folks on shore simply pull or let out rope as necessary). If the water had been much higher they'd have needed to do a more complex system. As it was, they were working hard to pull across the current.
We used the light tower from Truck 10 to illuminate the scene (which is tricky, though, because if it's in the wrong place the folks on the far shore cannot see the signals of the team leader on near shore). The subject and dog were safely brought across and taken to their vehicle, and we cleaned up and left (though if anyone finds my rope gloves along the road, please let me know!).
Many thanks to: Daniel, Evans, D. Burton, T. Burton, Kouma, Chapel, Negron, Smith, Weaver
Ho (ITC)
The Dive Team was impressed with our turnout and very grateful for the assistance. The inter-agency cooperation was smooth, and we were leaving the scene by about 10:30 PM, most folks home by 11 PM. On the way down the canyon the Dive truck lost its transmission, so while they waited for a tow I pulled their boat trailer back to the cache behind Truck 10. Thank you to Allen for backing the trailer for me when we got back!
LCSAR members: 11
ES Specialists: 1 (Simons)
LCSAR vehicles: 1
LCSAR personal vehicles: 8
Miles driven: 306
Hours: 38.5
Thanks, everyone. Sarah Babbitt, SAR Manager

June 21, 2009(Sunday) - Greyrock - Curious Scrambler
First and foremost...
A big THANK YOU!!!!!! for those that hauled gear up not knowing if we'd need it. These members hiked a pretty strenuous trail approx 2 miles, that starts gaining elevation, roughly 2000 feet in total, the minute you cross the road.
And a big THANK YOU!!! to those who responded just to wait by the truck in case we needed more gear.
Page came out at 1237 requesting resources and driver for truck 10, non emergent, for a rescue on Greyrock. For those of you that do not know Greyrock, it's one of the busiest hikes that takes you to an awesome summit overlooking Ft. Collins and farther east. This is also an attraction for climbers of all sort, from Traditional, sport, bouldering, and the ones that we usually get called out for a technical rescue... the curious "scrambler".
This was for the curious "scrambler"...
Page came out, and originally, 6 team members (including myself) responded to the Greyrock trail head, arriving at roughly 1400. The first count of resources were: 5 from the cache and 1 from the Buckhorn (doing sardoc training). O3 was on his way up to meet the reporting party and give us beta on what the situation was so we could gear ourselves and head up. Most of us in the original group know about Grey Rock and what the summit heights were... Anywhere from 100 to 500 ft. So we grabbed a bashkit, 2 @ 300 foot ropes , a lead rack ,our personal gear, and headed up the trail.
We met up with O3, approx 1450, on the trail past the aspen grove with the fire scar. The area where the subject was, was where the trail and the rock face meet on the Southeastern side. Here we got a quick brief on the situation and could see the subject cliffed out at about 100 feet above the ground. Subject had no technical gear. With no real good way to come down from the top, it was decided that one person lead climb up and secure the subject and bring him down.
During this time, another group of members had been at the trail head (total of 5, 2 responding from Veedawoo, WY, 1 from the buckhorn, and not sure where the other two came from) waiting to haul more gear up if needed. L1 released two members with a light gear load to head hasty up to us in case we needed more resources. The other three were released due to having enough resources at the scene.
One team member did the lead climb up above the subject, set up an anchor system with cams, tri-cams and slings, and was lowered and side climbed to him. A climbing harness and helmet were put on him and he was secured to the rescuers system. A brief assessment of physical condition, and the two were belayed while traversing over to the ledge with the rappel chains. Being that there was technical gear placed for the lead climb, the belayer followed up to clean. All three rappelled down roughly 100 feet.
O3 did his debriefing with the subject and they were released. All team members cleaned up the gear and did an area search for anything left and headed back down to the trailhead.
In all the total time I have was 3.5 hours from the start of the trailhead, rescue, and back to the trailhead. Ending at 1730.
submitted by today's Rescue Leader - Todd Westfall

June 14, 2009(Sunday Night) - Pingree Park - Missing Intoxicated Males
10:28 PM page: On call SAR manager, call Kevin Johnston ref. missing intox males.
Apparently two brothers, Tony and Adam (26 and 25, respectively), had been riding with their mother back toward Fort Collins on the Pingree Park Road after spending the day shooting somewhere farther up the road. Around mile marker 8, at approximately 8 PM, Tony, (who was drunk) started getting upset about a traumatic event which had happened about 10 years ago. He jumped out of his mother's car, ran down across a small meadow and to the stream. Adam (who was not drunk) followed him. They proceeded to cross the spring-swollen South Fork of the Poudre, getting very wet in the process, and climb up the opposite bank. They were last seen (by their mother and two other witnesses in the car) in a small clearing on the other (east) side of the stream, heading north (downstream).
Tony was wearing just jeans and a t-shirt, and Adam just a t-shirt with camo overalls. They were wearing work boots and hiking boots, respectively. The only other items they were believed to have were some Marlboro cigarettes, a Leatherman tool and a half-bottle of Wild Turkey whiskey.
Because we knew that one of the subjects was drunk and angry, it was decided that each SAR field team would be accompanied by an armed Sheriff's deputy. Since only 3 deputies were available, we could only have 3 field teams. There was a possible scent article in the mother's car. All firearms they'd been using during the day were accounted for so we did not think they were armed.
I started in the direction of the search area while our In-Town-Coordinator started rounding up 6 folks (a dog team, some trackers, another team of tracker and searcher). John was to explain the basics of why armed deputies would be accompanying our field teams, so that any SAR team member could opt out if they were not interested in searching for a drunk and possibly combative subject.
Teams arrived at Incident Base around 1:30 AM (it is a long drive from Fort Collins!). We wanted to avoid getting our searchers wet so all 3 teams drove another 1/2-mile south on Pingree to where the road crossed the South Fork, and they all started their assignments on the east side of the river (since the subjects' last known point was on that side, and they were wet and it was a cold night, so at that time we had no reason to think they may have crossed back to the near side). All teams were in the field by 1:45 AM.
The dog team (Team 1) had opted not to use the questionable scent article. Merlin had one strong interest about 1/4-mile upstream of where the subjects crossed the river, and found a foot print, but otherwise had no indications anyone was out there. The tracking team (Team 2) found sign where the subjects exited the river, and followed intermittent sign leading downstream.
Teams proceeded north (downstream). Shortly, one team crossed the river where a Forest Service road came down to the river on the west side, noting many tracks (probably from fishermen). Mike decided that Merlin was not being terribly effective, given the winds, terrain and lack of scent article. The trackers got the farthest north and east, into the area where the timber gets thicker and the banks got steeper and tighter. The other two teams were back at base by approx. 5:15 AM. By this time we were in touch with ITC, who was recruiting team members for the second operational period, and Larimer 2, who would be running that operational period. The tracking team finally turned around at 5:25, and as they were heading back to base they made contact with the subjects. (Just as this was happening I had to leave the area to return to Fort Collins and work. So I missed the big finish!) The subjects were on the west side of the river (they had crossed back to the near shore), walking upriver. Team members at base were re-assigned to go meet them via the nearby Forest Service road, and assess their status. At 6:54 our team members were with them and established that they were OK. Subjects were back at base by 7:15, and team 2 was back by 7:45. All were back on the road to town by 7:53 AM.
ES specialists: 1 (Sgt. Johnston)
LCSAR members: 9 + 1 dog
LCSAR personal vehicles: 3
LCSAR team vehicles: 1
Miles driven in personal vehicles: 261
Miles in team vehicle: 87
LCSAR Person-hours: 90
Sheriff's Deputies: 3
Responders for 1st Operational Period: Erickson, Evans, Grimm, Ho, ITC Lee, Negron, Patterson, Sluyter, Babbitt
8 others were responding for 2nd Ops. I mistakenly deleted the page which gave me those names----ITC, please re-send those to me. Thanks!
A bit of an odd one, but came out well. Good job, everyone. Thank you for your response!
Sarah Babbitt, SAR Manager

June 14, 2009(Sunday Morning) - Pearl Beaver near Homestead - Missing Female Runner
3:32 AM page: On call SAR manager pls call sgt Johnston at ___ ref overdue party. Thanks.
Phone call w/Kevin Johnston: Missing 40 yoa female from LaPorte. She had gone running Saturday with her two dogs and had been due back home by 4 or 5 PM Her. husband had called the county at approx. 10 PM to report her missing, but since he didn't know where she'd gone a search could not be started----so a deputy did a missing person report, and the husband started driving around to some of the places he thought she might be (Big South trail was one possibility).
Remarkably, the husband found her vehicle a little way up Forest Service Road 315 (Green Mountain Road), just north of County Road 80C (Cherokee Park Road). FS315 intersects 80C west of the Homestead area and east of where Pearl Beaver Road intersects 80C. The car was locked, and the husband didn't have a key, but he thought there was a good scent article in the car and he was willing to have us break a window to get it. She usually ran with at least a little fanny pack. The area had pretty thick timber. The husband gave only that little information (he'd had to drive quite a way to get cell coverage) and then drove back to the subject's car to look for her. So we knew nothing more about her or the two dogs with her. The area is on the Red Feather/Glendevey Trails Illustrated map.
We wanted to get trackers and dog teams to the car to try to establish direction of travel and get tracks, before getting other searchers and ATVs in the area,. The team was paged to meet at the cache at 4:45 AM, with the exception of some dogs and trackers to go directly to the subject's vehicle. Truck 10 and the trailer would be taken up, as well.
We got the subject's address in LaPorte from dispatch so that a dog handler could stop by there to collect a reliable scent article (dispatch thought the step-daughter was at home).
I proceeded toward the search area to meet Sgt. Johnston, with In-Town-Coordinator John Lee mustering the troops. He was also going to arrange for another SAR Manager to replace me in a couple of hours as I had to be at work at 1100. I was at approximately Owl Canyon Road when dispatch received the call that the husband had found the subject and she was OK. We were stood down at 4:50 AM. Apparently one of the dogs had run off to chase something and the subject and the other dog had followed, trying to find the first dog. They had gotten lost, and spent the night out. When the husband found them the first dog was still missing.
Responding were:Grimm, D. Burton, Lang, Evans, Kosorok and Jake, Yoh, D. Black, K. Black, Hall, Kouma
ITC Lee
SAR manager Babbitt
LCSAR Units: 11 humans, 1 dog
ES Specialists: 1 (Sgt. Johnston)
Miles driven: 36 (L-1)
Hours: 12
LCSAR vehicles: 1 truck, 1 trailer

Thank you all very much! Sarah Babbitt, SAR Manager
from the ITC:
0350 Need searchers, trackers dogs, missing 40 yoa female runner up road 80C. Where forrest road 315 meets County rd 80C.
Just east of Pearl Beaver, west of the Homestead. Will try and flag intersection. Car is just up 315.
Need one dog handlers to look around first. No address home known atm. Possible scent article in vehicle at scene. May send a dog handler to Laporte to get a reliable scent article.
Need a couple dog handlers and 4 other teams. Red Feather/Glendevey maps for Trails Illustrated.
Meet @ Cache @ 0445. Will need another SARM to step in later this morning. Guessing about 0900.
Need someone to drive T10 and trailer.
0404 Page sent:
Need searchers, trackers, dog handlers and driver for T10 and trailer to head to vicinity of forrest road 315 and County road 80C meet for mission 40yoa female runner and 2 dogs. Meet at Cache at 0445. Call John Lee at 567-4463 if responding.
0410 Doug Grimm avail, but need a ride from his place.
0411 Lee Lang responding direct to inersection.
0413 Dan Burton responding to Cache.
0413 Scott Evans responding to Cache.
0419 Kathy Kosorock and Jake responding direct to intersection. Jake is tired and may need to leave about noon.
0424 Jayne Z could respond for 2nd Ops if needed.
0425 From Sarah, address of subject is 3029 W Cnty rd 54G in Laporte. Someone there to provide scent article.
0430 Message sent to L54
0431 Gilbert Yoh responding to Cache.
0434 Sarah wants 1-2 more. Verify Doug Grimm has a ride. Call Mark Sheets to make sure he has a heads up about Sarah needing to leave.
0436 Donna and Keith Black responding direct to intersection. May take 1.5 to 2 hours.
0439 Norland responding to intersection.
0439 Doug got a ride
0439 Donna called back to verify
0439 Sarah on SAR1 said not to turn anyone away.
0443 Jarod Kouma responding to intersection.
0449 Stand down via L1 on SAR1.
0449 Called Donna to let her know.
0449 Stand down via Dispatch on pager.
0451 Gilbert called to verify stand down page from Dispatch.
0452 Sent a page to team for stand down.
0455 2nd Stand down page from Dispatch.
0457 Called Lee to let him know.
0458 Page sent Resources that responded: Grimm, D. Burton, Lang, Evans, Kosorock and Jake, Yoh, K. Black, D. Black, Hall, Kouma

June 9, 2009(Tuesday) - RMNP, Above Emerald Lake - Fallen Climbers
RMNP SAR was called at about 1430 on 6/9/09 to respond to snow fields above Emerald Lake for two injured climbers. LCSAR was paged out about 1532. RMNP effected a snow/scree evac and started a carry out while waiting for LCSAR to arrive on scene. Traffic in the Big T was a nightmare.
On arrival, the LCSAR team and one RMNP staff transported food, sports drinks and "yaktrax" up the trail to meet the RMNP teams.
The problem: A four person climbing team, including a CMS guide and a Denver area family (father, 15 yoa son and daughter) were climbing in steep snow on Tuesday afternoon. The guide was leading and belaying the other 3 climbers up a steep section of snow near the top, using a body belay. One of the 3 climbers fell and pulled the others off. The four tumbled down the slope several hundred feet, unable to arrest.
Father and daughter were uninjured. The 15 yoa son suffered neck/back injuries (swollen c4 and c5 area, I think I heard?); also complained of various leg and abdominal pain (Nolte, Westfall, Kouma, McNearney, and/or Smith may be able to elaborate because they were with that patient during evac. Also, Zmijewski was assisting at ICP and may have more complete info).
RMNP staff determined that a helicopter landing was not feasible. The CMS guide had a severely swollen right ankle that would not support weight but was otherwise apparently uninjured. One RMNP team assisted the guide down a scree field to near the trail, packaged him and evacuated using a titanium litter and "big wheel" similar to that used by LCSAR. The LCSAR team split up to assist after meeting the RMNP teams mid-way down the trail. Chapel, Bratrud, and DeWitt assisted the guide evac back to the trailhead. The guide refused an ambulance and was taken to a hospital by friends.
The second patient was stabilized, back-boarded and c-collared, and lowered to the trail area in a Cascade litter, then transported by litter/wheel to the trailhead where an ambulance was waiting to transport him to a hospital. The five LCSAR members listed above assisted with that trail evac.
All personnel were clear of the Bear Lake trailhead around 2140. Debriefs and sign-out at the RMNP SAR Cache were followed by a virtually traffic-free drive back to Loveland-Ft Collins under a nearly (or just past) full moon. ---Tom Chapel
- - - - - -
1430 hours: Rocky Mountain National Park received a report of an incident involving a guided party of four climbers who were ascending a snowfield in a couloir on Hallett's Peak (13T 0443106/4461809). As they approached the top of their ascent, one member of the party fell. Unable to self arrest, all four climbers, roped together, slid down the snowfield and landed on the talus slopes above Emerald Lake. Two members received minor injuries that allowed them to walk out without treatment or assistance. The other two members, a 40-year old guide and 15-year old boy, suffered a fractured ankle and spinal injury, respectively.
1454 hours: The SAR team was paged with a request for 6-8 rescuers to assist Rocky Mountain National Park in the carryout of two injured climbers from Emerald Lake.
At approximately 1700 hours, the SAR team staged at the park's SAR cache for check-in. The team then drove to the Bear Lake Trailhead where they fielded eight LCSAR members and one national park employee.
While LCSAR was en route, a 25-member team from the park packaged and moved the injured climbers from the talus slope to Emerald Lake. Due to the level of medical treatment required for the younger patient, the two litters (each with their own extraction team) became separated by about an hour. LCSAR reached the first litter at Dream Lake - three LCSAR members joined this carryout. The remaining five members continued to Emerald Lake to join the second litter team.
The carryout of both climbers took about three hours due to slippery, snowpacked conditions along the upper half of the trail. All LCSAR members were back home by midnight.
8 SAR members
1 In Town Coordinator
25 RMNP members
---Marc Smith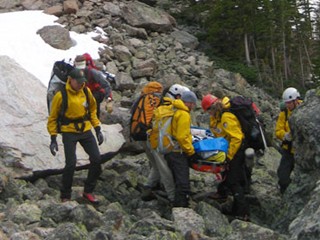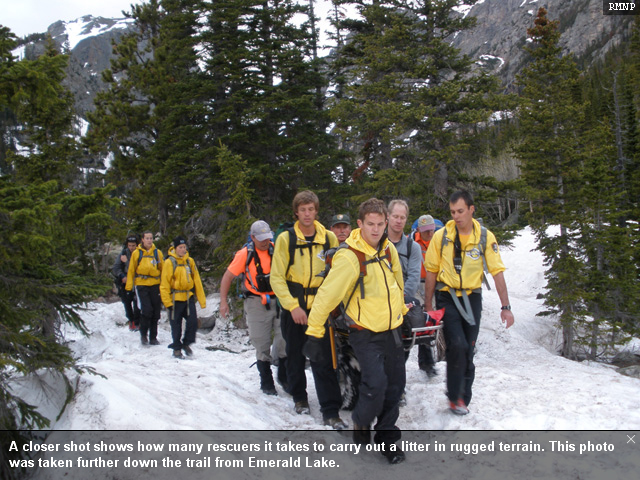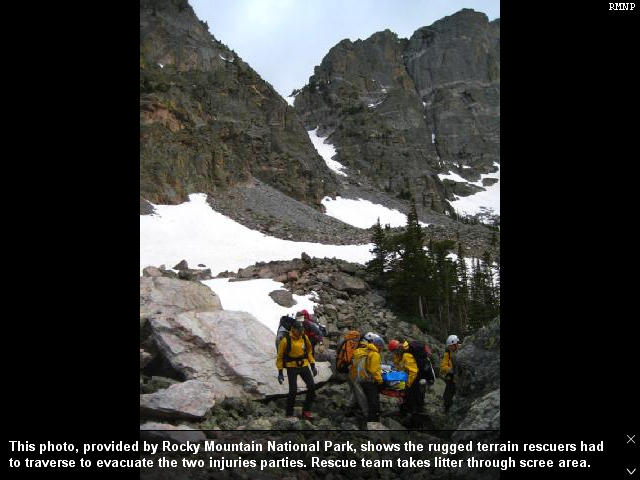 June 7, 2009(Sunday) - Tom Bennett Campground - Lost Camper
1150 hours: Dispatch paged the SAR manager to contact O5 with Emergency Services. O5 advised the SAR manager of a lost camper, a 43 yoa female, who had been camping in the Tom Bennett Campground near Pingree Park. It was reported there was heavy wet snow falling at the search area at the time the report was made.
1227 hours: The SAR team was paged, requesting dogs, trackers and searchers to respond. However, there was a very strong storm system moving through the Fort Collins area shortly after the team was paged. It included heavy hail and heavy rains. O5 was already enroute to the search area and reported very poor driving conditions on the highway, with cars stopping in the middle of the road due to the accumulation of hail and poor visibility. Therefore the staging time for the team was delayed until 1400 hours, after the worst of the storm had passed.
Approximately 1530 hours, the SAR team reached the search area, with 3 dog teams, 2 tracking teams and a foot team. Assignment was given for the high probability areas. By the time the team arrived, additional information was available from forest service personnel, the mountain deputy, and O5, who had interviewed the reporting party. The weather during the course of the search was cool, with some periods of light rain; but the snow had stopped prior to the teams arrival and there was no accumulation on the ground.
The RP and the subject had been up late the night before. Another couple were also camping with the RP and the subject. In the morning (June 7), the subject woke around 0800 hours, complained that her feet were cold and left the tent. The RP went back to sleep and woke about 0900 hours. The subject was not at the campsite; however the RP assumed she had taken a short walk. The parties were suppose to be back in Fort Collins by noon, so he took down the tent. When she still did not return, he contacted the sheriff for assistance.
Later it would be determined that the subject left the campsite to go to the bathroom, and became lost when she strayed out of the site of the camp. The last seen point was at UTM 504/919
1720 hours: The SAR team was paged, to start staging additional resources for a second operational period....in anticipation the search would go into the night. Scheduled staging for this group was 1800 hours at the SAR cache.
1732 hours: One of the dog teams reported voice contact with the subject. The subject was ok, but cold and hungry. Subject was located at UTM 517/926....over a mile away from the last seen point. The team walked the subject back to the Incident Command Post, where she was picked up in a vehicle by her friends.
Personnel involved:
1 ES specialist
1 Mountain Deputy
3 Forest Service Personnel
13 LCSAR members (1st operational period)
6 LCSAR member (responding for 2nd operational period)
1 LCSAR ITC
1 LCSAR manager
Miles driven: 1320

June 6 and 7, 2009(Saturday/Sunday) - Chambers Lake - Missing Person, Autumn 2008
Chambers Lake SAR Ops #2
This mission is a continuation of Chambers Lake SAR performed on 7-DEC-08.
In mid-May, after the snow had pretty much melted from the area, ES Specialist Dave Mosier discovered a single boot while hiking in the area north of the subject's vehicle, in a heavily wooded area of the forest. A plan was made to resume search operations in early June. The June 6th operation was planned to be mainly Dogs with Bill Young running Operations. Seven Dog teams comprised of LCSAR, Park County and Front Range Rescue Dogs (Boulder) were deployed on this day to search divisions A through G with many of them moved into division C to follow up on alerts from other dogs.
Five dogs were very animated in the area of the boot, three of them scratching at the dirt and two of them looking up into the trees. Some bones were found near the boot but the two Human Remains Detection (HRD) dogs did not indicate they were HRD. These bones looked like they could possibly be human Tibia and Fibula but the coroner determined them to be animal bones. Many other bones were discovered that day as well that were obviously animal (fur still adhering to them).
Other than alerts from many dogs, there were no physical clues found during this operational period which warranted the necessity for an additional operational period.
Duration: 16 hours
SAR Miles: 3400
Personnel involved
1 ES Specialist
1 Larimer County Sheriff's Investigator
1 Larimer County Coroner
15 LCSAR members
6 Dog Handlers from other counties
2 SAR Managers (Bill Young and Mark Sheets)
June 7, 2009 (Saturday) - Chambers Lake SAR Ops #3
Since the boot and all the dog interest occurred in division C from Ops #2, it was decided to do a grid search of that division with critical spacing with ground searchers. Weather was challenging with stints of Groppel, Hail, Rain and Snow with periods of sunshine mixed in. Division C was covered extensively during this grid search as the map shows. Only a few GPS's were downloaded from each team so the coverage is actually more dense than what was captured on the map. Note the 9XX waypoints are from a GPS and are not significant. The waypoint for Boot has been omitted since it is an ongoing investigation and this report is being published on the LCSAR website.
During this operational period, LCSAR was tasked to a search at the Tom Bennett Campground for a missing female. It was decided that we would cut four LCSAR members and the ICP trailer from Chambers Lake to assist at Tom Bennett since this operation was winding down. A "standown - subject found" page came out just as teams started to depart from the ensuing grid search. Ops #3 yielded no physical clues and the operation was suspended at approximately 18:45 hrs.
Duration: 16 hours
SAR Miles: 2100
Personnel involved
1 ES Specialist
1 Larimer County Sheriff's Investigator
12 LCSAR members
12 Arapaho Rescue Patrol members
1 SAR Manager (Mark Sheets)
Photos
Boot photo (sent to SAR Managers earlier - contact me if needed)
Bones (included)
Area Map (Included)/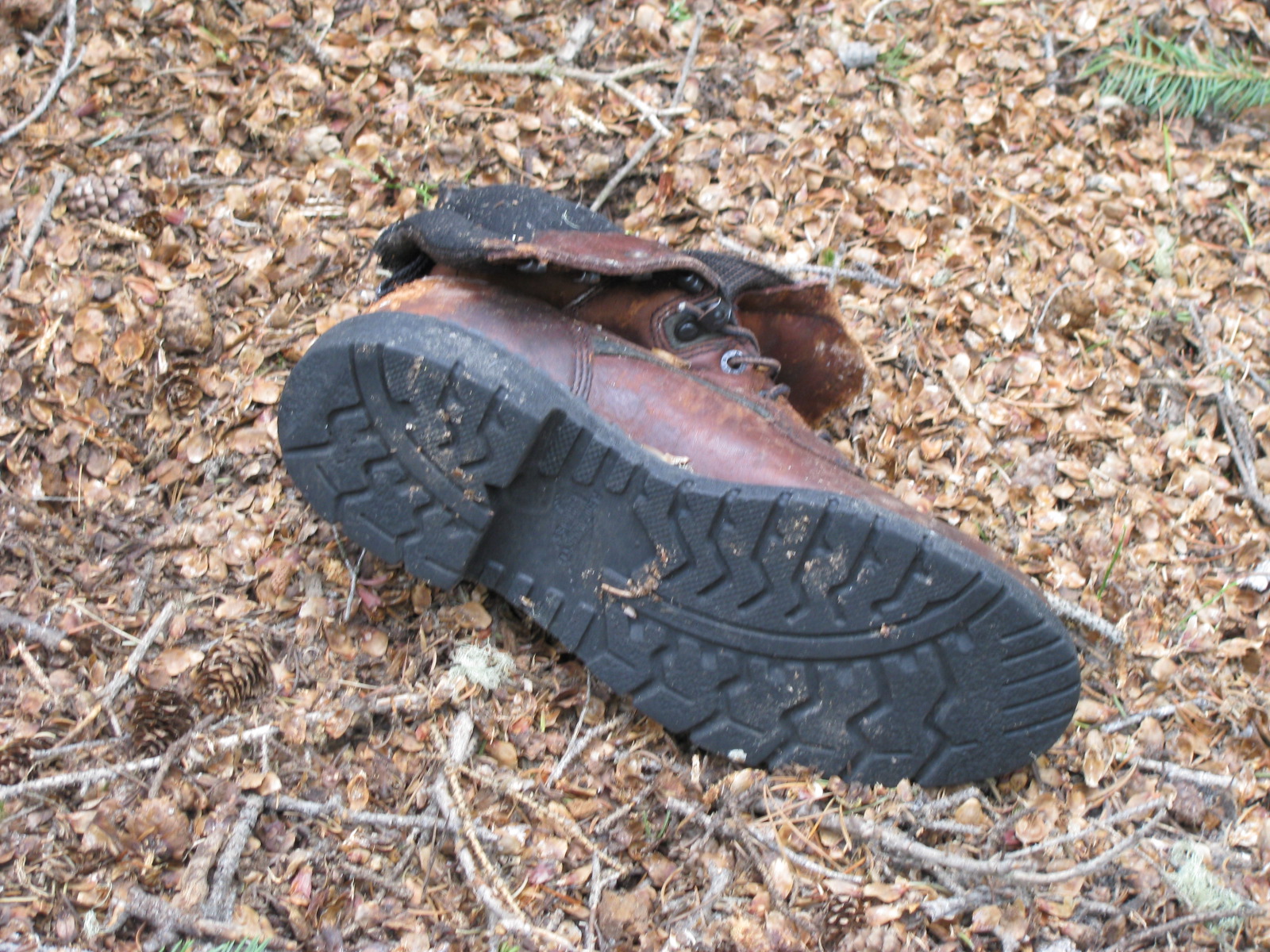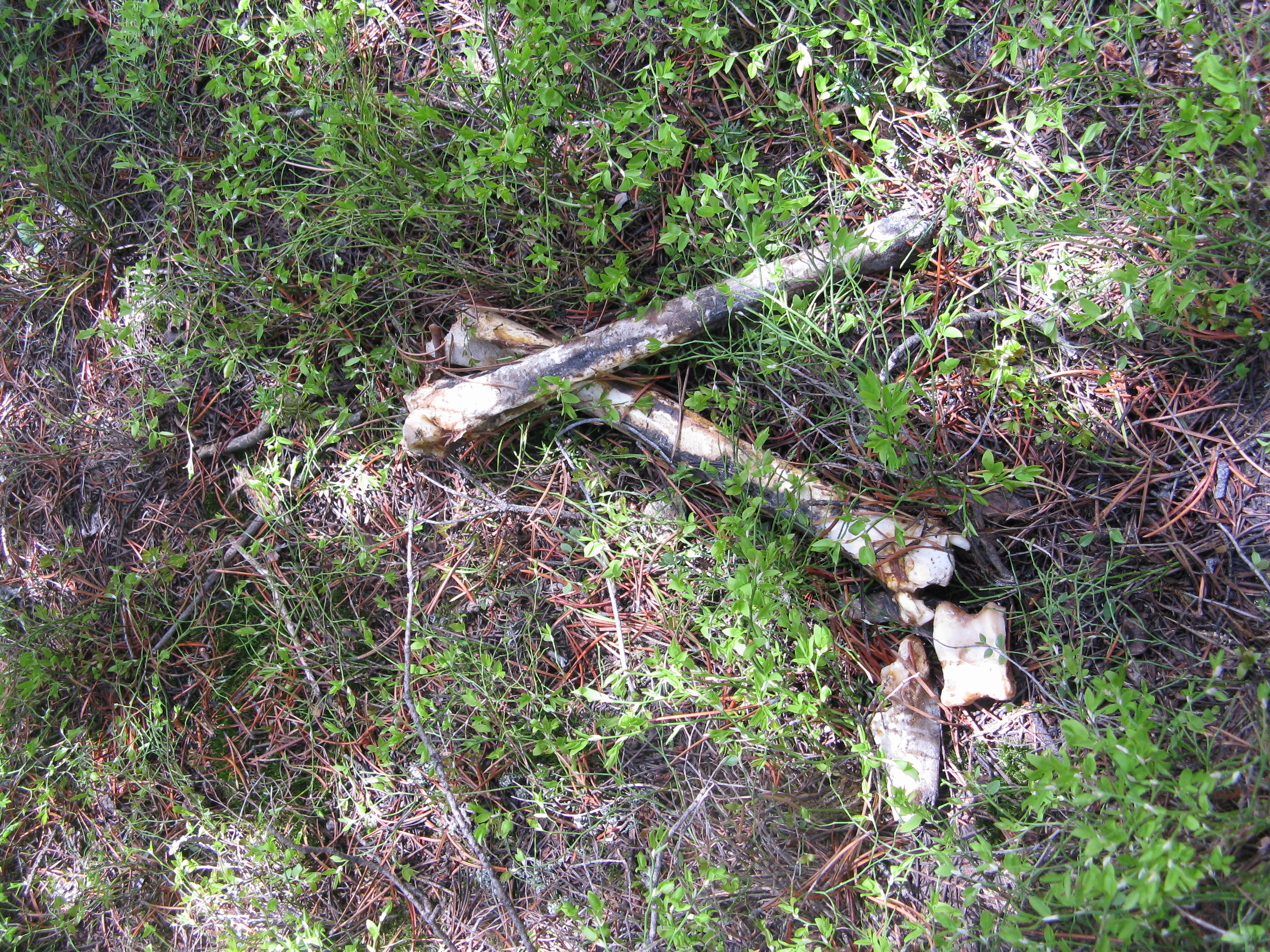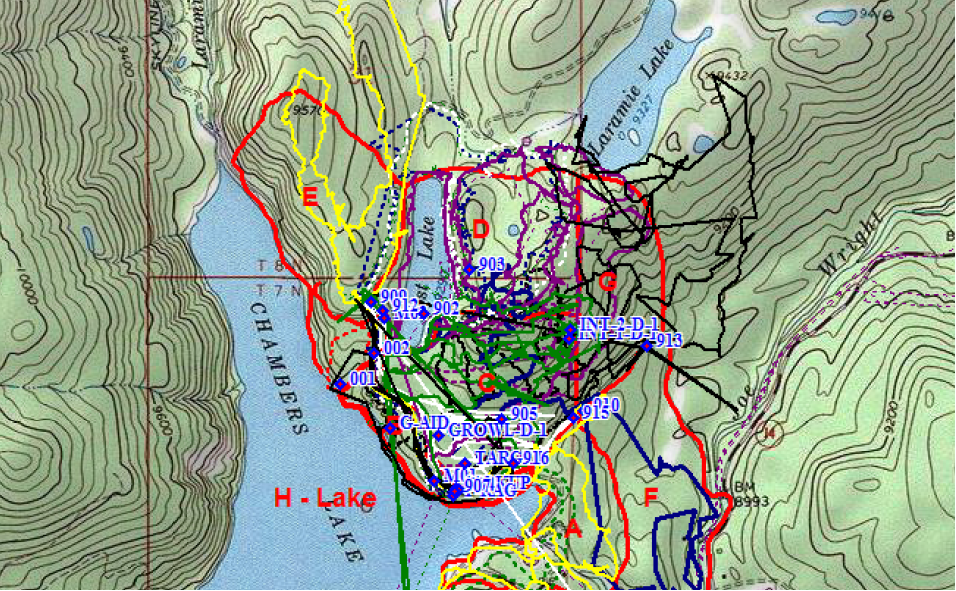 June 6, 2009(Saturday) - Stone Mountain - Lost Hiker
Appx 1815 hours: Dispatch paged the SAR manager, to contact O5 with Emergency Services, regarding an overdue hiker. O5 advised the SAR manager that a couple had been hiking Stone Mountain (near Round Mountain) earlier in the day. They both reached the summit. As customary for the male, he said he was going to return to the car by a different route. It was also customary for the male to bushwack back to the trailhead. Female reached the car, and waited; but the male did not show up. Female contacted the sheriff for assistance
1906: The SAR team was paged, requesting dogs, trackers and searchers to respond.
1920: While enroute to the last seen point, O5 saw a male matching the description of the overdue hiker. Upon inquiry, O5 confirm it was the overdue hiker. Therefore the team was stood down prior to staging.
Personnel involved:
1 ES specialist
10 LCSAR team members enroute
1 LCSAR ITC
1 LCSAR manager
Miles driven: 10

May 30, 2009(Saturday) - Beaver Meadows - Fallen Horseback Rider
3:05 PM page: SAR/ES Pls respond to Beaver Meadows 100 Marmot for a 40 yof that fell off horse poss head inj. - fem is 1/4m from Beaver Meadows on a trail.
[Note: Some folks apparently thought of the Beaver Meadows in RMNP. But this Beaver Meadows is a resort a few miles up the Crystal Lakes Road west of Red Feather Lakes---the address on Marmot Drive was a clue, too. And the Park would not call us for a subject 1/4 mile up a trail, either.]
I was covering L-1 while Robin was at a class that day. Headed toward cache while trying to figure out if someone had already grabbed a truck.
3:14 PM page: Lar tk 10 is enr to Beaver Meadows from Estes.
I'd forgotten that truck 10 was in Estes for the safety fair, so didn't yet realize that it would be quite a while before it was even back in Fort Collins (and the person driving it was not code 3 certified so they couldn't run w/lights and siren). Figured that out before I got to the cache, so decided to take truck 11, all the while figuring we'd be stood down any minute (since the subject was so close to a trailhead and there were lots of local fire units on scene or close to being on scene up there already, and a helicopter had been dispatched). Asked Todd to leave truck 10 at the cache and head up in his private vehicle so 10 would be available for another mission if needed.
Responded code 3 toward Red Feather Lakes in Truck 11. Received the stand down page at 4:00 PM. I was just beyond the Glacier View Fire Dept. when the page came, telling us that the helo had landed and anyone not yet on scene could stand down. Some folks were responding from trainings in Poudre Canyon and in the Red Feather area, so they were much closer when we got stood down.
Truck 11 back at the cache just before 5 PM.
SAR members: 10
ES specialists: 1 (O3)
SAR miles driven: 300
SAR hours: 10 to stand-down, 20 to all back in town
Responding: Borowski, Daniel, Erickson, Evans, Hall, Lang, McNerney, Sherman, Westfall, Babbitt
SAR Team vehicles: 1 (Truck 11), Personal vehicles: 8
Sarah Babbitt, SAR Manager

May 25, 2009(Monday) - Sand Creek Pass - Missing ATV'er
06:53 SAR Manager On-Call paged to call Mosier reference missing ATV'er at the intersections of County Roads 80C and 89.
TheRresource Team had been out all night searching the trails with no luck. One trail came close to the edge of a cliff and we might have needed to rappel down for searching.
07:37 Team stood down - ATV'er was located, condition not stated.
Good response for the search this morning. The final list is Hake(L1), Grimm, Lang, Lee, Bond, Jordan, Followill, Evans, Udel, Negron, Turman, Robin & Toss, Keith & Donna Black, Sluyter, Hall, Daniel.
Mike Fink/ITC

May 8th, 2009(Friday) - Horsetooth Mountain - Fallen Climber
We were dispatched to Horsetooth Mountain Park for a fallen 24 year old "climber" at 7pm on Friday evening (5/08/09). Initially his location and condition was unclear. Parks 11 made initial contact with the subject's friends and good Samarians that were first on scene. The subject and his friends were on the East (Fort Collins) side of the north tooth of Horsetooth Rock on a ledge about 50 vertical feet up. From this ledge the subject attempted to free solo up a vertical crack towards the top of Horsetooth Rock. The subject lost his footing and fell about 20 to 30 vertical feet back down to the ledge. Due to the subjects injuries a litter evacuation was required. The helicopter was called in to help with the transport once he was brought down to a suitable helipad. The paramedics on scene quickly packaged the subject on a backboard and the subject was carried through some narrow rock features to PFA's litter.
The technical portion of the rescue off the ledge consisted of a belay being set up to get the litter safety across a narrow portion of the ledge then belaying the litter down the ledge using the many rescue personnel to "caterpillar" the litter down to the trail. Once on the trail a quick change from the fire departments litter to our rescue litter allowed for the use of the litter wheel. Our subject was transported down the service road in a pickup truck to the waiting helicopter.
Note: This was a multiple agency rescue with the Park Rangers, PFA, Paramedics, Helicopter, and LCSAR all coming together professionally for the good of the subject. I was proud to be part of this effort and so should everyone on LCSAR. - Great Job ---Scott

May 2nd, 2009(Saturday) - Old Flowers Road - Overdue Runner
As reported by Dave Hake: 2009-5-2 page out to Sarmanagers at 10:21 reference overdue ultra marathon runner. Possibly somewhere between Hughes Stadium and Pingree Park Rd. This was a heads up call that Emergency Services and the Support group were going to run roads ATV and possibly trackers. Subject was to meet the Reporting Party (RP) last night at Jack's Gulch Campground but never connected. The RP reported him overdue this morning. He had multiple routes planned after he made it to Pingree Park Road so they were going to confirm he made it onto Pingree Park Rd. before making future plans with more SAR members.
2 Support group personnel and 2 Trackers with Support Grp and LCSAR assisted in the search. Tracks were located at the start of Old Flowers Rd. They continued along it and past a locked gate so we were certain it was are subject. The ATV crew consisted of the 2 support crew with one being a tracker as well with LCSAR. The ATV group was going to follow Old Flowers road checking for tracks along the way. The tracking team was going to swing around to see if the subject made it out the top. Emergency Services Specialist was heading to the top as well and checking other locations the subject was planning on going to. Eventually the ES Specialist ran into the subject running along the road. He was ok and just never hooked up with the reporting party as planned. All teams were stood down at 1326.
2 LCSAR members (Dave Hake and Doug Grimm)
2 Support Group Members (Nick Biedscheid and Bill Daniel)
1 ES Specialist (Kevin Johnston)
1 SAR manager (Mark Sheets)
117 Miles driven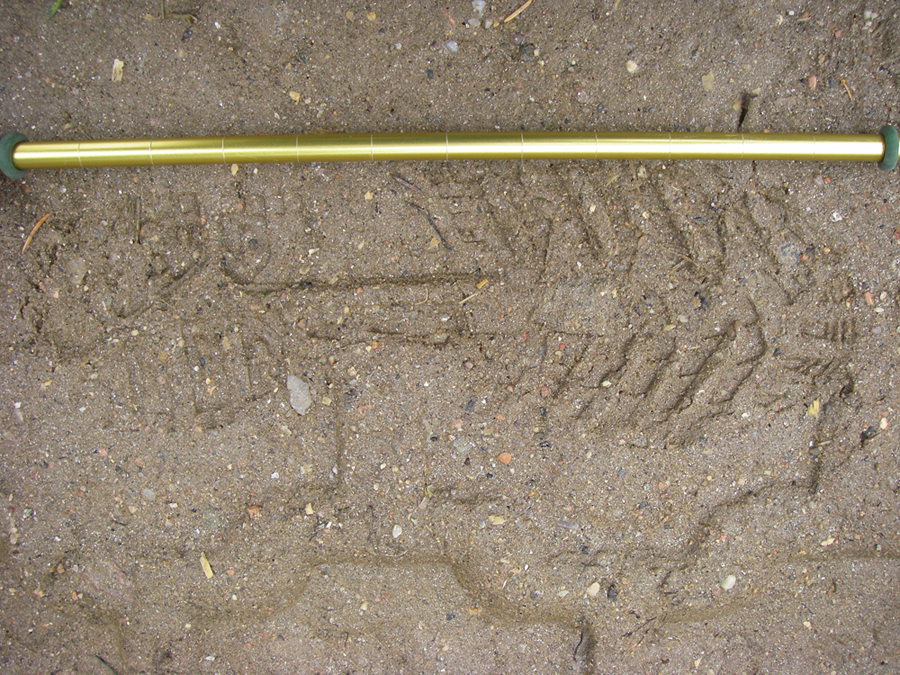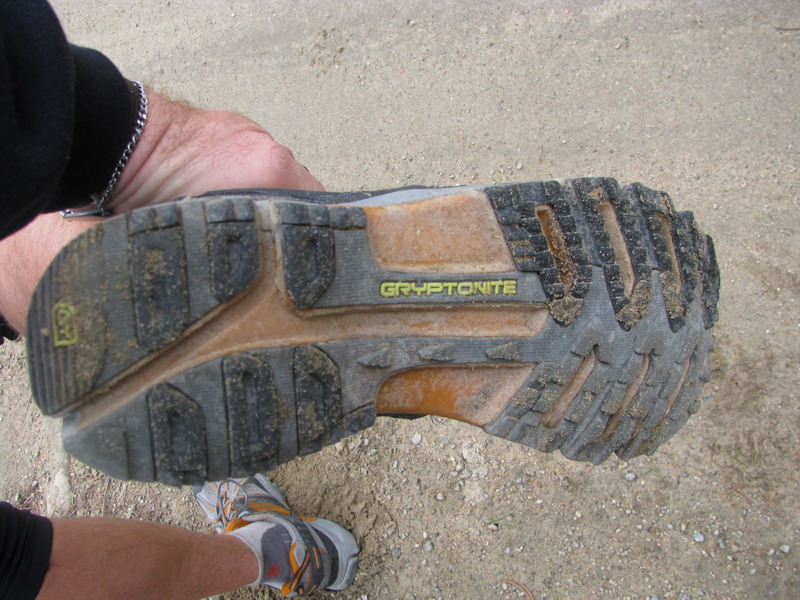 April 25th, 2009(Sunday) - Old Man Mountain - Stuck Female
From: Eloise Campanella
Sent: Sunday, April 26, 2009 11:31 AM
Larimer County Sheriff's Office//Eloise B. Campanella//April 26, 2009
Subject: Rescue near Old Man Mountain
Larimer County Sheriff's Office Emergency Services, Larimer County Search and Rescue, Estes Park Fire Department and Rocky Mountain National Park responded to a report of a hiker who had become wedged in a crevice in the Old Man Mountain area east of Estes Park off Highway 34.
At approximately 9:00 P.M. on April 25, a student in her early twenties from Boulder who was hiking with friends fell into a crevice and became lodged. At 12:45 A.M. the above units were dispatched to the area.
Approximately 28 people assisted with a difficult rescue through the top of the crevice. She was freed around 9:00 A.M. on April 26th. Rescuers at the scene believe she had scrapes and bruises. She was transported to Estes Park Medical Center to be checked for exposure and any other possible injuries.
Details are not available at this time. Further interviews will be conducted over the next few days.
####END####
As Reported by Dave Hake (Sar Manager for this mission)
2009-4-26 approximately 1230, page for sar manager to call Emergency Services Specialist Dave Mosier ref. woman in her early twenties, stuck in rocks on "Old Man Mountain" which is located near Estes Park,CO. This is a familiar location to many because of 8 other rescues involving the same location and the same hole were people get stuck and can not get themselves out without technical rope work. It's a very confined area and when people loose their footing, they get stuck and it's very difficult to free yourself. Once past a certain point, it takes rescue workers to free you.
Estes Park Fire (EPF) was already on scene and Rocky Mountain National Park (RMNP) was also called in. It was assumed that by the time we arrived, the rescue would almost be over so we opted for only 5 to 6 technical folks from our team to respond to assist EPF and RMNP.
We all arrived approximately 0200 and RMNP had just started setting up haul systems. We assisted along with the EPF in freeing her from the hole. It ended up taking 3 different haul systems working independently. Crews were helping in the hole to push and connect the systems, teams were building and running haul systems, more members were paged out to establishing routes out once she was free from the wedge and Ambulance Services were on stand by and supplying heat packs and medical attention. It was 0700 before she was finally freed from the hole after being in there for 10 to 12 hours.
After she was out of the hole, the ordeal wasn't over yet. She had to be put into a litter and a technical vertical lower was needed to evacuate her due to her weakness. She was back at the ambulance at approximately 0800. All units were stood down and those who had to perform a similar "Mock" rescue for a Mountain Rescue Association test were released to go help with that.
20 SAR members
1 In Town Coordinator
7 RMNP folks
1 Emergency Services Specialist
10 to 12 EPF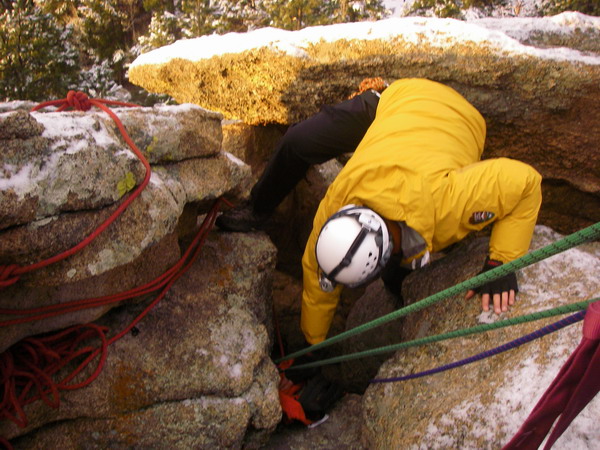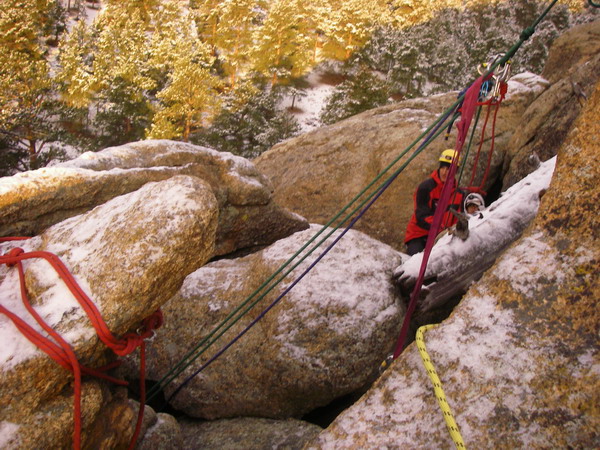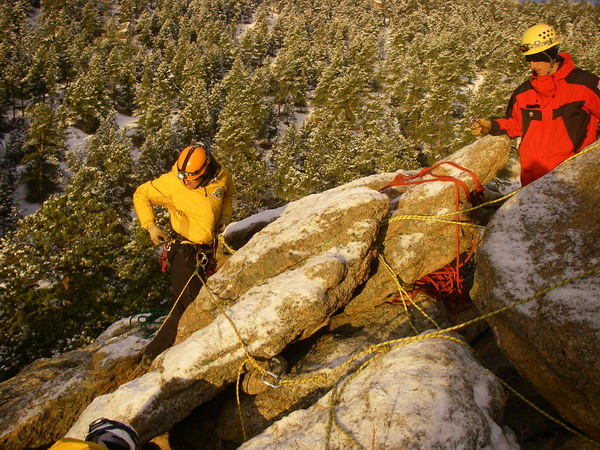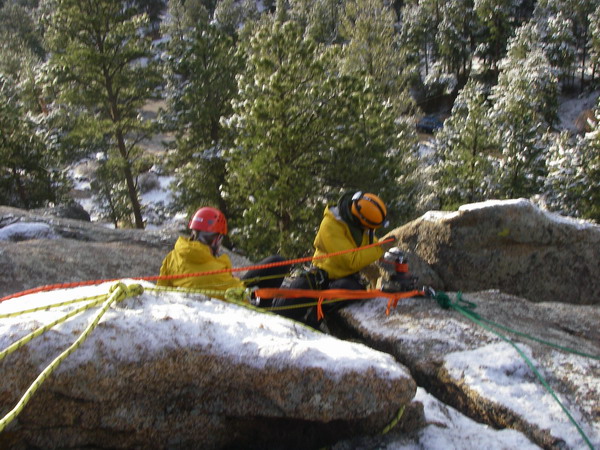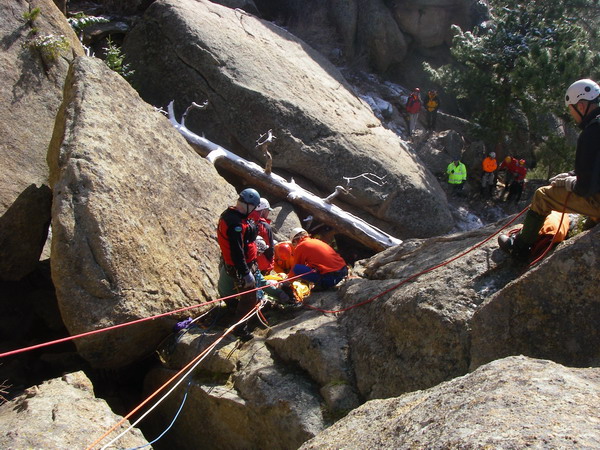 LCSAR 2009 MRA RE-CERTIFICATION TEAM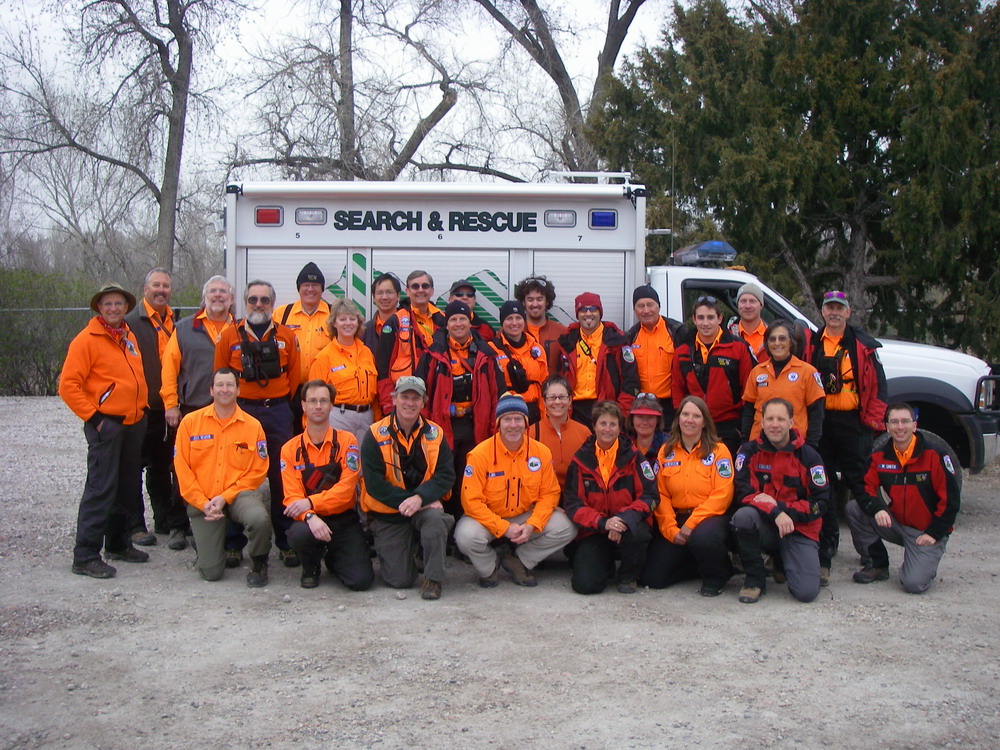 April 20, 2009(Monday) - Dixon Dam, Horsetooth Resevoir, Deceased Subject Carryout.
Approximately 2030, 8 to 10 SAR members were paged out for a carry out of a subject that was located by hikers up near Dixon Dam. Subject appeared to be deceased for several months. Staged at the Natural area below Dixon Dam and carpooled to the top of the Dam due to limited parking. After investigation was complete the subject was loaded and transported to the Coroner's vehicle. Simple carry out of about 200 yards with one short rocky area. All members were returning home at 2200.
Larimer County SAR hours: 21
Larimer County SAR miles: 140
Larimer County SAR member: 14
LCSO Dispatcher: 1
LCSO-ES Specialist: Dave Mosier
SAR Manager: Dave Hake
ITC: Dan Fanning
14 SAR members
1 ES specialist
140 miles driven

April 11, 2009(Saturday) - Saguache, CO. - SAR Dog Request
Saguache County Sherriff requested airscent dogs to search specific areas in an effort to locate missing Saguache man. Dog teams covered six areas considered probable by the SCSO. According to Marcia their were weird dog hits and the scent was doing very strange things.
Duration: 19 hours 47 minutes
Miles to Location: 255.5
SAR miles: 573.4
2 LCSAR (SARDOC) Search dog team; Estelle P./Thunder & Robin A./Toss
1 PCSAR (SARDOC) Search dog team: Marsha M./Kort & Sabine J.
1 LCSAR SAR manager, Robin A.

April 10, 2009(Friday) - Blue Lake Trail - 4 to 5 Overdue Snowshoers
1902 hours - S17 (from ES) advises there is a report of overdue snowshoers, and wants us to be on standby. Reporting party is the wife of one of the snowshoers, and says it a group of 4 or 5 males. A couple of the men may be diabetic, and at least some of them are in the 60's. They were going to start up the Sawmill drainage and return via the Blue Lake Trail. They left Fort Collins about 0600 this morning, and had not been heard from since. S17 was enroute up the canyon to try to locate their vehicle, and would advise us after he had further info.
Apprx 2000 hours: S17 advises he is at Rustic, and no sign of the subject's vehicle. S17 requests that LCSAR start putting together resources for the search. L-1 contacts ITC to arrange for team page, which goes out to the team at 1027 hours, requesting searchers and trackers with snowshoe or ski capability. L-1 contacts S17 thru dispatch to page Diamond Peaks ski patrol.
2035 hours: Subject calls home from Ted's Place, and advises his wife that he is fine and heading home. Dispatch sends out stand down page to LCSAR. Subject's location and condition was determined before Diamond Peaks could be paged.
Larimer County SAR hours: 1.5
Larimer County SAR miles: 0
Larimer County SAR members: 13
LCSO Dispatcher: 1
LCSAR ITC - John L.
LCSO-ES Specialist: Kevin J. (S17)
SAR Manager: Allen W. (L-1)
ITC Report
2021hrs: Received page for any ITC avail to call L-1 regarding search.
2021hrs: Called Allen W. Send page for 10-12 searchers and trackers for lost snowshoer near Blue Lake Trail (towards Cameron Pass). Meet @ Cache @ 2130. Need snowshoes or skis. Do not need to be snowrated.
2030hrs: Page sent
2033hrs: Lee L-avail, near Cache and can drive T10.
2033hrs: Doug G, don't necessarily count him just yet.
2034hrs: Gilbert Y, avail.
2035hrs: Tom C, avail.
2037hrs: Kate S, avail.
2038hrs: Allen W called and said party called from Ted's Place safe and sound. Dispatch will send stand down page.
2040hrs: Received dispatch stand down page.
2040hrs: Stand down page also sent
Spoke to Allen W after stand down. JHL will handle any ITC requests until midnight.

April 9, 2009(Thursday) - Sand Creek Pass - Overdue Hiker
2150, SAR manager page regarding a missing 51-year-old male from his home in the Sand Creek area. Subject had reportedly experienced chest pains earlier in the day. Around 1430, after resting, the subject decided to take a walk and had not yet returned. The reporting party last saw him walking up the hill to the east of their cabin. The Cabin residences used a snow cat to reach their cabin during the snow season.
Unable to reach the Sand Creek area by any roads in Colorado the SAR caravan drove north on hwy 287 through a heavy snowstorm into Laramie, WY then turned south and reentered Colorado. After following sketchy direction to a cabin with no known address, the SAR team was able to arrive within a quarter mile of the cabin and continue hiking from that point. Based on minimal information, the decision to respond with limited resources during the nighttime hours was made. Additional resources, if necessary, would be activated in the daylight once the actual location of the cabin was determined.
Upon making contact with the reporting party teams began searching the area in the direction of the hills for which the subject was reported as last seen, O-3 continued to interview the reporting party, while O-5 used a snowmobile to cover the area to the west in search of the subject or clues. About 0340 the subject secretively returned to the cabin and became infuriated finding a stranger in the cabin. O-3 hastily explained and added that there was no charge for the SAR services when the subject expressed outrage at the potential cost of paying for SAR mission. This was swiftly followed by a heated dispute between the reporting party and subject. At which time, ES and SAR team resources vacated the area. E-19 would follow-up in the morning.
(The SAR team's extends appreciation to O-3 for intermittently walking the snow-hidden roads ahead of the SAR caravan to ensure vehicle passage through the drifts.)
Duration: 10 hours 44 minutes
Miles to Location: 122.3
SAR miles: 733.8
2 LCSO-ES O-3 & O-5
1 LCSO- Deputy E-19
1 LCSAR (RMT) Tracker; Scott E.
1 LCSAR (SARDOC) Search dog team; Dan F./Trace & Jake U.
1 ITC: John L.
1 SAR manager, Robin A.

March 15, 2009 (Sunday) - Bald Mountain - Overdue Hikers and a Dog.
3/15/09 - 19:15 hours - Report of a male and a female overdue from a trip up to visit a mining claim of their friends off of Forest Service Road 517, west of the Manhattan Road.
The missing parties were up at the mining claim with the owner when they decided to return to their vehicle. The mine owner opted to remain for a while longer and told them to go on without him. When the mine owner returned to the vehicles over an hour later the subjects car was still parked and the subjects were no where to be found. He looked around for their tracks, and followed them for quite a while in sometimes hip-deep snow. He was concerned because he new the female was in tennis shoes. After tracking them for quite a while he decided it was best to go out to summon help.
At 20:30, LCSAR responded and at 22:30, fielded two tracking teams, three dog teams and a regular search team. Trackers started out at the subject's vehicle and tracked the subjects for over a mile and a half. Dave Hake inquired if the subjects had cell phones because he was able to obtain 3 to 4 bars of service while standing next to their tracks. Unfortunately, the subject's did have cell phones but they both had left them in the car. They also had a GPS but the batteries had died.
At 23:55, the tracking teams made voice contact with couple who were very excited to hear from them. Trackers eventually made it over to where the couple had made a fire and cut some pine bows to sit on to keep them off of the snow.
By 00:15, the fire was extinguished and the subjects started to walk out with the tracking teams. They arrived at their vehicles at 01:15.
Team members where back in town around 03:30.
Larimer County SAR hours: 104
Larimer County SAR miles: 490
Larimer County SAR members: 13
LCSO Dispatcher: 1
LCSO-ES Specialist: Justin Whitsell
SAR Manager: Mark Sheets
Tracking Notes
Last night around 8:00pm we were called in to track 2 overdue subjects in their mid 20s and follow up on what the RP had found for tracks in snow of the subjects and continue the line if it was the subjects sign. We confirmed the prints to be that of the subjects and followed them through snow, dirt, rocks and downed timber till we located them at their makeshift campsite. Because most of it was in snow, we moved it very fast and did short cuts when it moved into dry areas. It was easy to see in the sign that the subjects were confused and trying to figure out where they were by locating high points and open areas. Doug, Scott, Leif and I worked as two 2-person tracking teams to move the sign as fast a possible until we located the subjects. The were cold but "very" happy to see us and in good health and walked out. We located them around midnight and everyone was home around 3:00am. Long night but it was worth it. --Dave Hake

February 20, 2009 (Friday) - Corral Creek, 9 miles up Long Draw - SPOT Activation
1959 SAR Manager Page for L1 to contact O-3 (Tony S.) regarding a 911-SPOT activation 9 miles up Long Draw rd, at Corral Creek. Because of limited facts available for this situation O-3 and two-support, group members went in-route to investigate using snow machines. A SAR team priority page was sent requesting four members to be on stand-by until O-3 established further information. 2228 O-3 sent a page that the subject's vehicle had been located at Hwy 14 and the entrance to Long Draw. At this time the SAR team members on standby went in route but stood-down via radio at 0010 February 21 when the support group members and O-3 located the subjects. Subjects were okay but had gotten a second snow machine stuck while trying to un-trap their first machine. The first machine had become trapped in the snow on Thursday, February 19 and they had returned to attempt to free it. Subjects were transported out to Hwy 14 by O-3 and the support group members.
Duration: 5 hours 34 minutes
SAR miles: 270.7
1 LCSO-ES O-3
2 Support Group Members
3 LCSAR members: Lee L. Tom C. Greg S.
1 ITC: Dan F.
1 SAR manager, Robin A.

February 7, 2009(Saturday) - Lion Gulch - 2 Overdue Hikers
1810 SAR Manager Page for L1 to contact S-17 (Kevin J.) regarding two overdue day-hikers thought to be hiking at Lion Gulch. A deputy was dispatched to see is he could locate their vehicle. Subjects, a 26 YOM and a 24 YOF were from the Greeley area but staying with friends and family in Longmont. The two were described as comfortable with hiking but carrying only water bottles and not prepared for spending the night outdoors. While S-17 was still on the phone with L-1, the deputy located the vehicle and the subjects at the trail head. Subjects were fine and preparing to return to Longmont. A SAR mgr stand-down page was sent at 1817.
Duration: 7 minutes
SAR miles: 0
LCSO-ES Kevin Johnston
Estes Park Deputy
SAR Manager: Robin Anderson