Larimer County Search and Rescue
Partial Mission Reports 2014
December 19, 2014 (Friday): Joe Wright Resevoir / Lost Nordic Rangers
November 25, 2014 (Tuesday): Rocky Mountain National Park / Missing Climber
November 2, 2014 (Sunday): Lory State Park/Carryout Assist Injured Cyclist
October 25, 2014 (Saturday): Long's Peak Campground/Carryout Assist Broken Ankle
September 30, 2014 (Tuesday): Carry Out / Hewlett Gulch
September 24, 2014 (Wednesday): Korean Mushroom Picker / Deadman Road
September 21, 2014 (Sunday): Missing Female Hikers / Grey Rock
September 14, 2014 (Sunday): Missing Male Juvenile Hunters / Crown Point
September 12, 2014 (Friday): RMNP Carry Out Assist / Rocky Mountain National Park
September 3, 2014 (Wednesday): Carry Out / Jack's Gulch Poudre Canyon
August 30, 2014 (Saturday): Missing Male/Brown's Lake
August 18, 2014 (Monday): Rescue and Carry Out/Horestooth Rock
August 6, 2014 (Wednesday): 47 YOA Missing Male/Pole Hill
August 3, 2014 (Thursday): Assist #2 to RMRG
August 2, 2014 (Saturday): Assist #1 to RMRG
July 24, 2014 (Thursday): Lily Mountain/Injured Hiker
July 21, 2014 (Monday): Overheated Hiker/Horsetooth Mountain Park
July 6, 2014 (Sunday): Missing Couple near Mt. Margaret
July 6, 2014 (Sunday): Missing Fort Collins Man with Dementia
June 30, 2014 (Monday): Missing Fishermen/Brown's Lake
June 22, 2014 (Sunday): Missing 71 YOA Male/Estes Park/Gianttrack Mountain
June 21, 2014 (Saturday): Missing Teenager/Crystal Mountain
June 19, 2014 (Thursday): Missing Children/Red Feather
June 16, 2014 (Sunday): Fallen Female Assist/Peacock Pool/RMNP
June 16, 2014 (Sunday): Missing 20 YOA Male/Sunrise Picnic Area
May 26, 2014 (Monday): PLB Activation/Larimer County, Colorado
May 26, 2014 (Monday): 14YOA Male in Poudre River
May 6, 2014 (Tuesday): Missing Hiker/Twin Sisters, Estes Park
April 8, 2014 (Tuesday): Missing Hikers/Alpine Rescue Assist, Echo Lake
April 7, 2014 (Monday): Missing Hikers/Alpine Rescue Assist, Echo Lake
April 6, 2014 (Sunday): Fallen Hiker/Assist to Loveland Fire/Rescue near Drake
April 5 2014 (Saturday): Trail Runner Carry Out/Lory State Park, assist to PFA
March 23, 2014 (Sunday): Lost Runner near Lory State Park
Saturday, March 15, 2014: Vail Mountain Rescue Assist/Missing Snowboarder
Friday, March 14, 2014: Lory State Park/Carryout for Injured Boulderer
Wednesday, March 5, 2014: Lory State Park/Climber Stuck on Arthur's Rock
Tuesday, January 27, 2014: Glen Have Area/Missing Juvenile


### BEGIN MISSION REPORTS 2014 ###
MOST RECENT MISSIONS ARE AT THE TOP OF THE PAGE


December 19, 2014 (Friday): Joe Wright Resevoir / Lost Nordic Rangers
THE SEARCH BEFORE CHRISTMAS
Twas a few days before Christmas,
and all through the woods,
not a creature was stirring,
except two young gents.
They were Nordic Rangers,
faithfully working trail,
near Joe Wright Reservoir
in the cold and the snow.
But near the end of the day,
they lost their way.
And they lost all contact
with their friends on the road.
One with medical issues,
and one with more age,
no water no food,
not prepared for the night.
Their future looked bleak,
as they grew more weak,
how long could they go,
with one headlamp in the snow.
Diamond Peaks and SAR
were summoned by the sheriff
assisted by SORT
to find the lost men.
The stars were bright,
and cold was the night
but 3 teams were fielded
searching with all their might.
Hours passed
before a clue was found
tracks in the snow
gave hope to the teams.
The Rangers were located
their spirits were good,
tired and hungry
but mostly ok.
The teams all converged
and hiked the men out
the mission successful
and everything was right.
As he got in his truck,
and departed the scene,
they heard someone say
Merry Christmas to all,
And to all a good night.
--------------------------------------------------------
STRAIGHT TALK:
December 19, 2014
Nordic Ranger search
1800 hours: ES requested a response by SAR for two lost Nordic Rangers in the area of Joe Wright Reservoir. The RP was another Nordic Ranger, with limited radio communications with 900. Initial report was the 2 Rangers were going to cross the dam at Joe Wright but not sure they could make it. Later the following additional facts came to light. The two Rangers were ages 66 and 79. One had a diabetic condition. They had minimal gear, with no water and no food. They had been doing trail work on the ski trail, installing milepost markers and cutting trees. They started from the Zimmerman Lake trailhead, and intended to leave the trail at some point, and bushwack to the Joe Wright Res dam. They got lost after leaving the trail. Initially they had radio contact with the 3rd Ranger on Hwy 14, until their radio went dead. Before losing radio contact, they said their intent was to work their way to the Joe Wright Creek and proceed downstream to where it connects with Hwy 14.
LCSAR responded with 5 fielding members and Diamond Peaks fielded 2 member with 4 others enroute. SORT also responded with two members and their rig. One SAR team and the Diamond Peaks team were fielded from Joe Wright Res, working downstream near the creek. The other SAR team was fielded closer to Long Draw and worked upstream along the creek. About 2300 hours, team one located tracks near a gaging station, and shortly thereafter had voice contact with the Rangers. The Rangers were in good condition, but very tired, and unable to start a fire (apparently getting ready to spend the night). The other two teams met up with team one and the Rangers, and they all hiked out together to Hwy 14.
Subjects and all teams reached Hwy 14 just before midnight. The Rangers were transported back to Fort Collins via the SORT team and ambulance.
Resources:
Emergency Service: 1
LCSAR: 7 (including SARM and ITC)
DPSP: 6
SORT: 2
Volunteer hours: 110 HOURS
Volunteer miles: 650 miles

November 25, 2014 (Tuesday): Rocky Mountain National Park / Missing Climber
From today's NPS Morning Report:Friday, November 21, 2014
INCIDENTS
Rocky Mountain National Park (CO)
Body Of Missing Climber Found
During helicopter search operations yesterday, the body of Peter Jeffris, missing since last Sunday, was found 200 feet below the Ledges on the Keyhole Route.
A park SAR team was flown to a landing spot in the Glacier Gorge drainage and four team members climbed approximately 1,800 vertical feet to where Jeffris was found. His body was flown from the scene to a landing spot at Upper Beaver Meadows at approximately 4 p.m. and transferred to the Boulder County Coroner.
Jeffris was reported overdue the afternoon of Monday, November 17th, when he did not arrive at work. His vehicle was located in the parking lot at the Longs Peak Trailhead. He reportedly left Sunday morning to summit Longs Peak.
Safety was a top priority in determining when and where rescue personnel could search for Jeffris. Winter conditions, including extreme winds and below freezing temperatures, made search and recovery operations even more difficult. These challenging conditions hampered search operations, particularly above tree line, over the past three days. With Thursday's calmer winds, searchers were able to utilize a helicopter, making it possible to cover a much larger area and ultimately locate Jeffris.
Over the multiple day search, park SAR teams were assisted by Larimer County Search and Rescue, Rocky Mountain Rescue, Alpine Rescue Team, Diamond Peak Ski Patrol, Douglas County Search and Rescue, Search Dogs of Colorado and the Colorado Search and Rescue Board. Park staff also worked with the US Air Force Rescue Coordination Center.
[Submitted by Kyle Patterson, Public Affairs Officer]

November 25, 2014 (Tuesday): Livermore Area / Evidence Search

November 2, 2014 (Sunday): Lory State Park/Carryout Assist Injured Cyclist
1113 hours: LCSAR was paged to respond direct to Lory State Park for a Delta medical, 50 year old female with a hip/pelvic injury. PFA, park rangers and paramedics were on scene when Emergency Services arrived. The report was that a cyclist had gone over the handle bars and injured her hip/pelvis. Based on the location of the subject (a few hundred yards from the parking lot on a flat trail), ES confirmed with the IC that LCSAR resources would not be needed. LCSAR was stood down at 1131 hours. No LCSAR members were fielded.
Resources:
LCSAR members: 8 (including SAR manager)
ES personnel: 1
PFA, park rangers, paramedics, UCH ambulance: unknown numbers
Volunteer hours: 4 man hours
Volunteer miles: 60 miles

October 25, 2014 (Saturday): Long's Peak Campground/Carryout Assist Broken Ankle
LCSAR was paged at 12:30 Saturday 25 October 2014 for direct non-emergency response to Longs Peak campground in RMNP for carryout of an injured teenager. While playing games in the surrounding forest with friends, she became injured and unable to walk. Her location was outside the boundaries of the Park, so RMNP requested LCSAR and Allenspark VFD respond to handle the carryout. By the time LCSAR arrived, local residents had brought her to the residential area to where the Allenspark VFD ambulance could drive. Two LCSAR members assisted Allenspark medics with lifting her onto the gurney and carrying the gurney down the gravel path, arriving at the ambulance at 14:00. We held a short debriefing and returned to Fort Collins.
Resources:
LCSAR members: 9 (including SARM/ITC)
SARM/ITC: John Lee
Allenspark VFD: 4
RMNP personnel: ~4
Duration: 5.5 hours
Distance: 100 miles RT

Octoberb 17, 2014 (Friday): Coyote Ridge / Carryout

September 30, 2014 (Tuesday): Carry Out / Hewlett Gulch
SAR Team was paged out at 1111 hrs for an emergent response to hewlett gulch for a hiker with difficulty breathing. Poudre Canyon Fire Protection District volunteers and PVH 203 ambulance medics arrived on scene and determined the subject was code green but exhibiting discomfort. Six SAR team members fielded and executed a carryout of about 1/2 mile to an awaiting ambulance at the trailhead. Stand down page at 1232 hrs and all units cleared by 1300 hrs.
Resources:
SAR team members responding = 8 (including SAR Manager)
SAR team miles driven ~ 40 * 8 = 320 miles
SAR Truck 10
SAR team person hrs ~ 8
Other agencies responding: Poudre Canyon Fire Protection District (3 responders), PVH (Colorado Health) ambulance (3 responders), SORT Team ambulance (1 responder)
SAR Manager - Jose Negron

September 24, 2014 (Wednesday): Korean Mushroom Picker / Deadman Road
1452 hours: ES paged the SAR manager to discuss the report of a missing mushroom picker up the Deadman Road (CR162). The reporting party and the missing party were Korean. There was some language barrier with the initial reports. Initially the report was for a missing 73 year old female. It turned out to be a 73 year old male. The SAR team was placed on stand-by, pending further information.
O3 and a SAR manager initially located the reporting party (RP) parked at the intersection of 73C and Deadman. The RP lead O3 and the SARM 18 miles up Deadman Road to the last seen point. While enroute to the last seen point, O3 requested the SAR team be dispatched to the scene. At the scene, the RP provided O3 with limited, but adequate information on the subject, such that the search could proceed. Additional resources responding included LCSO deputy F61, the SORT team, ATV resources from the LCSO, and a plane provided by Division of Fire Protection and Control.
SAR resources began to arrive on scene about 1800 hours. 6 LCSAR teams were deployed into the field including 3 dog teams. The language barrier was again somewhat of an issue, since most of the relatives at the subject's home also spoke limited English. Therefore, it was difficult to verify that we would be notified if the subject self-recovered and contacted his family. And the RP chose to stay near incident base where there was no phone service---so the subject would not be able to contact the RP either. Attempts to ping the subject's cell phone were unsuccessful because of the cell phone carrier that he has.
2048 hours: O3 and Ops received word that the subject had been picked up by hunters approximately 5 miles East of the last seen point, and was at the Pot Belly Restaurant. All teams were recalled from the field, and cleared incident base about 2130 hours.
Resources:
LCSAR volunteers: 14 (including SAR managers)
ES: 1
LCSO: 1
Support crew: 2
Air support: 3
Volunteer miles: 1690 miles
Volunteer hours: 127 hours

September 21, 2014 (Sunday): Missing Female Hikers / Grey Rock
Emergency Services and LC Search and Rescue responded to the area of Greyrock for two woman that summited late afternoon and become disorientated on the way down. They realized this early and called 911. Dispatch was able to obtain coordinates for their location. Emergency Services was able to contact them on their cell phone and asked them to stay where they are and Search and Rescue personnel would come get them.
Seven search and rescue members responded and 4 were fielded. They subjects did not move and search and rescue members located them at 1900. The lost subject were in good conditions but cold.
Subjects were escorted down to the trail head and all resources cleared at 2135.

September 14, 2014 (Sunday): Missing Male Juvenile Hunters / Crown Point
Initial page from Dispatch at 0853 for On-call SAR Manager to call Justin (O5) at OMITTED ref 2 missing hunters, 11 and 12 YOA off Crown Point Rd near Black Hollow TH.
0855-L1 John Lee called Justin back to get details:
2 missing boys at Crown Pt. road
Hunting Area 19
Black Hollow, Crown Point rd.
12yom OMMITTED
11yom OMMITTED
Camo attire
Have backpack, survival gear, .22 rifles
8 family members already in the area searching.
Last seen 1900 the night previous.
L1 requested 10-12 Searchers, Trackers and 3 dog teams.
0900-Teams and L1 were en route to Crown Pt road. Specific IC was not determined at that time.
While en-route, it was relayed that staging will be at the Crown Point, Pingree Park Rd intersection. Subsequently, it was determined that the IC would be at the campsite up Crown Point Rd, close to the Browns Lake TH. Also, it was relayed that the two boys had actually been last seen at 0630 the previous day. The boys had been missing for over 24 hours. This upped the urgency. L1 requested ITC to ask for addl resources and 5 more SAR members were on their way. L1 asked ITC to take names for a 2nd OP period.
Initial responders:
8 SAR team members, 3 dog teams, +2 SORT EMT's
Additional responders:
5 SAR team members
Once L1 arrived at IC, (UTM 442x997) it was relayed that family members had done a lot of containment along the roads that bordered the search area. Info also stated that the boys may have been heading to a cabin at UTM 445x985. There might also be a chance that they might be at a Gauging Station at UTM 442x987. The boys had been taught not to cross roads and trials. This automatically helped determine a containment area. LEO's and DOW staff were also doing containment on roads. The boys had survival gear including whistle, map and compass. They might be heading north to intersect a road. The boys and family had also spent time earlier in the weekend at Crown Point itself building a fire and shooting guns. The boys had been trained to bed down at night, make a fire and stay warm.
Dog teams were sent out in a pattern starting with the IC and Crown Point Rd as the western and northern boundaries and were going to work south and east. A two man team was sent south from the IC to the above mentioned High Probability points.
After teams were fielded, we got the word from one of the family members on scene that a family member that was already out in the field, had located the two boys and were bringing them back to the campsite. The boys were in good health and spirits. Later, the family member reported that the boys were "located "approx 1 click west and 1/4 click south" of IC. They had even bagged a grouse each.
All teams were recalled to IC. Justin and L1 asked the family to start accounting for all the family members that were involved. It was discovered that one family member was not accounted for. He had been out since approx 0600 this morning looking for the boys. No one had been able to make contact with him since he left the campsite. No one could even state which way he had been heading. One family member did say that he did see him at high point 10458 heading down the other side of the ridge (SE). Family members on scene decided to go out looking for him. Justin decided to let them do a preliminary search.
Meanwhile SAR resources would take a break and wait a bit before releasing from the scene. By 1500, ES and L1 decided to start a second search for the missing family member, Billy. New teams were assigned and a two man team was sent to the Jack's Gulch TH to start going south along that trail (FR855), then west on Little Beaver Creek Trail to end up at Beaver Park. Another two man team was sent to where Upper Dadd Gulch Trail (FR938) comes close to Crown Point Rd and start from there and go south to Beaver Park. Dog teams were also going to be sent to the Jack's Gulch TH and then up Old Flowers Road until no more driveable and then to hike with dogs along that trail to Beaver Park. There was a family member coming west along the Fish Creek Trail (FR1009) from the Fish Creek TH.
Those teams were sent out.
Meanwhile, we were deciding on the best way to contain from the south, possibly coming up from the Flowers Trail (FR939) when the family members that went looking for Billy came back to IC and stated that Billy was right behind them. He was in good health and accounted for. ES released all SAR resources at that time.
Resources
L1 John Lee
Agencies involved: 5 (LCSAR, LCSO, DOW, SORT, Air Search)
LCSAR personnel: 20 (includes 2x ITC, SMIT)
LCSAR vehicles: 1 (Truck 10)
Personal vehicles driven: 16
Personal miles driven: 136mi. r/t x 16 = 2,176 + 352 for dog handlers=2,528mi
*Note, some initial responders came from Hermit Park to Brown's Lake. That trip is approximately 88 mi by itself. (4 x 88mi=352mi)
Hours (first page to all back in town): 8
Person-hours: 8 x 20 = 160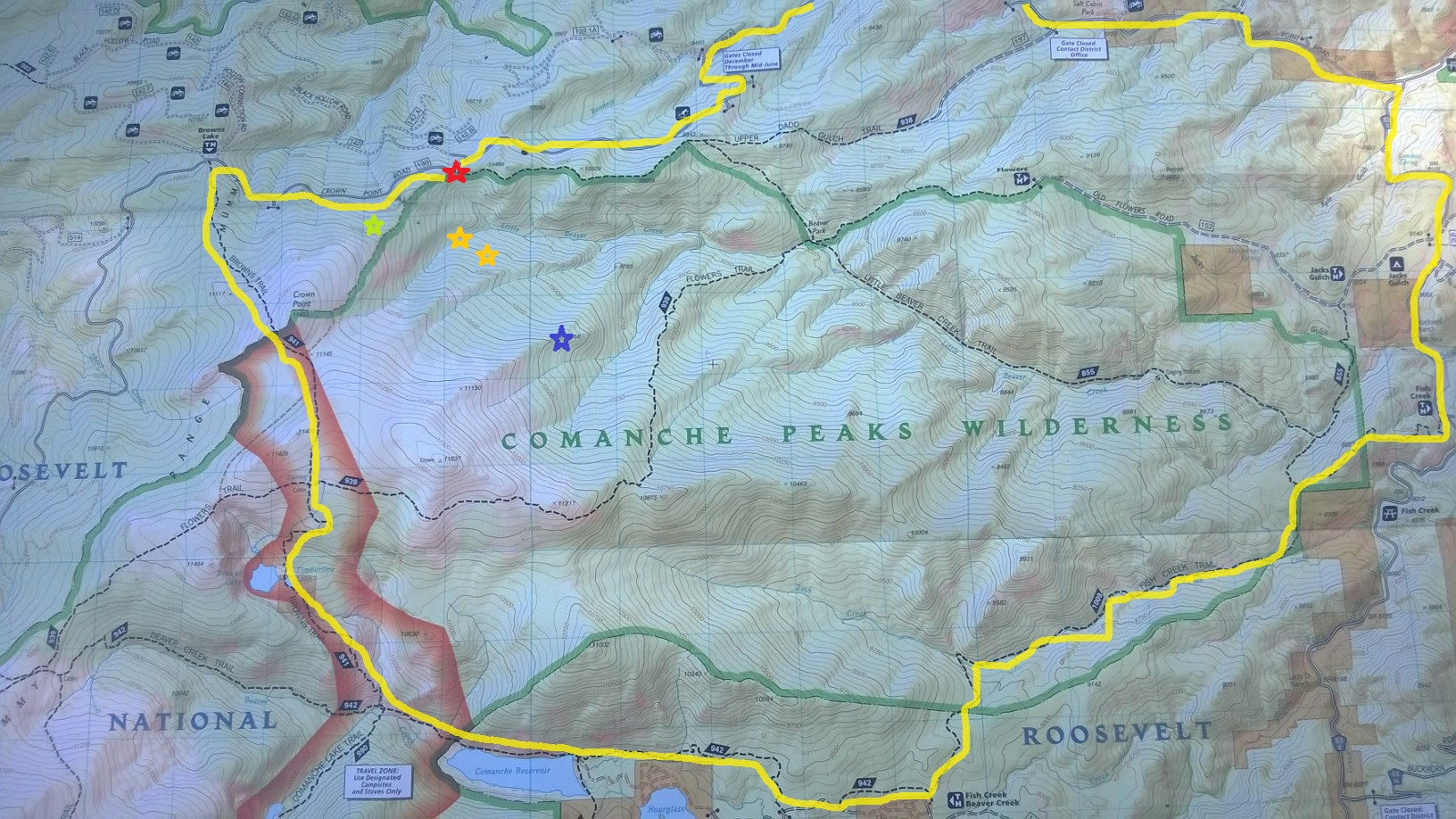 September 12, 2014 (Friday): RMNP Carry Out Assist / Rocky Mountain National Park
LCSAR was contacted to assist in a carry out in the Mills Lake area of RMNP. Subject had a possible blown knee or broken leg. LCSAR sent an initial two responders and two additional en-route. By the time the initial LCSAR responders arrived at the RMNP SAR Cache, the subject had been airlifted from a meadow. All LCSAR resources were stood down and returned home.
John Lee, Larimer77

September 3, 2014 (Wednesday): Carry Out / Jack's Gulch Poudre Canyon
At around 2:40 PM the SAR team received a page requesting us to respond direct, non-emergent, to Jack's Gulch (approx. 6 miles up the Pingree Park Road), to help with a 2-3 mile carryout of a female who had broken her ankle.
As team members started to respond, I went to the cache to get Larimer Truck 10 and proceeded to head up the Poudre Canyon. It sounded as though we were light on SAR members able to respond for such a long carryout (it was the middle of a work day), so some of the fire crew were also paged to assist with the carryout.
At about 3:25, as I reached Gateway Park (approx. 6.5 miles up the canyon), we received the stand-down page. Apparently some equestrians using the same trail had met up with the injured subject and been able to get her down the trail on one of their horses, so we were no longer needed. Most of those responding had reached Ted's Place at the mouth of Poudre Canyon. All personnel returned to town.
Thanks, everyone. Sarah Babbitt, SAR Manager
Agencies involved: 3 (LCSO, LCSAR, Wildland Fire)
LCSAR Members: 12 (including SAR manager)
LCSAR vehicles: 1
Personal vehicles: 9
Personal miles driven: 9 x 20.7 (cache to Ted's Place) = 180
Personnel hours: .75 x 12 = 9

August 30, 2014 (Saturday): Missing Male/Brown's Lake
At approximately 8:22 PM on Saturday, the 30th of August, the page came in regarding a search for a 25-year-old male who'd last been seen on the Brown's Lake Trail around 4:30 that afternoon. After chatting with Emergency Services Specialist Dave Mosier (O2) and then our In-Town-Coordinator, I started the long drive up to the trailhead (from north Fort Collins it is about an hour on pavement then 45 minutes on dirt road to get there). The other team members responding were to meet at the cache at 9:30 and caravan up together.
Our subject, who had some potentially serious medical issues , had been to Brown's Lake with a group of about 10 other friends and had gotten separated from them on the way back to the trailhead. He was not prepared to be out overnight, and it was not known whether he had food or meds with him. The trailhead is at about 10,500' elevation. Conditions in the area were cool and windy, with occasional rain and hail.
As our team members (including 3 search dogs) arrived scent articles were retrieved from the subjects truck. Team assignments were given, with all 5 field teams deployed by midnight.
The windy conditions and the thick trees in some areas made for imperfect conditions for both the dogs trying to pick up scent and for the humans trying to call or use horns to attract the subject as they moved. None the less, Dog Team 2 had a possible voice contact with the subject at 3:40 AM and was with him about 15 minutes later. They found him relatively dry and otherwise well, in a small shelter he'd created next to a large hollow log, and with two small fires for warmth. The group was headed back to incident base shortly after 4:00, all teams were recalled, and everyone was back by just before 5:00 AM.
All resources were clear of incident base by 5:30 and back in town by 7:20.
Thank you for the great work, everyone!
Sarah M. Babbitt, SAR Manager
Agencies involved: 2 (LCSO, LCSAR)
LCSAR personnel: 14 (includes ITC, SAR Manager, ICP assistant)
LCSAR vehicles: 2 (Truck 10 and trailer)
Personal vehicles driven: 8
Personal miles driven: 96 mi. r/t x 8 = 768
Hours (first page to all back in town): 11
Person-hours: 11 x 14 = 154

August 18, 2014 (Monday): Rescue and Carry Out/Horestooth Rock
0737 Initial page from dispatch read: "ES and SAR, PFA requesting your assistance on a rescue on Horsetooth Rock. 16 yoa female feel between the crevice appt 6 ft. She is wedged. Poss head inj, use Fire Route 3 Chn."
LCSAR had been paged approximately 13 minutes after the initial call was received by PFA. Upon arrival at Horsetooth, several PFA units were on scene, and an AirLink medical helicopter was already on the ground at the LZ closest to the subject. One of the AirLink flight crew was attempting to make contact with the patient and reporting parties.
12 LCSAR members responded immediately. With the additional resources on scene from PFA and other agencies, other SAR units were stood down at 0835. A total of about 50 rescuers from various agencies was on scene and assisted with the operation. The LCSAR members were fielded in two separate teams, and integrated into the rescue with other agencies.
The 16 year old had been on a sunrise hike with friends, when she fell from the top of the tooth into the crevice. She suffered and open ankle fracture and head injury. The rescue required the subject be raised in the litter to the top, and then lowered down another side, before being carried out on the litter and wheel down the trail to the helicopter. Some LCSAR members assisted with the lower of the patient, and others assisted with the carry out of the subject from the base of the rock to the helicopter.
The patient reached the helicopter at 1145 hours, was transported to the hospital. Thereafter, all rescuers collected the gear and were shuttled to the command post at the trailhead. An after action review followed. All SAR units and other agencies did not clear the scene until approximately 1330 hours.
RESOURCES:
LCSAR: 12 members on scene
ES: 2 specialists
State park rangers: 4
City park ranger: 1
PFA (many units including 2 PIOs and probably 25 personnel)
SORT/PVH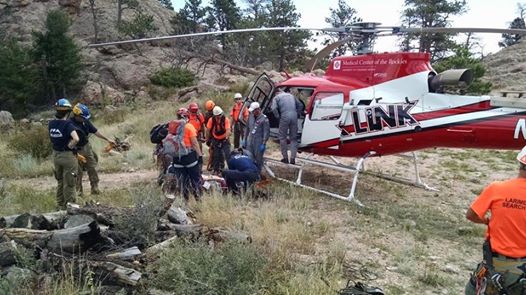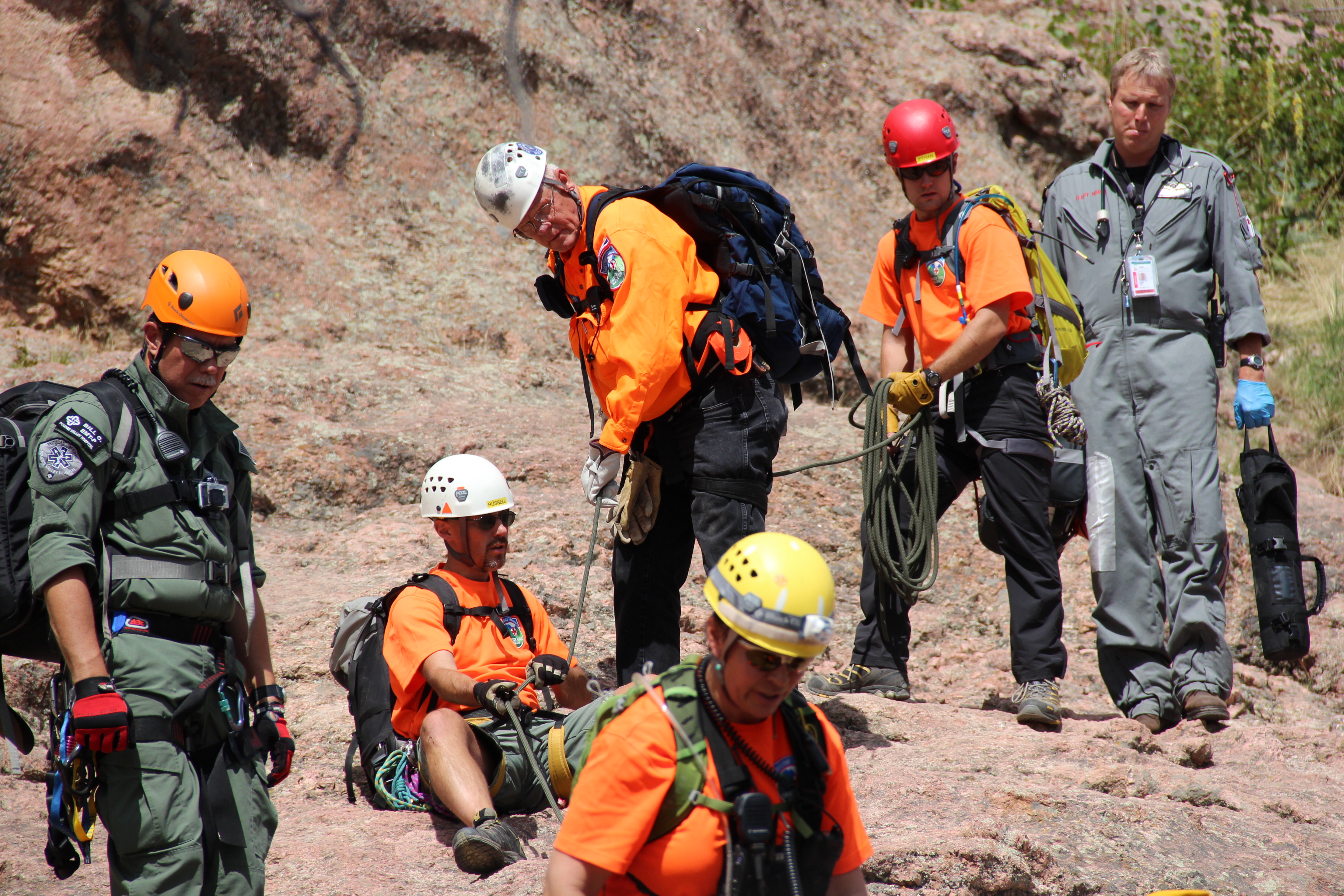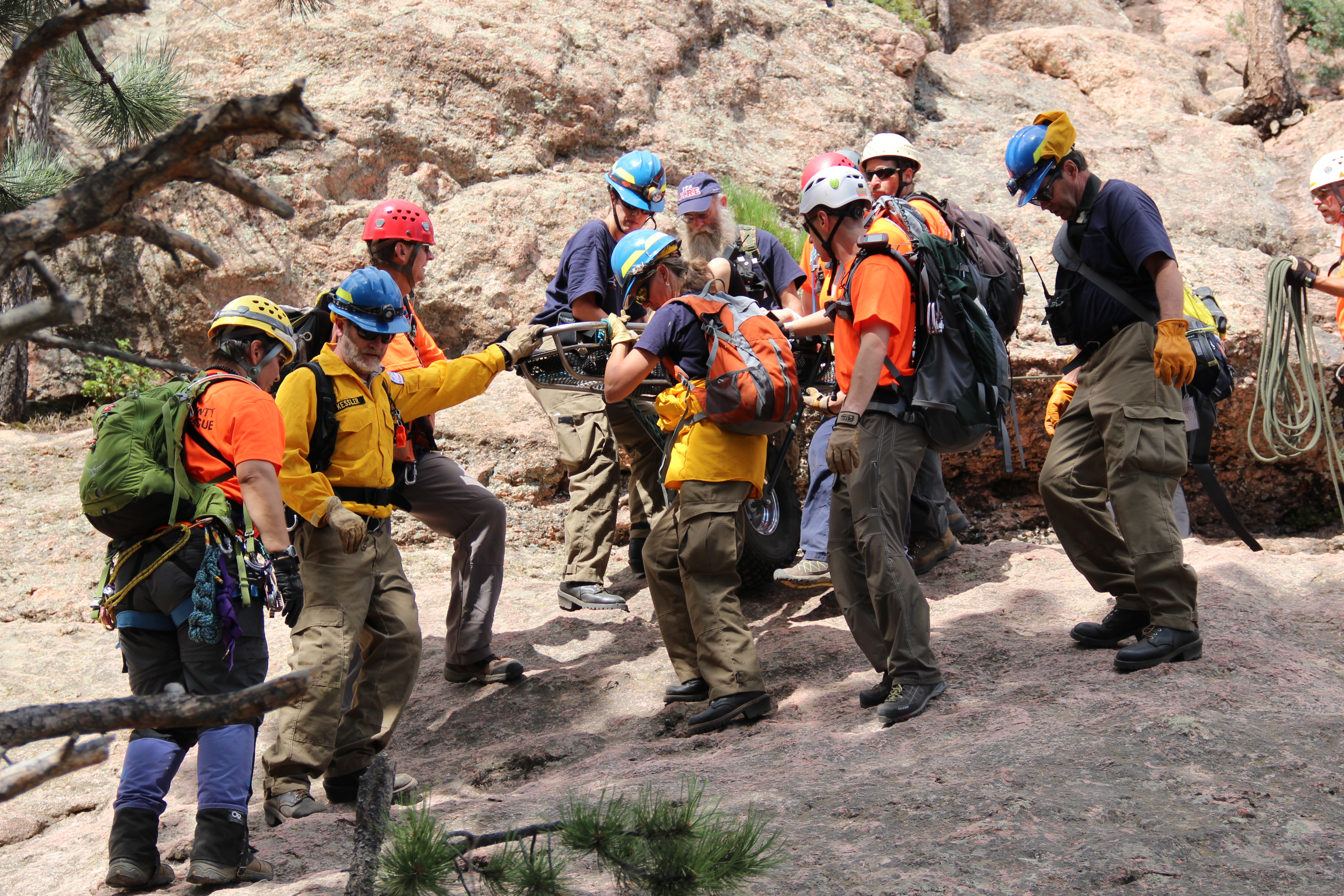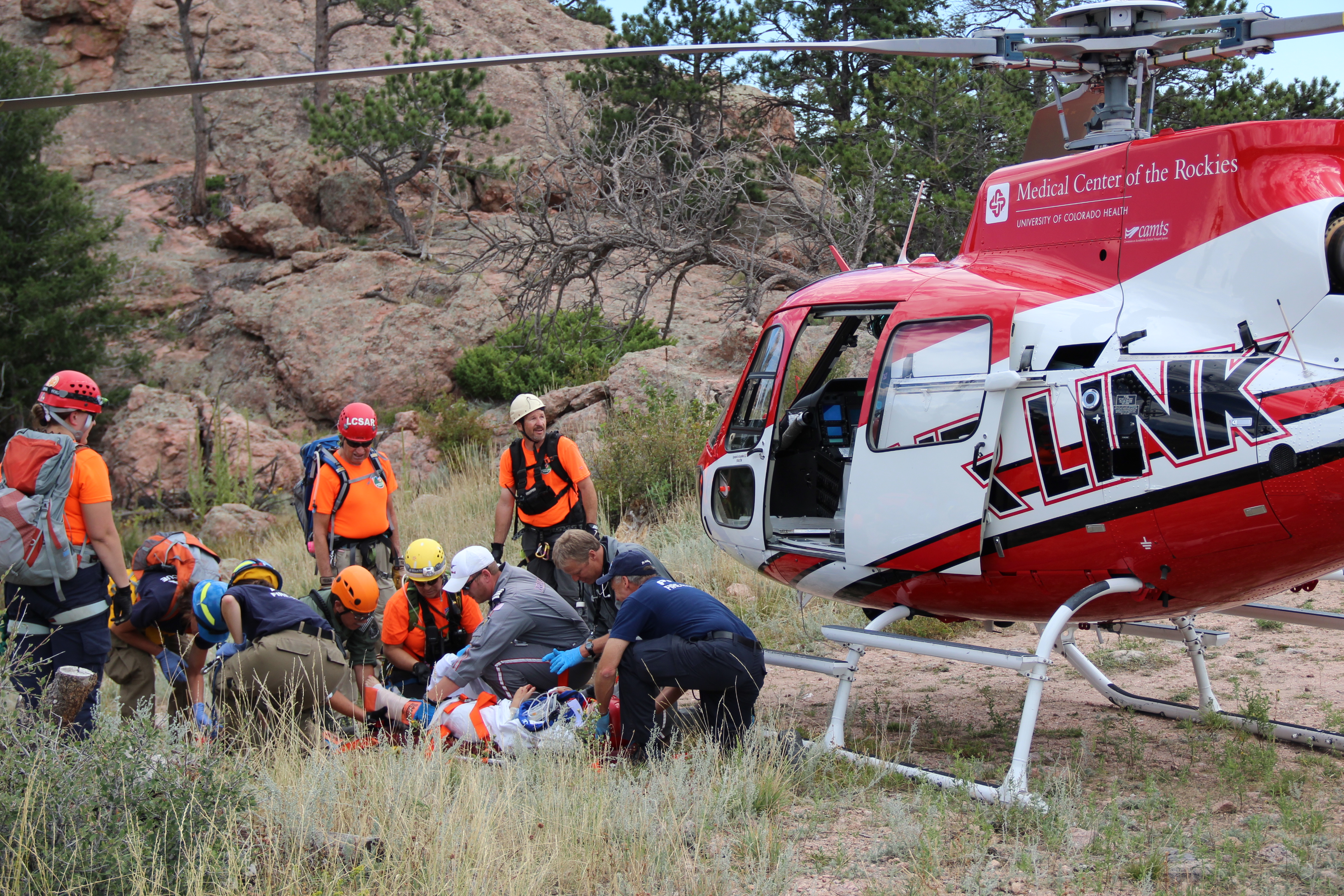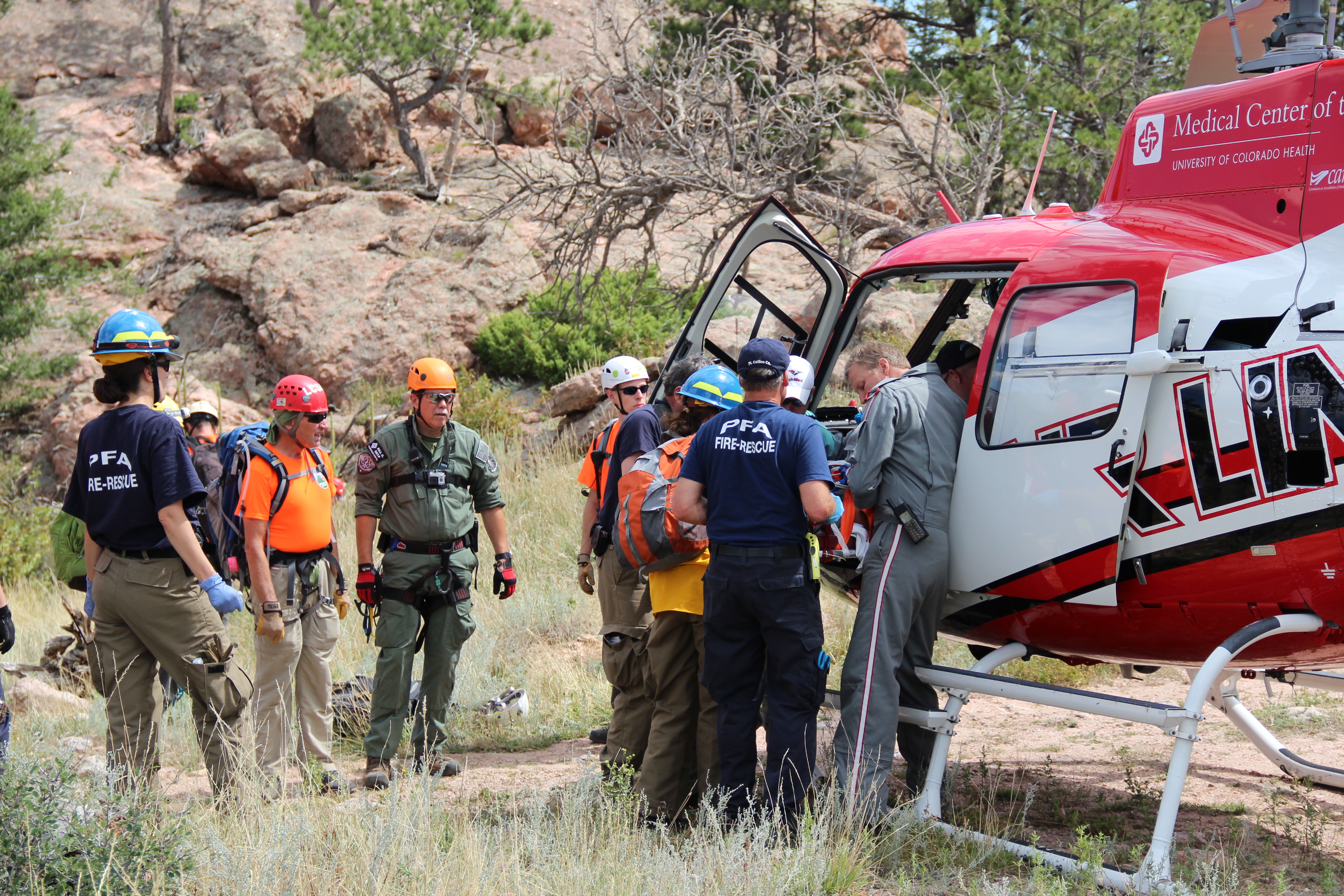 A statement from Hannah's family
After a long, eventful day, we are feeling so blessed that Hannah is alive.
She fell about 50 feet into a rock crevice. We are thankful that she didn't slide a few feet farther to where there was another 100-plus foot drop. God is her protector!
We are thankful she was with three amazing friends who got to her, stayed with her and did all the right things.
We are thankful for Larimer County Park Rangers, Poudre Fire Authority, PVH EMS paramedics and the Larimer County Search and Rescue people who all came out with one goal in mind -- to rescue this precious girl. We are in awe of each of them and their selfless acts of compassion. Our understandable anxiety was greatly reduced by their professional capabilities and the amazing cooperation they showed working together throughout the morning to get Hannah off the mountain. We are also thankful for the Air Link flight team that got her to the hospital in the quickest way possible after her almost five-hour stay on the mountain. We are thankful for the Medical Center of the Rockies emergency and trauma teams who evaluated, treated and continue to care for her.
We also are eternally grateful for the army of prayer warriors! Hundreds of people who prayed for her were heard and answered! We are humbled by the outpouring of love and support from all our friends and family. It was a miracle that she survived the fall, and a miracle that none of her injuries is life threatening.
But, we still have a long road of recovery ahead with a broken pelvis, cracked rib, bruised lung and badly sprained ankle among multiple abrasions and contusions.
We appreciate your prayers.

August 6, 2014 (Wednesday): 47 YOA Missing Male/Pole Hill
Late in the afternoon (a bit before 4:00) we received a page regarding a missing 47-year-old male who had been missing since the evening before, in the Pole Hill area southwest of Loveland.
The subject had been exploring the area with two friends when they got separated. The friends returned to the vehicle (belonging to the lost subject) and waited but he never came back to the car. He was not prepared to be out overnight, and had some possible medical concerns. The friends walked and hitch-hiked home, figuring he'd show up eventually. When they realized he still hadn't returned the next day, they called 911.
County Deputies responded, and we were called. Shortly after ES specialist Justin Whitesell (O5) and this SAR Manager arrived on scene (at about 5:30 PM) a medical helicopter headed to Estes Park happened to fly over the area, and it called in that it had seen a fire and a person waving near the fire, not far from our location. With the coordinates given by the helicopter in hand, O5 headed to the area while the SAR team staged down near Pinewood Reservoir.
O5 found a fire not far from the rough dirt road, though found no one near it. He called the Wildland Fire group to come deal with the fire. He continued on approximately a mile through rough terrain to the coordinates to be sure there wasn't a second fire there (there wasn't). At this point we had the SAR team start up to meet me at the search area. Upon returning to the fire he then found our subject near it. He walked and drove the subject back to base, where by that point we had 13 SAR members (plus a couple of SAR dogs) getting ready to deploy.
The subject was in basically good shape, though tired and stressed. The SAR team was stood down, and all of us had left the scene by 8:10 PM.
Thank you all for the great turnout.
Sarah Babbitt, SAR Manager
Agencies involved: 3 (LCSO, ES, LCSAR)
LCSAR personnel: 15 (including ITC and SAR manager)
SAR vehicles: 1
Personal vehicles driven: 7
Miles driven: 66 miles r/t x 7 = 462
Hours: 4.25 x 15 = 63.75

August 3, 2014 (Thursday): Assist #2 to RMRG
Initial page was received at 1918hrs from Dispatch for SARMGR to call CSRB RE search resources for N. St. Vrain tomorrow.
SMIT - SAR Manager In Training - contacted CSRB and was given the following info:
49 and 16yom went out on Friday. Expected back today and overdue.
Search area is N St. Vrain with IC being Button Rock Res.
Requesting as many ground pounders as possible to stage at 0800.
SMIT then contacted ES to discuss the plan. It was decided that if we could get 5 people to commit, we would send those 5.
SMIT then contacted ITC to put out the pages requesting resources. We got 5 that could commit.
SMIT then contacted ES and he authorized the out of county mission.
SMIT then called RMRG to let him know our response and was told they may have contact with the subjects. RMRG asked SMIT to call him back in 20 minutes to verify if it was a find by a helo team or not. This was at 2021hrs.
SMIT then notified the ITC and ES to stand by for an update.
2135hrs, subjects located by fire department. RMRG reports we can stand down. SMIT notified ITC to send out a stand down page to the team and SMIT notified ES as well.
9NEWS - Raquel Villanueva, KUSA 11:34 a.m. MDT August 4, 2014
BOULDER COUNTY - A father and son reported missing after a Friday hike were found with the help of a reflective blanket.
Joshua Skaggs,16, and Jeff Lints,46, had set out to hike along the North St. Vrain Creek to Button Rock Reservoir. The Boulder County Sheriff's Office was notified when they never met with a family member who came to pick them up Sunday.
Rescuers from the Boulder County Sheriff's Office, Rocky Mountain Rescue and Allenspark Fire Department started a search with the help of Doug Lyle, a local Boulder County pilot who volunteered his time and helicopter.
The father and son were found by the helicopter. They were uninjured but hungry after they were able to hike as far as North Sheep and South Sheep Mountain but the creek level was too high to cross and the terrain too rugged. They told rescuers were working their way back when they became disorientated.
They used a reflective, emergency blanket to mark their location at a camp they set up. It proved helpful in locating them.
(KUSA-TV © 2014 Multimedia Holdings Corporation)

August 2, 2014 (Saturday): Assist #1 to RMRG
Initial page was received at 1650hrs for On-call SARM to contact ES RE assist to Boulder County (RMRG) for a "rescue".
SMIT - SAR Manager In Training - called ES and was explained that the nature of the rescue was unknown. RMRG couldn't clarify. It might be a carry-out for all practical purposes.
SMIT then called ITC to relay the request to the team. Page was sent out to the team and after 30 minutes, we only had 3 people who responded and one was a probationary member.
SMIT relayed that info to ES and ES decided to decline the request for resources to Boulder County.
SMIT then had ITC send out a stand down page to the team at 1739hrs.

July 24, 2014 (Thursday): Lily Mountain/Injured Hiker
SAR team was paged at 1057 hrs for a direct non-emergent response for an injured 51 yom hiker on the Lily Mountain Trail south of Estes Park. The subject was reported to have a knee injury. A hasty team was deployed first to make contact with the subject as soon as possible. A second team comprised of 2 SAR member and 5 wildland fire firefighters, including 2 EMTs followed with the litter and wheel. A third team of 2 SAR members followed with medical gear. Two more teams with 5 SAR members followed to assist in a carryout if needed. The hasty team reached the subject around 1300 hrs with the 2nd team shortly after. Upon patient assessment and confirming and stabilizing the knee injury a carryout initiated at about 1400 hrs. The team reached the trailhead at about 1530 hrs and the subject loaded in his private vehicle. Three family members accompanied the subject. The carryout was two miles long and quite arduous given the hot weather and steep terrain in certain sections of the trail. The partnership with the firefighters was an asset in supplementing the SAR team. Stand down page for members not on scene was at 1455 hrs. All resources were cleared by 1600 hrs.
Resources:
SAR Team members = 12 including SAR manager
Larimer County Wildland Firefighters = 5
ES Specialist
Truck 10
Miles Driven = 550
Person-hours = 85

July 21, 2014 (Monday): Overheated Hiker/Horsetooth Mountain Park
SAR team was paged out at 1415 hrs in reference to a 51 yoa with possible heat-related illness. Larimer County Park Rangers, Poudre Fire Authority staff and Poudre Valley EMS paramedics reached the patient in the field. SAR team staged at the trailhead to assist with possible evacuation. Subject was able to walk out. SAR team was stood down at 1445 hrs.
SAR Resources = 7 including SAR manager
ES Specialist
Miles driven = 168
SAR person-hrs =3.5
Other agencies: Larimer County Parks, Poudre Valley EMS (Colorado Health), Poudre Fire Authority

July 6, 2014 (Sunday): Missing Couple near Mt. Margaret
A couple called into Larimer County Dispatch to report that they believed that they were lost on loop A at Mt. Margaret near Red Feather. They believed that they were still on the trail but were not sure and were asking for assistance. After talking with Ocean 2 from Emergency Services it was decided that the search and rescue team and also the support team would field to try to locate the couple and help them out. Before any of the resources reached the trailhead the couple was able to make it out to their vehicle on their own. All resources were stood down.
Resources:
LCSAR: 12 members (including SAR manager and ITC)
Emergency Services: 1
LCSO Support group: Unknown

July 6, 2014 (Sunday): Missing Fort Collins Man with Dementia
First Operational Period:
At approximately 0100 the on-call SAR Manager (Larimer 1) was paged to call Ocean 2 about assisting the Fort Collins Police with a missing man with dementia in Fort Collins. It was decided that we would field two dog teams and two tracking teams to try to determine the direction of travel from the house. The dog teams worked from the house and tried to determine a direction of travel. There was only one tracking team available so this team went between the two dog teams and looked to see if they saw any footprints from our missing subject. The SAR manager and Ocean 2 drove around and looked for the missing subject while the teams were in the field. After approximately 2.5 hours of searching the teams were called back to staging. The teams did not have any conclusive information from their efforts. The SAR resources were clear of the scene at approximately 0530.
Resources:
LCSAR: 8 (including SAR manager and ITC)
LCSO Emergency Services: 1
Fort Collins Police: Unknown
Miles Driven: 60 miles
Person Hours: 40 hours
Second Operation Period (7/7/14):
At approximately 1300 Ocean 2 called the on-call SAR Manager (Larimer 1) to arrange for ground support to assist with a helicopter searching for the missing man. It was requested that 10-12 SAR members respond to go to places of interest identified by the helicopter. The team staged at the Fort Collins Police Station at approximately 1400 and waited for information from the helicopter crew. The crew did not locate anything of interest. The teams were debriefed and released at approximately 1600.
Resources:
LCSAR: 12 (including SAR manager and ITC)
LCSO Emergency Services: 2
Fort Collins Police: Unknown
Air Force Flight Crew: 3
Miles Driven: 72 miles
Person Hours: 24 hours

June 30, 2014 (Monday) / Missing Fishermen - Brown's Lake
Page came out at 0926 for SAR manager to contact ES in reference to a missing party of 3 people around the Crown Point Area. SAR responded non-emergent and staged at the Bennett Creek picnic area. Staging was later moved to the Jack's Gulch TH to facilitate radio communication. Three dog teams and two ground teams were deployed covering area trails. A single SAR resource was driving and exercising containment along the Crown Point road. It is unknown how but the missing party found their way to their vehicle, which was parked at the Brown's Lake TH. The subjects were leaving when intercepted by the single SAR resource on the Crown Point road at about 1500 hrs. The subjects were directed to meet up with the ES specialist at the junction of Crown Point and Pingree Park roads. SAR team stood down and all resources cleared by 1600 hrs.
SAR Resources including SAR manager and ITC = 13
SAR people-hours = 72
Miles Driven = 1,320
SAR Truck 10
ES Specialist
While this mission was in progress a second call for a SAR manager to contact ES came out at about 1338 hrs. This was for an overdue camper in the Joe Wright Reservoir area. It was later determined that the subject was in his way to Denver and no SAR team response was needed.
thanks to all team members responding. --jose.

June 22, 2014 (Sunday) - Missing 71 YOA Male - Estes Park/Gianttrack Mountain
Page came out at about 1100 hrs in reference to a missing 71 yom with Alzheimer. His wife last saw him at about 2300 hrs the night before. The residence was just north of Gianttrack Mountain. At about 1230 hrs dog teams were deployed and tracking team cut for sign along the two doors to the residence. At about 1300 hrs the subject was located on a neighbor's property. SAR team assisted in loading the subject to an ambulance and subject transported to Estes Park Medical Center. SAR team was stood down at 1314 hrs and all units clear by 1330.
SAR Resources including SAR manager and ITC = 17 (8 deployed and 7 in route)
SAR Person-hours = 60
Miles driven = 1,080
Other Agency: Larimer County Sheriff Deputy = 1

June 21, 2014 (Saturday) - Missing Teenager - Crystal Mountain
SAR manager paged at 1111 hrs in reference to a missing teenager in the Crystal Mountain Area. SAR team paged at 1127 hrs to stage at the Buckhorn Ranger Station. Subject had been missing since 0130 hrs. Subject vehicle was located on Crystal Mountain road just north of the Five Points area. The vehicle was disabled. After the subject went missing he was located by a local resident along FS 513 and taken back to his vehicle at about 1030 hrs. The subject then went missing for a 2nd time.
Two dog teams with two dogs each were about to deploy along 2 roads with another team driving along a 3rd road. F19 was going to cover a 4th road using an ATV. A team tracker had identified tracks matching the subject footwear heading north on Crystal Mountain Rd. Before fielding the subject sent a text message to the reporting party who was at the time with the ES specialist. The subject was then contacted by phone through the Sheriff's dispatch. Subject indicated he was ok and in an eating establishment in Fort Collins. SAR team stood down at 1432 hrs and all units cleared by 1500 hrs
SAR Resources including ITC and SAR Manager = 13 (7 on scene)
SAR person-hours = 48
SAR miles driven = 630
Other Resources: Larimer County Sheriff Deputy F19
Diamond Peaks = 1

June 19, 2014 (Thursday) - Missing Children - Red Feather
Page to SAR Manager at 1947 hrs in reference to 2 missing children ages 7 and 11 in the Red Feather area. SAR team responded direct, non-emergent to staging area at Red Feathers Elementary. Sheriff's deputies located the children close to the home before SAR team was fielded. Team was stood down at 2117 hrs and all units cleared by 2145 hrs.
SAR Resources including ITC and SAR manager = 18
Man-hours = 51
Miles Driven = 675
Other agency: Larimer County Sheriff

June 16, 2014 (Sunday) - Fallen Female Assist - Peacock Pool/RMNP
Assist to RMNP, Fallen female above Peacock Pool
In the early evening we received a request from Rocky Mountain National Park for personnel to assist with a possible overnight rescue and carryout from somewhere in the vicinity of Peacock Pool on Long's Peak. A female subject had taken a fall and hit her head and had some loss of sensation. Rangers were not yet on scene with the subject, and they were not yet sure whether they'd do a carryout through the night or take her up to the Chasm Lake shelter then carry or fly her out in the morning.
Temperatures were to be near freezing overnight, with high winds expected through the night and into the morning. Spring conditions currently exist on the mountain, so the 4-mile trail would be a mix of snow, rock and ice, and the snowfield below Chasm Lake would have to be crossed.
3 LCSAR members were responding to the Park when we were told that a helicopter had been able to get close enough that the carryout would not be necessary. Our resources were stood down and all were back in Fort Collins by 2200.
Emergency Services Personnel: 1
LCSAR personnel: 5 (including ITC and SAR Manager)
Personal vehicles used: 3
Miles driven: 3 x 50 = 150
Time: 2.5 hours
Thank you. Sarah Babbitt, SAR Manager

June 16, 2014 (Sunday) - Missing 20 YOA Male - Sunrise Picnic Area
Intoxicated 20-year-old male missing from Sunrise Picnic Area
Just before 9 PM we received a call that a 20-year-old male, new to the area from Minnesota, had gone missing from the Sunrise Picnic Area on the east side of Horsetooth Reservoir. He had last been seen 4 hours prior. Parks personnel were already on scene and we were planning on adding searchers, trackers and possibly dogs to the search.
Just before our In-Town Coordinator was able to put out the team-wide page, we received the stand-down (at approx. 2115). The subject had walked down to the RP's home at Taft Hill and Horsetooth Roads.
Time: 20 min.
LCSAR personnel: 2
Emergency services personnel: 1
0 miles driven
S. Babbitt, SAR Manager

May 26, 2014 (Monday) - PLB Activation - Larimer County, Colorado
While the Poudre River search was underway(see below), Emergency Services Personnel received a report of a PLB activation. Coordinates placed the source of the activation in the area of Elkhorn Trailhead off County Rd 68C. A SAR team was going to be diverted to the area when a report came that the subject had come out. The PLB activation appeared to be accidental.
No SAR resources committed.

May 26, 2014 (Monday) - 14YOA Male in Poudre River
Page to SAR team from Larimer County Dispatch at 12:40 pm indicating:
LC SAR- RESPONDING DIRECT TO GATEWAY PARK/HWY 14 MM117 RPT OF OF 14YOM THAT WENT INTO THE RIVER - DIVE TEAM IS ENR. THANKS CINDY/COM - From L004 05/26/2014 12:39:45
There was a report of a 14 year-old male that fell in the Poudre River. The subject fell from the Ouzel picnic area. A total of 10 SAR team members responded. Staging was at Gateway Park. One team was sent to diversion up the river from Gateway Park with the assignment to check the river and shore for the subject or clues downstream. A 2nd team was sent to the Greyrock Trailhead and a 3rd team to Hewlett Gulch Trailhead with similar assignments. The Hewlett gulch team would check both sides of the river. A single SAR team member was stationed at the bridge that crosses the river at approximately mile 113 in case the subject or clues would be carried downriver. Meanwhile Dive team members were checking possible catchment points along the river. At about 1500 hrs a report came from a possible find of the subject above the mm 113-bridge. SAR team members went there and confirmed the finding of a deceased individual. After a law enforcement investigation the Larimer County Dive team completed the recovery. SAR team was released and all members cleared by 1700 hrs.
Resources:
10 SAR team Members
Other Agencies: Poudre Fire Authority, Poudre Canyon Volunteer Firefighters, SORT team ambulance, Larimer County Victims Advocates and Public Information Officers, Sheriffs Deputies.
SAR team Man hours ~ 46
SAR Team miles ~ 200
LCSAR Truck 10

May 6, 2014 (Tuesday) - Missing Hiker/Twin Sisters, Estes Park
Page came out:
ON CALL SAR MANAGER PLEASE CALL JUSTIN AT 231 1163. THANKS. PAM/COMM - From L001 05/06/2014 17:54:29
The call was for a missing hiker that separated from companion at Twin Sisters. Hiker had been missing since 1500 hrs. When companion reached trailhead after the hike and did not find his friend assistance was requested. Two Rocky Mountain National Park rangers started up the main trail and a second team was going to deploy from Cheley Camp. In the meantime LCSAR was activated. SAR manager requested eight team members to meet at the Loveland Safeway at 1945 hrs. Estes Park responders were responding direct to the RMNP SAR cache. At 1930 hrs RMNP dispatch contacted SAR Manager to inform that the subject had come out at Cheley Camp safe and sound. SAR Team was stood down.
LCSAR Personnel: 8 including ITC and SAR Manager
Other agency: Rocky Mountain National Park
LCSAR man-hours: 9
Miles driven: 60
--submitted by Jose Negron

April 8, 2014 (Tuesday) - Missing Hikers/Alpine Rescue Assist, Echo Lake
Mike Fink paged LCSAR at 5:20 P.M. and at 5:50 P.M. on Monday, April 7, to assist Alpine Rescue with a search mission based at Echo Lake Lodge, on the Squaw Pass Road (CR 103), approximately 13 miles south of Idaho Springs.
Two LCSAR members (Caroline Gonia and Tom Dewitz) responded to the page and represented the LCSAR team at Echo Lake. Five members of the Diamond Peaks Ski Patrol, affiliated with LCSAR, participated as well.
Alpine Rescue briefed the search teams at 9:00 A.M. on April 8 at Echo Lake Lodge:
Male subjects Damian and Evan McManus, ages 51 and 18, from Saint Louis Park, Minnesota, last communicated on Wednesday, 4/2/14, from near Echo Lake Lodge, elevation 10,700'. The subjects' vehicle was found at the trailhead parking lot with two sleeping bags in the back of the vehicle. Evan texted his girlfriend that "We are going to scale a mountain." But there is no evidence that subjects were prepared for foot travel in the heavy snow present at this elevation. The search area received over 22" of fresh snow since the two subjects went missing.
Alpine Rescue was notified and started searching for the missing subjects over the weekend. On 4/7, they sent out a request for assistance from other Colorado SAR teams for a large search effort on Tuesday, 4/8.
About 50 searchers from several SAR groups were divided into 9 teams and used to grid search the heavily-wooded slope, southeast of Echo Lodge, from 10600' up to about 11500' elevation (totaling about one square mile in area). The teams fielded shortly after 9:00 A.M.
The search teams were repeatedly hauled up Mount Evans road with snow mobiles and skied or snow-shoed down through steep woods back to the ICC/base of operations. Alpine Rescue recommended using snow-shoes rather than skis because of extensive dead-fall and heavy, wet snow conditions. Our two LCSAR members teamed with 3 Diamond Peaks skiers to cover five 400 foot wide swaths dropping 600 vertical feet, or so, in about a quarter of a mile down through the trees. We found, marked, and followed numerous old tracks in the snow, but no specific evidence of the subjects.
On our fifth pass, we dropped about 450 vertical feet down into the Beaverdam Creek drainage and snow-shoed back up to the ICC. We left the field at about 6:00 P.M. and completed debriefing by 6:20 P.M.
Participation Stats:
2 LCSAR members, 330 volunteer travel miles, 29 volunteer hours
5 DPSP members
--submitted by Tom Dewitz

April 7, 2014 (Monday) - Missing Hikers/Alpine Rescue Assist, Echo Lake
We had a request to assist Alpine Search and Rescue to assist them with a search for a missing father and son from the Echo Lake area.
Search area will be at 11,000' to 13,000' elevation with harsh winter conditions. We sent 2 LCSAR members and 6 Diamond Peaks Ski Patrol Members.
No reported clues were found. -Dave Hake

April 6, 2014 (Sunday) - Fallen Hiker/Assist to Loveland Fire/Rescue near Drake
At approximately 1430 we were paged to assist Loveland Fire/Rescue with a subject who had fallen and might need a technical evacuation. The subject was approximately a 20-min. walk off of Cty Rd 43, north of Drake. 13 SAR members responded direct to the mission.
Several groups of LFR and SAR personnel were sent in and began a technical evacuation of the subject up from the bottom of a steep gully. An AirLink medical helicopter was on stand-by. During operations there was rockfall down the gully, which injured one of the EMTs caring for the patient. More personnel plus a second litter and wheel were sent into the field, and those in the field were split up to care for and evacuate what were now two patients.
Both patients were carried up the slope and individually flown by AirLink to Medical Center of the Rockies in Loveland. All SAR resources were back at staging by 1848. A debrief was held and we were stood down.
Agencies involved: LCSAR, LC Emergency Services, Loveland Fire/Rescue, Big Thompson VFD, AirLink, Thompson Valley EMS
SAR members: 13
Personal vehicles: 10
Miles driven: 62 miles r/t per vehicle = 620
Hours: 4.5 x 13 = 58.5

April 5 2014 (Saturday) - Trail Runner Carry Out/Lory State Park, assist to PFA
We were paged at approximately noon to assist Poudre Fire Authority (PFA) with a carryout of a 29-year-old male trail runner who was on a trail in Lory State Park and who was exhausted and unable to make it back to the trailhead.
14 of us (plus 2 SORT members) were doing a vertical ops training in Laporte, so several team members and the SORT paramedics started directly for Lory while some stayed back to break down the vertical systems and follow us with that gear.
It was unknown exactly where the patient was, so we gathered at the Wells Gulch trailhead while some of the PFA crew went up that trail to try to make contact with the patient. More SAR members were arriving at staging during this time. At approximately 1300 patient contact was made and the paramedics and two groups of SAR team members went up the hill with the litter and wheel.
Ultimately 4 teams of SAR members (17 people) were deployed up the trail, and the patient was carried back to the trailhead and the awaiting ambulance. The patient and all personnel arrived at the trailhead at approximately 1440. A short debrief was held and we were stood down at 1500.
SAR personnel: 25
Agencies involved: PFA, LCSAR, PVHS SORT, LC Emergency Services
Approx. 20 personal vehicles x 14 mi. (round-trip) each: 280 miles driven
Hours: 3 x 25 = 75
Thank you for the great turnout and great work, everyone!
Sarah Babbitt, SAR manager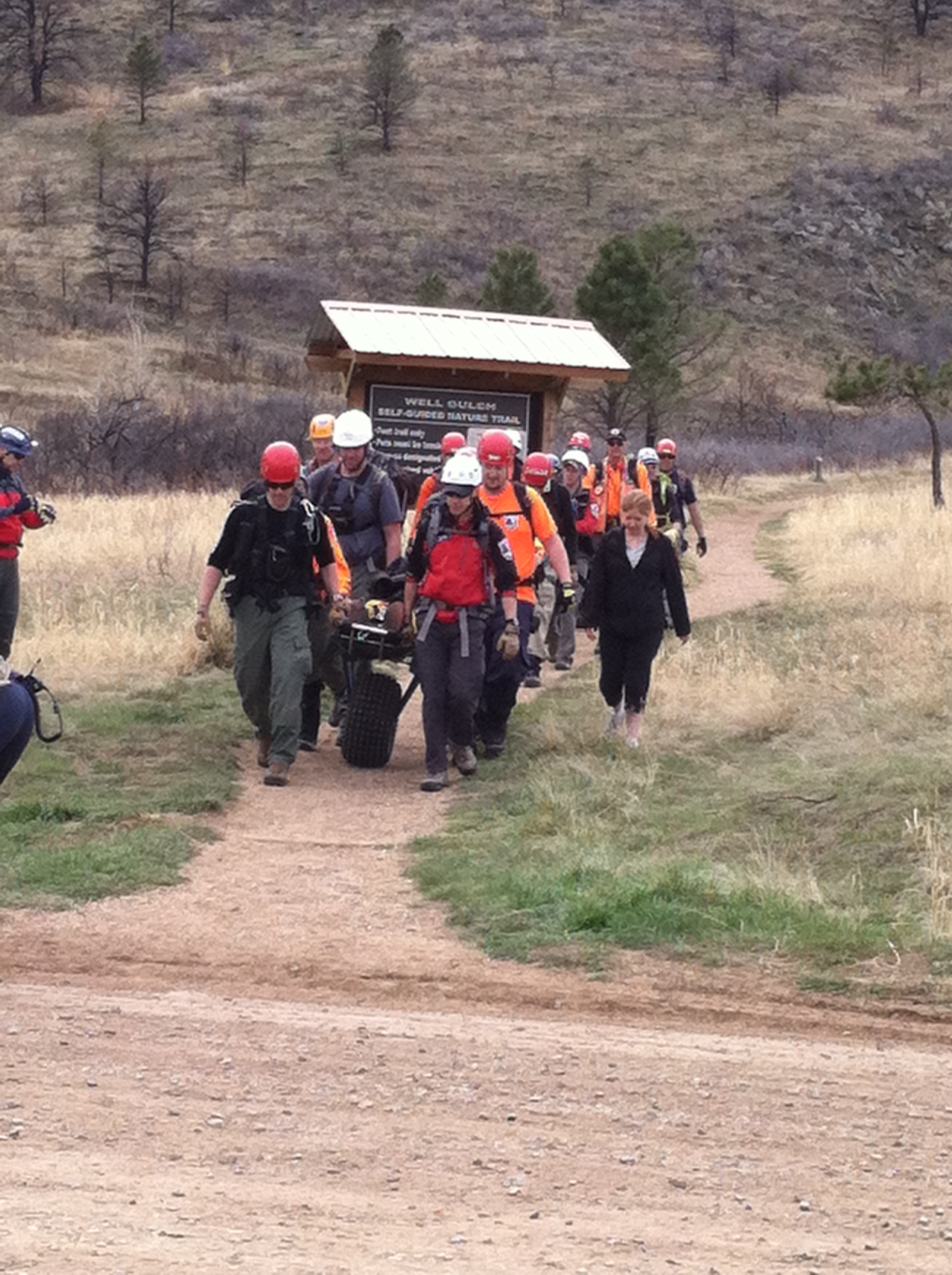 March 23, 2014 (Sunday) - Lost Runner near Lory State Park
At approximately 1900, the on call SAR manager was paged to call SAM 17 (S17) about a missing runner near Lory State Park. S17 was going to try to find out more information and then call the SAR manager back to determine a plan. The 26-year-old female was visiting Colorado and was going on a run that would take her through Horsetooth Mountain Park and Lory State Park. She was last known to be in Horsetooth State Park approximately 7 hours before she was reported missing.
It was decided that the SAR team would be paged requesting 12-14 searcher, trackers, and dogs. The team was going to use the parking area at Duncan's Ridge for staging. There was a great response by the team with 21 searchers showing up. The SAR members were divided into 10 teams and were assigned different trails that she was likely to have taken in both Horsetooth Mountain Park and Lory State Park. The plan was for the teams to try to clear the trails and use attraction to try locating the missing runner.
The teams were in the field for approximately 2 hours when SAM 17 contacted the SAR manager to tell him for all the field teams to hold their position. He was looking into some information that the subject may not be in our search area. It was then confirmed she was not in our search area so all of the field teams were recalled back to ops. The missing runner was located in Denver.
The teams were debriefed at OPS and all SAR members were clear of the scene around midnight.
LCSAR members: 25 (including SMIT, SARM, and ITC )
ES specialist: 1
Other agencies: Larimer County Park Rangers (4), Lory State Park Ranger (1), SORT (2), LCSO Investigator (1)
LCSAR hours: 4.5 hours duration; 112.5 person-hours
LCSAR miles: 8 x 24 = 192 miles

Saturday, March 15, 2014: Vail Mountain Rescue Assist – Missing Snowboarder
CSRB request for resources to help VMRG look for missing snowboarder
The initial page to the SAR team came out at approximately 1751 and stated:
SMPRI !SARMGR From L96014:ON-CALL SAR MANAGER: PLEASE CALL BRENDA FROM THE SEARCH & RESCUE BOARD AT REGARDING A REQUEST FOR MUTUAL AID BY VAIL MOUNTAIN SAR. THEY ARE SEARCHING FOR A MISSING SNOWBOARDER. THANKS, LAURA
SMIT John Lee contacted Brenda and she was requesting resources for a missing 39YOM that had been out snowboarding. VMRG was requesting as many snoweshoers, skiiers and avi experienced people as possible. Search was to take place at 8500-10000'. Weather was going to be 50 degrees at 8500'. Meet at VMR Cache at 0700 and start at 0730.
SMIT then called Dave Mosier and discussed how many people to send to VMR. Based on our staffing levels, it was decided that only 4 from our pool of resources would be sent and they could take an ES vehicle. Info was relayed to ITC to send out the page for resources and collect names. During that time, one SAR team member that was on the Western Slope responded that he would be able to respond. That was permitted as he wasn't impacting the known list of resources for Larimer County. A total of 5 resources were allocated to help VMRG
4 team members from Loveland/Fort Collins staged from Loveland and left for Vail on Sunday morning arriving at the VMRG Cache by 0645. They briefed and went into the field for a full day of searching and clearing areas. Ultimately, none of the teams in the field located the subject and our team was out of the field by 1600. LC team members then returned to Loveland by approximately 2000.
ES specialist: 1
LCSAR members: 8 (including SMIT and SARM and ITC)
Other agencies: None
LCSAR hours: 15.5 hours duration; 79.5 person-hours
LCSAR miles: 314 + 280 = 594 miles
!! BODY FOUND - SEE NEWS ARTICLE LINKS BELOW PICTURES !!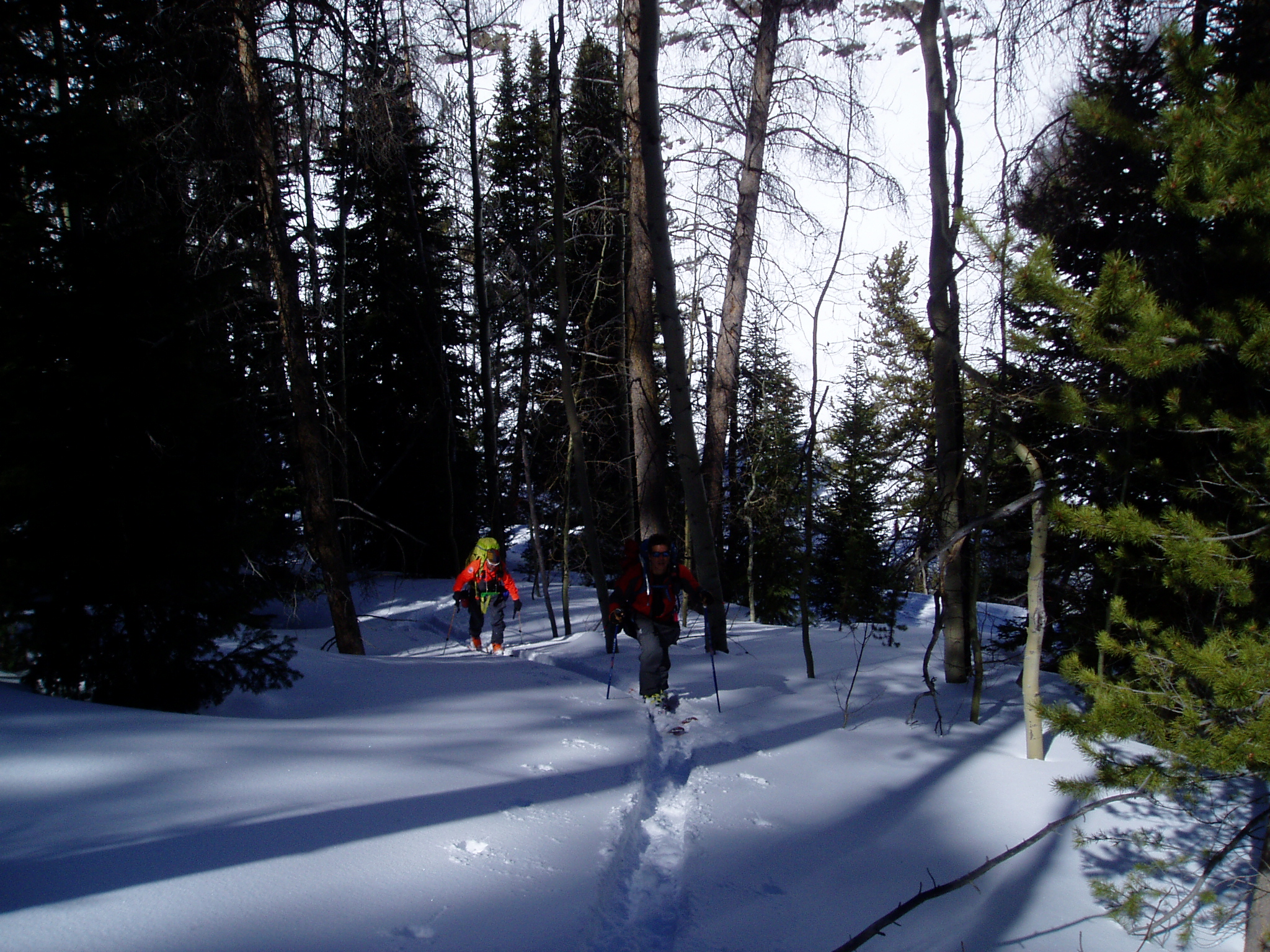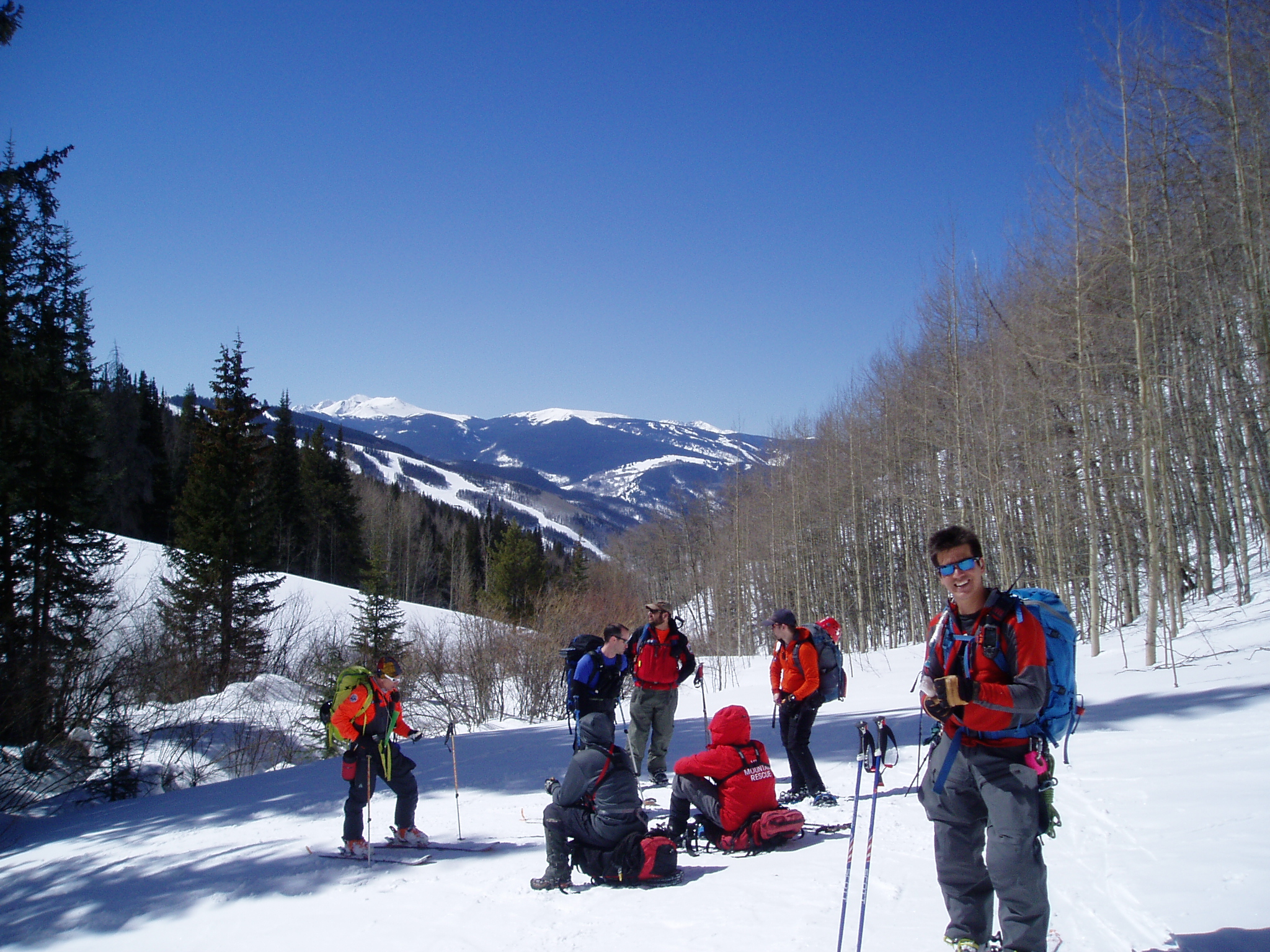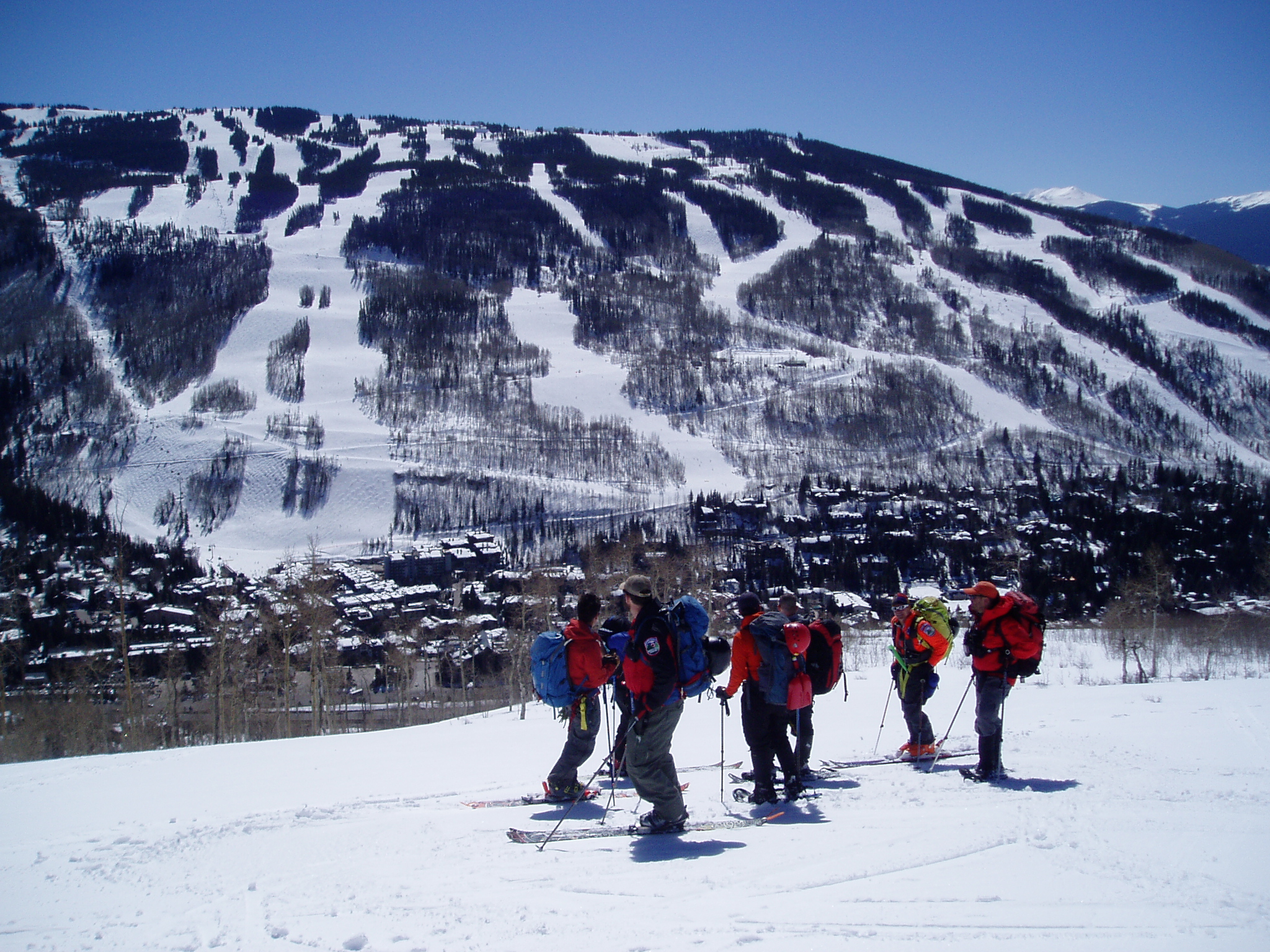 Backcountry Skiers Find Body of Missing Hiker
Man's Body Found 1.5 Miles From Trailhead

Friday, March 14, 2014: Lory State Park – Carryout for Injured Boulderer
The subject was bouldering when he fell and became injured. Several Lory State Park Rangers, and 4 PFA fire fighters went into the field to assess the subject and begin to package him for transport to the trailhead. As SAR members arrived, 2 teams of 2 were sent in to help with the carryout. The subject was carried back to the trailhead and transferred to the waiting ambulance.
LCSAR members: 12 (including SARM)
ES specialist: 2
Other agencies: Lory State Park Rangers (4), PVH ambulance (2), PFA (4)
LCSAR hours: 2 hours duration; 24 person-hours
LCSAR miles: 8 x 12 = 96 miles

Wednesday, March 5, 2014: Lory State Park – Climber Stuck on Arthur's Rock
The initial page to the SAR team came out at approximately 1830 and stated:
SAR TEAM PLEASE RESPOND TO ARTHUR'S ROCK FOR A CLIMBER THAT IS STUCK AND CAN'T GET BACK DOWN. NON-EMERGENT RESPONSE IS OK.
A group of 4 had gone up to Arthur's rock and were free climbing. One of the climbers reached a location on the rock that we was not able to get down from. Initial a group of fire fighter from PFA and 2 Lory State Park employees went into the field to locate the subject and assess his condition and the scene. The subject was able to have cell phone contact with dispatch. The initial information was that the subject was about 20 feet off the ground.
After the SAR team arrived on scene a group of 8 SAR members were sent in to the field with gear to be able to do a BC pickoff. Shortly after a second group of 3 SAR members were sent in with additional ropes to help. A third team was also sent in of 1 SAR member and 2 SORT.
The teams on the scene determined the subject was about 45 feet off the ground. They set up from the top to do a BC pickoff. One SAR member went over the edge to the subject, attached the subject to our system and the two of them safely traveled to the ground.
After warming up the subject, he was able to walk out with the SAR and PFA members. The subject reached the parking lot at approximately 2220. All resources were clear of the Lory State Park at approximately 2330.
LCSAR members: 16 (including SMIT and SARM )
ES specialist: 1
Other agencies: TEMS (2), Lory State Park Rangers (2), SORT (2), PFA (11) LCSAR hours: 5 hours duration; 80 person-hours
LCSAR miles: 8 x 16 = 128 miles

Tuesday, January 27, 2014: Glen Have Area - Missing Juvenile
At approx. 9:30 AM I spoke with Sgt. Johnston regarding a juvenile male who had left his home in Glen Haven some time in the night, leaving a note which was found by his mother. He had taken his dog with him. Neighbors and the Glen Haven fire department had begun searching for him. Snow had fallen overnight, and there were about 3 inches on the ground in Glen Haven.
Searchers, trackers and dogs were requested. 4 canine teams and 5 other searchers responded to Glen Haven, along with the SAR manager. The In-Town-Coordinator was also on the way with Truck 10. Approximately 2 minutes after our arrival in Glen Haven, the subject and his dog were found safe and warm, by road crews working in the area, and we were stood down.
SAR members: 11 humans, 4 dogs
Personal vehicles: 8
Miles driven in personal vehicles: 580
Hours, team page-out to stand-down: 2
Person-hours: 22
Other Agencies involved: LCSO, LC Emergency Services, Glen Haven Fire Dept
Thank you,
Sarah Babbitt, SAR Manager


### END MISSION REPORTS 2014 ###