Larimer County Search and Rescue
Mission Reports 2016
December 8, 2016 (Thursday) Missing autistic child - Greeley
November 26, 2016 (Saturday)Cameron Pass Avalanche
October 26, 2016 (Wednesday) Pingree Park 2 Hunters
October 21, 2016 (Friday): Missing 6 YOA - Timnath Area
September 18, 2016 (Sunday): Lost Hunter - Crystal Mountain Road
August 30, 2016 (Tuesday): Evidence Search - Fort Collins: Laporte and Hollywood
August 29, 2016 (Monday): Carry Out Assist - Grey Rock
August 27, 2016 (Saturday): Lost Camper - Creedmore Lakes
July 10, 2016 (Sunday): Dunraven Glade Road - Standbye for Missing 8YOA Child
July 2, 2016 (Saturday): Rawahs - Overdue Hikers (Standbye Only)
June 14, 2016 (Tuesday): Injured Ankle - Horsetooth Mountain Park
June 10, 2016 (Friday): Lon Hagler - Missing 18 YOA Female
June 5, 2016 (Sunday): Two Lost Males - Twin Sisters
May 22, 2016 (Sunday): Possible Missing Children Poudre River Fort Collins
May 21, 2016 (Saturday): Grey Rock - Injured Female
May 12, 2016 (Thursday): Horsetooth Falls - Stuck Climbers
April 14, 2016 (Thursday): Fort Collins - Missing Female North Timberline Trailer Park
April 3, 2016 (Sunday): Blue Lake - Welfare Check
March 23, 2016 (Sunday): Lory State Park/Arthur's Rock Area - Possible Overdue Campers
January 24, 2016 (Sunday): Larimer County - Canine Assist for Weld County Sheriff
January 23, 2016 (Saturday): Boulder County - Missing 20 Year Old Male Assist
January 22, 2016 (Friday): Rocky Mountain National Park - Missing 58 YOM
January 22, 2016 (Friday): Fort Collins Near Lincoln Junior High School - Missing 12 Year Old Male
January 2, 2016 (Saturday): Grey Rock Area - Lost Hikers

### BEGIN REPORTS 2016 ###
MOST RECENT ACTIVITIES ARE AT THE TOP OF THE PAGE

LCSO received a request from Greeley PD for search dogs for a missing high functioning autistic female. Subject was last seen at 930 hours leaving her school. She was not reported missing until several hours later. Greeley PD conducted a search of the area for a few hours before contacting LCSO. IC had no direction of travel, but provided a detailed description of the subject, including a photograph. Three LCSAR dog handlers responded along with support personnel. Information was texted to the teams as they were enroute to the scene. Shortly after an LCSAR team arrived at ICP, the subject was located in Fort Collins in a shelter. The subject was okay, but it was unknown how the subject got from Greeley to Fort Collins. All LCSAR personnel were stood down at 1837 hours.
SAR Manager: Allen Weaver
ES Specialist: Derrick Rosenquist
ITC: Karen Williams
Number Requested: 4
Number Responded: 6
Number Deferred: 2
LCSAR members: 6
Emergency Services: 1
SORT: 0
Other Agencies:
LCSAR Total Hours: 12
LCSAR Total Miles: 480
Total Hours: 12
Total Miles Driven: 480
Total Personnel: 6

The initial call was for an avalanche call on Cameron Pass. The RP were witnesses to the avalanche. RPs were above the avalanche zone and watched two other skiers in the area. One skier triggered the initial slide. The 2nd skier went the opposite direction to avoid the slide and triggered a second slide. The RPs witnessed both skiers exiting the avalanche zone, in opposite directions. However, the RPs did not see the two skiers after the initial slide. RPs reported two others near the toe of the debris field, who were not caught in the slide, but also were unaccounted for initially. Due to limited information available initially, there were potentially 4-6 people unaccounted for, but no confirmed report of any parties being caught in the slide. LCSO deputy on scene interviewed the RPs and requested LCSAR continue its response.
Per the avalanche preplan, a response was requested from Diamond Peaks Ski Patrol, Jackson County, Colorado State forest and SORT. All agencies responded with personnel.
As the first LCSAR team was entering the field, two parties came out of the area (snowboarder and skier). They had witnessed the slide, and personally talked to the two skiers who triggered the slides. One of these individuals was a former member of Alpine SAR, and indicated they had cleared the debris field. They also witnessed the skiers return to the parking lot. Thus all parties were accounted for, and all responders were stood down.
SAR Manager: Allen Weaver
ES Specialist: Derrick Rosenquist
ITC: John Lee
Number Requested: 12
Number Responded: 12
Number Deferred: 2
LCSAR members: 12
Emergency Services: 1
SORT: 1
Other Agencies: 4
LCSAR Total Hours: 60
LCSAR Total Miles: 1440
Total Hours: 95
Total Miles Driven: 2280
Total Personnel: 19

October 26, 2016 (Wednesday) Pingree Park 2 Hunters
Initial page from dispatch was about 1124 hours. ES advised that 2 hikers (actually hunters) had called 911 to report they were lost and off trail in the Pingree Park/Crown Point area. Dispatch was able to ping the phone and obtain coordinates. Parties reported they were fine, uninjured, and had food and water. Dispatch advised them to stay at their current location and wait for SAR. LCSAR team was paged, and a request was made for searchers and a dog team. Members were responding directly to the end of Crown Point Road, which was the location of the subjects' vehicle. While enroute, the subjects saw some hunters in the field (who they mistook as SAR members) and the hunters brought the parties to the vehicle. It is believed the parties were approximately 3/4 mile from the vehicle. ES and one SAR member made it to the parking area before the subjects came out. All other members were stood down; although some did not immediately receive the stand down page due to poor communications in the area.
SAR Manager: Allen Weaver
ES Specialist: Kevin Johnston
ITC: Amy Ho
Number Requested: 6
Number Responded: 8
Number Deferred: 3
LCSAR members: 8
Emergency Services: 1
SORT: 0
Other Agencies: 2
LCSAR Total Hours: 22
LCSAR Total Miles: 600
Total Hours: 44
Total Miles Driven: 825
Total Personnel: 11

October 21, 2016 (Friday): Missing 6 YOA - Timnath Area
Dispatch initially paged the SAR manager to contact O3, who advised of the report of a missiong 6 year old at 3309 S. County Road 1. No other information was available at that moment. The SAR team was paged by dispatch to respond direct to the scene. The request was for searcher, trackers and dogs. While enroute additional information was paged regarding the child's description. Shortly thereafter, the team was paged and advised the child had returned home. The SAR team was stood down.
SAR Manager: Allen Weaver
ES Specialist: Tony Simons
ITC: Amy Burnett
Number Requested: n/a
Number Responded: 20
Number Deferred: 0
LCSAR members: 20
ES: 1
SORT: 0
Other Agencies: Unknown
LCSAR Total Hours: 8
LCSAR Total Miles: 400
Total Hours: 8.4
Total Miles Driven: 420
Total Personnel: 21

September 18, 2016 (Sunday): Lost Hunter - Crystal Mountain Road
The information from O1 was a call for a lost 61 yoa male hunter. He was experienced hunting, and in good condition other than he gets vertigo at night. RP indicated the subject should have a GPS. The request from ES was for 2 dog teams with 6 additional searchers. Details on the last seen point were still sketchy, so the SAR team was going to start to gather the resources, but would standby for further instructions from O1 on staging. About 2244 radio traffic with dispatch indicated the subject had built a fire, was located by his sons, and they were returning to their camper. As a result LCSAR was stood down.
SAR Manager: A Weaver
ES: D. Rosenquist
ITC: K. William
Number Requested: 10
Number Responded: 3
Number Deferred: 0
LCSAR members: 3
ES: 1

August 30, 2016 (Tuesday): Evidence Search - Fort Collins: Laporte and Hollywood
This was a request from sheriff's office to assist in a search for a gun used in a recent crime. LCSAR members conducted a line search through several fields. Due to ongoing investigation, no further information is available at the time of this report.
SAR Manager: Weaver
ES Specialist: Simons (O3)
ITC: Bond
LCSAR Total Hours: 41.6
LCSAR Total Miles: 130
Total Hours: 64
Total Miles Driven: 200
Total Personnel: 20

August 29, 2016 (Monday): Carry Out Assist - Grey Rock
The initial page from dispatch was for a direct non-emergent response to Greyrock for a female with a broken ankle. RP indicated the subject was over 1 mile up the Meadows trail. F19 was first on scene and met the RP. Truck 11 and L1 were next on scene. As additional resources were arriving, F19 went into the field with the RP to get to the subject. F19 arrived at the subject and other family members, and determined the subject had walked down the trail a considerable distance, and was now about 1/4 mile from the trailhead. Several SAR teams went up the trail, along with SORT personnel, and took the litter, wheel and limited gear. Subject was packaged in the litter, and given pain medication. Subject rated the pain at 15 on a scale of 1-10. Subect and litter team arrived at trailhead and was transported via ambulace to the hospital.
SAR Manager: Weaver
ES Specialist: Simons & Lehman (O2&3)
ITC: Bond
LCSAR Total Hours: 17.6
LCSAR Total Miles: 240
Total Hours: 28.6
Total Miles Driven: 390
Total Personnel: 13

August 27, 2016 (Saturday): Lost Camper - Creedmore Lakes
Subject was 29 yoa male, with no known medical conditions. Subject was camping with a friend. About 1000 hours he left the campsite to go to the bathroom, but failed to return. He texted his friend for help, and also texted a relative to say he was lost in the woods. His friend at camp was the RP. LCSAR was contacted at 1653 hours through ES. The SAR manager arrived on scene about 1845 hours; and ES was already on scene. At that time, Air Link has been contacted to assist with the search and was already flying in the area. Shortly thereafter Air Link located the subject near a high point approximately a mile north of the camp. They indicated the subject was moving about, did not appear injured, and he acknowledged their presence (although they could not communicate directly with the subject or land). Air Link provided the location, and then left the scene for another call.
The rest of the SAR team arrived shortly after 1915. Since an approximate location was known. 3 members were fielded with limited climbing gear and extra provision for the subject. The field team located the subject at 2023 hours, and confirmed he was ok and able to walk out. The field team and subject were back at ICP (the campground) at 2110, and all personnel cleared the scene by 2132.
SAR Manager: Weaver
ES Specialist: O3 - Simons
ITC: Bond
LCSAR Total Hours: 41.4
LCSAR Total Miles: 1080
Total Hours: 50.6
Total Miles Driven: 1320
Total Personnel: 11

July 10, 2016 (Sunday): Dunraven Glade Road - Standbye for Missing 8YOA Child
This was an informational conversation for a POSSIBLY missing child. RP was another group that had been in contact with the child's party. No resources were fielded. Page was sent to team so they were aware.
SAR Manager: John Lee
ES Specialist: Tony Simons
ITC Name: Amy Burnett
LCSAR members 2
ES 1
SORT 0
Other Agencies 0
LCSAR Total Hours 0
LCSAR Total Miles 0
Total Hours 0
Total Miles Driven 0
Total Personnel 0

July 2, 2016 (Saturday): Rawahs - Overdue Hikers (Standbye Only)
We were notified that a group of campers had missed a check-in and the RP was concerned. The RP was in Minnesota. Group consisted of 2x 20-ish females and 7x 8th graders. Group was planning on 10 days of hiking and camping. They were on day 4 of their trip. RP was expecting a location "ping" every hour. The RP missed one of those pings and so called 911. While L1 and O1 were discussing the plan, the RP reported they had been in contact with missing party and they were ok. Missing party also said they would contact RP in a few hours. L1 and O1 decided no further action needed.
SAR Manager: John Lee
ES Specialist: Derek Rosenquist
ITC: Amy Burnett
Other Agency Names: LCES, LCSO
Number Requested NA
Number Responded 0
Number Deferred 24
LCSAR members 2
ES 1
SORT 0
Other Agencies 0

June 14, 2016 (Tuesday): Injured Ankle - Horsetooth Mountain Park
LCSAR was paged by dispatch to report to Horsetooth Mtn Park to assist PFA and medical for a 37 yoa female who had fallen and sustained an ankle injury on the Horsetooth Falls trail. Patient was reported to be stable, with sprained ankle and severe latex allergy. LCSAR members hike up the trail to meet up with PFA and SORT personnel who had the patient packaged in a litter. SAR members assisted with trail carry out to the trailhead, where the patient was transferred into an ambulance.
SAR Manager: A Weaver
ES Specialist: D Rosenquist
ITC: Burnett
LCSAR members: 9
ES: 1
SORT: 2
Other Agencies: 11
Other Agency Names: LCES, PFA, SORT, Larimer Co Parks
LCSAR Total Hours: 18
LCSAR Total Miles: 180
Total Hours 46:
Total Miles Driven: 460
Total Personnel: 23

June 10, 2016 (Friday): Lon Hagler - Missing 18 YOA Female
Initial page at 0233.Page was for searchers for missing 18 year old girl from Berthoud. Stage at Loveland Safeway.We fielded 4 teams; 2x 2person ground pounder and 2x dog team and support. Teams were sent around Lon Hagler for signs of missing subject and or signs in the water. Search teams circled the lake with negative evidence of subject. Teams completed assignments and then new information led to us standing-down teams.
All field teams were released approximately 0900.
SAR Manager: John H. Lee
ES Specialist: Tony Simons
ITC: Jim Mines
Other Agency Names: LCES, LCSO, Thompson Valley Ambulance, Loveland Fire and Rescue Authority
LCSAR Total Hours: 55
LCSAR Total Miles: 400
Total Hours: 60.5
Total Miles Driven: 440
Total Personnel: 11

June 5, 2016 (Sunday): Two Lost Males - Twin Sisters
Two male subjects called dispatch on their cell phone and advised they had gotten lost on the Twin Sisters trail. They had food but were low on water. Dispatch was able to get initial coordinates of the subjects based on the cell phone information. The SAR team was asked to respond. Since coordinates were available, and the subjects were not injured, limited resources were dispatched.
Two SAR members from Estes were dispatched directly to the trailhead to meet up with S17. Other SAR members staged in Loveland and proceeded to the trailhead. Additional LCSAR members were available and placed on standby, pending second operational period or a change in circumstances involving the search.
Several teams were fielded, and the subjects were located within reasonable proximity to the coordinates of their cell phone.
SAR Manager: A Weaver
ES Specialist: K. Johnston
ITC: Burnett
LCSAR members: 12
ES: 1
Other Agency Names: LCES
LCSAR Total Hours: 96
LCSAR Total Miles: 1200
Total Hours: 104
Total Miles Driven: 1300
Total Personnel: 13

May 22, 2016 (Sunday): Possible Missing Children Poudre River Fort Collins
LCSAR was paged to contact FCPD to assist in searching for potential missing children along the Poudre River. Emergency Services would iasioned between LCSAR and FCPD and assist FCPD in determining what LCSAR resources they needed to start a mission.
Three dog teams were fielded in addition to four search teams that included trackers.
Ground teams were deployed to search north along the Poudre River, from the Environmental Learning Center to Prospect Road. Teams were not able to find any subjects or evidence of subjects. Teams also investigated the island in the Poudre River at the ELC that is attached via bridges.
Again, no evidence that matched any potential subjects.
A Reverse 911 notifiction was sent to an area north and east of Riverbend Ponds, but there were no reports of any missing children.
At 2300hrs, SARM with ES decided to suspend the search until there was an actual report of people missing. Teams were recalled and sent home.
SAR Manager: John Lee
ES Specialist: Kevin Johnston
ITC: Mike Fink
LCSAR members: 17
Other Agencies: LC Dive, LCES

May 21, 2016 (Saturday): Grey Rock - Injured Female
LCSAR Manager was paged at approximately 1856 to contact Emergency Services reference a female hiker on Greyrock Meadows trail with a reported sprained ankle. There was not alot of information on whether the hiker actually needed assistance or not.
ES and SARM decided to field 4 LCSAR members, in two hasty teams to located the hiker and determine if more SAR resources would be needed to get her to the trailhead. PVH Special Operations Team medics ,who had been at the SAR BASART final exercise near Redfeather Lakes, also responded.
The hiker was contacted by SAR members approximately 1/2 mile from the trailhead and was able to continue making it out to the trailhead on her own. The hiker was checked by medical personnel and all resources cleared by 2100.
SAR Manager: Giesey
ES Specialist: Johnston
ITC: Fink
LCSAR members: 4
ES: 1
SORT: 2
Other Agencies: 0
LCSAR Total Hours: 8
LCSAR Total Miles: 240
Total Hours: 14
Total Miles Driven: 420
Total Personnel: 7

May 12, 2016 (Thursday): Horsetooth Falls - Stuck Climbers
First page came at 4:46: SAR TEAM - PFA/MED RESPONDING TO HORSETOOTH FALLS. NEED ASSISTANCE IN HELPING GET 2 CLIMBERS WHO ARE STUCK.
It was one of the first nice warm, sunny days of the spring and 4 people (and their corgi) had gone hiking in Horsetooth Mountain Park. One of them decided to scramble up the inviting rocks of Horsetooth Falls, and found himself unable to continue up or go back down. He called 911. Poudre Fire Authority responded, and we were paged to assist them.
PFA resources were already in the field, attempting to contact the subject, when LCSAR arrived. 10 of us were shuttled up to the staging area about 1/2-mile above the falls, and proceded to the rescue site. The subject was uninjured, but stuck on a small ledge. LCSAR and PFA personnel set up a rope system and lowered one rescuer to the subject. The subject was attached to the system, and subject and rescuer were raised to safety at the top of the falls. The subject hiked with his friends and a Parks ranger back to the trailhead.
All personnel hiked from the falls back to staging and were shuttled back down to the parking lot. A debriefing with all groups was held, and all LCSAR personnel were clear of the Park by 8 PM.
LCSAR members: 12
ES: 3
SORT: 2
Other Agencies: 12
Other Agency Names: LCES, Larimer County Parks, PFA
LCSAR Hours: 39
LCSAR Miles: 264
Total Hours: 94.25
Total Miles Driven: 638
Total Personnel: 29
SAR Manager Name: S. Babbitt
ITC Name: J. Mines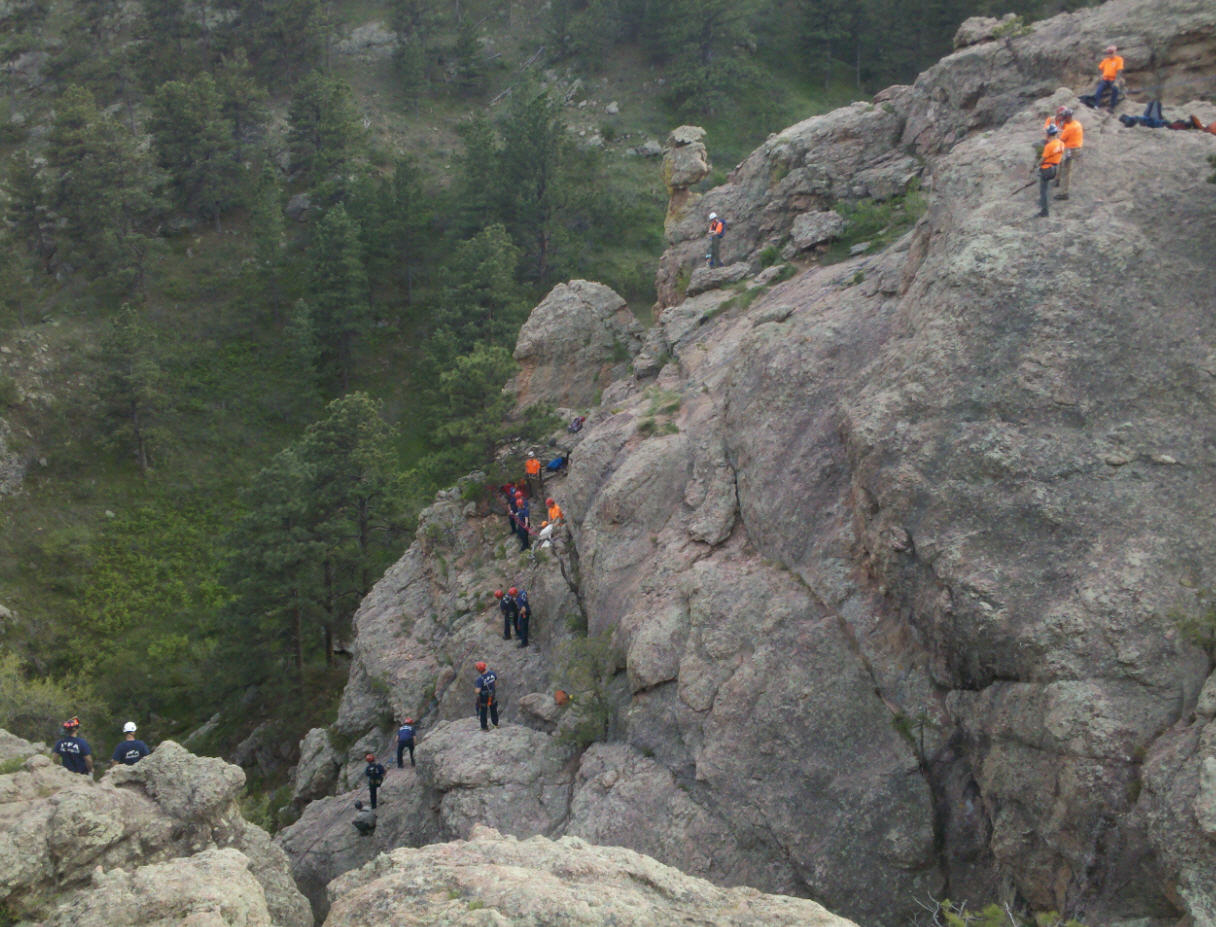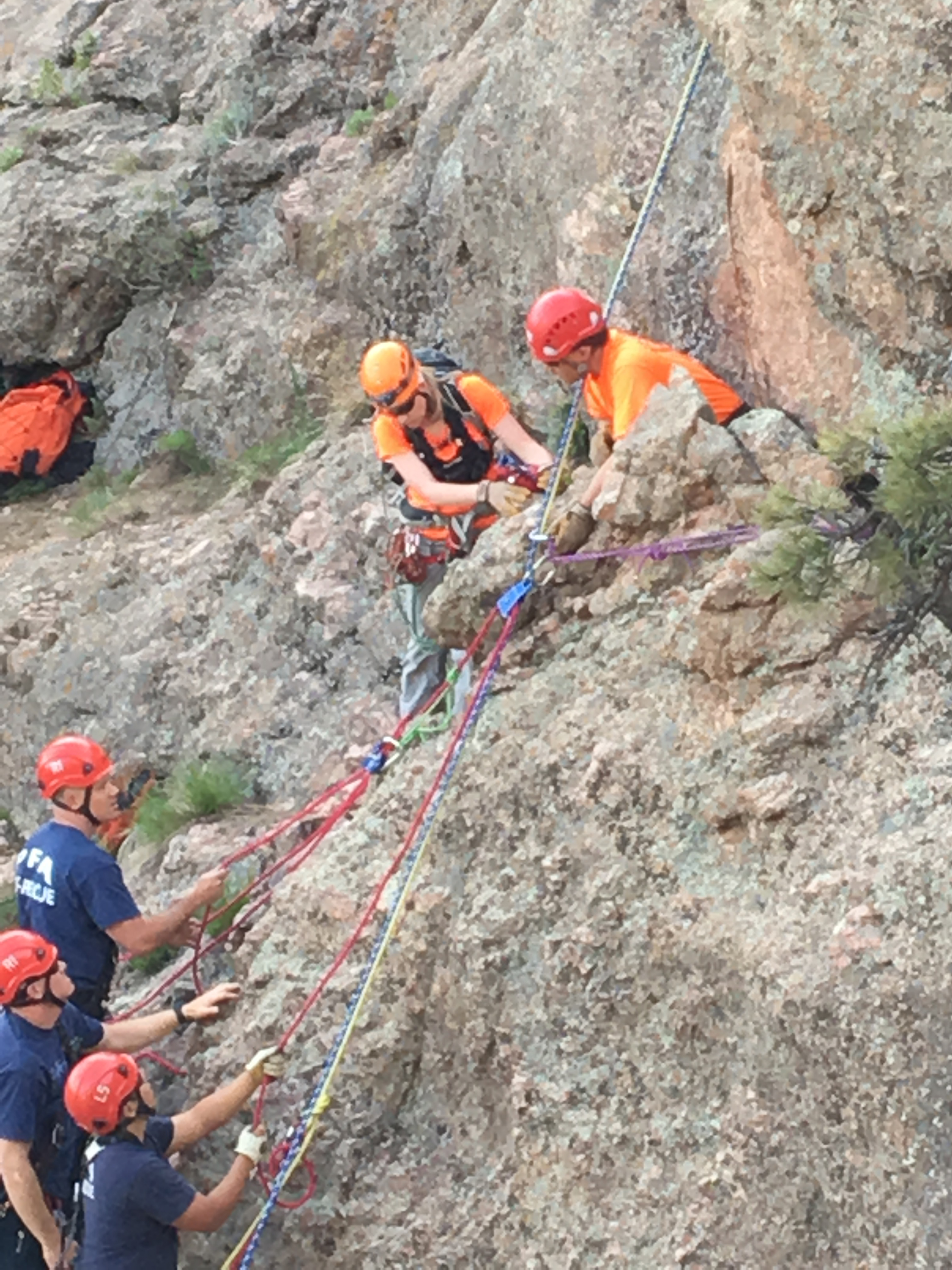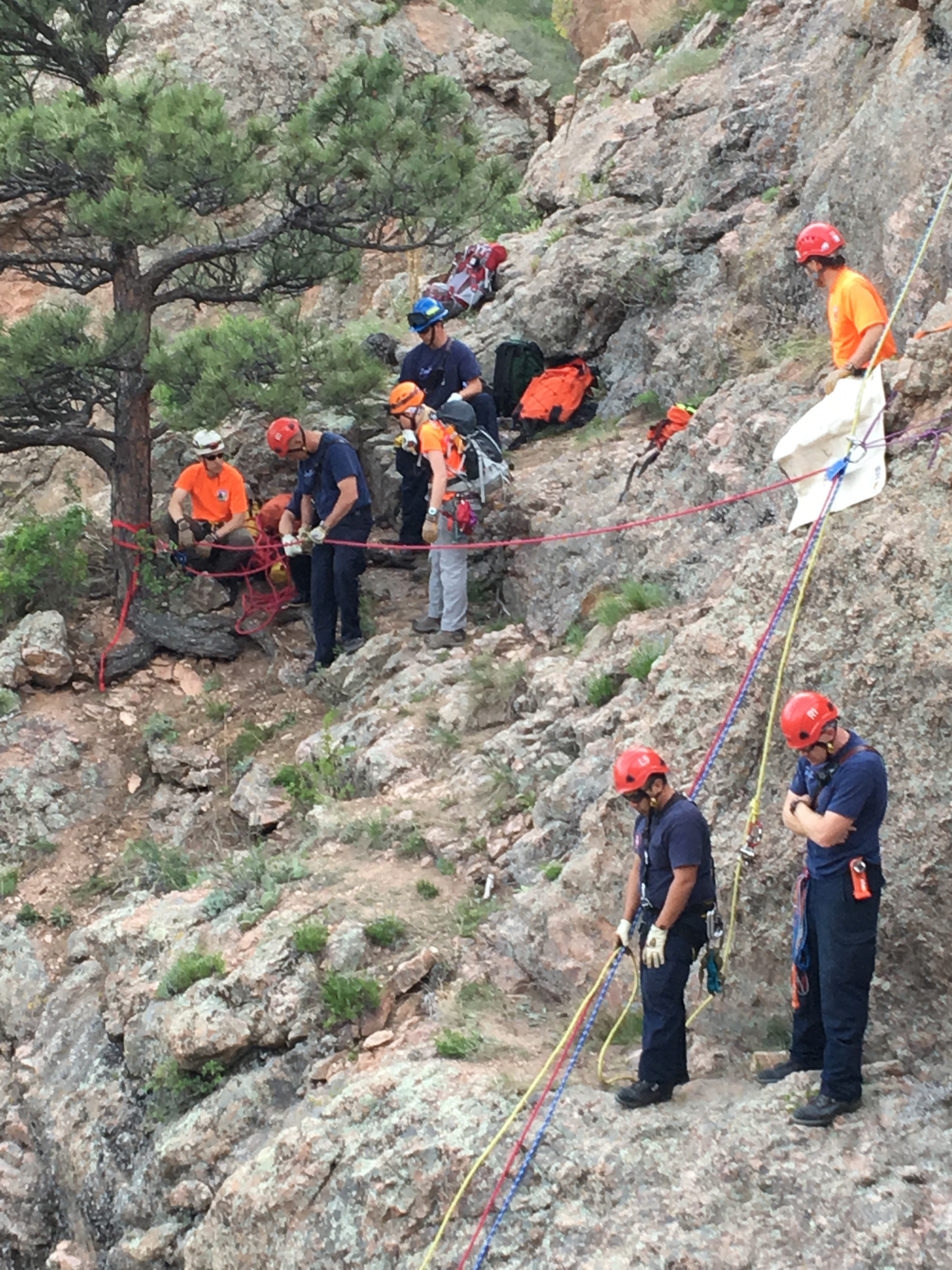 April 14, 2016 (Thursday): Fort Collins - Missing Female North Timberline Trailer Park
SAR was paged to respond direct non-emergent to a trailer park located at 401 N. Timberline RD for a missing 17 yof. Trackers and trailing dogs were requested to determine direction of travel.
Team members were on scene or in route when the subject was located by a sheriffs deputy.
SAR team stood down at 1229
*** Field Reponse Numbers ***
LCSAR members: 6
ES: 1
SORT: 0
Other Agency Names: Larimer County Sheriff
Other Agencies: 1
Total Hours: 7
Incident Hours: 1
Total Miles Driven: 70
Round Trip Incident Miles: 10
Total Personnel: 7

April 3, 2016 (Sunday): Blue Lake - Welfare Check
Just after 15:00 on Sunday 3 April the Duty SAR Manager, L1, is paged to call ES First-On-Call, S17, regarding a possible search in the Rawahs. A concerned parent had called asking for assistance checking on the welfare of his son and friend (19 and 17) who had gone camping near Blue Lake with plans to summit Clark Peak.
The boys have a SPOT beacon which is continually displaying their progress on this trip, which began on Saturday and they are due home on Monday. The concern is that their SPOT had apparently stopped transmitting at 09:37 at coordinates 40.621529 -105.915558 -- which on the progress map shows at the edge of a precipice.
S17 and L1 discuss sending a recon team of 4-6 cross-country skiers with the hope they will arrive at Blue Lake by sunset while there is still enough light in the sky to scan for evidence of the boys campsite (orange tent) and hopefully meet up with them, and/or check for signs of recent avalanche activity. They also discuss tasking air assets, but decide there is insufficient data to task any of the medical helicopters. S17 is already on his way to the trailhead parking lot, and L1 will stay in town for now (in case it is determined an avalanche response needs to be organized).
Multiple pages to LCSAR and Diamond Peaks Ski Patrol (DPSP) originally garner only three responders (one LCSAR), though the responding medic from Medical Center of the Rockies (MCR) did contact L1 saying he is able to field using cross-country skis. S17 and L1 decide this is enough for the recon team. Later, we receive word two additional DPSP members are en-route (and when S17 arrives at the trailhead he finds yet another DPSP member waiting, who is returning across North Park when he receives the pages). Thus, we now have a recon team of 7 personnel.
In the meantime, the lead medic for the MCR Special Operations Response Team (SORT) and L1 are discussing tasking the AirLink helicopter based at MCR, since the lead medic is at MCR and will present the info we have to the flight crew. The crew decides it is a task they are willing to perform, checking that the weather is flyable, though windy. S17 is advised so he can monitor the appropriate radio channels. AirLink arrives above the area at about 17:30, but the strong, turbulent winds prevent them from getting low enough for a detailed look. They do report numerous small slides on all hillsides, they are unable to see any tents, orange or otherwise, they do see tracks around Blue Lake, but see no people.
Meanwhile, L1 is periodically checking the URL for the boys SPOT beacon (the Dad having given the access to us) when at about 18:00 he notices the beacon has resumed transmitting near the site where it had stopped earlier. L1 contacts the Dad, who refreshes the view on his computer and concurs. The Dad further adds that a 'check in' response has not arrived, as the boys sent 'check in' messages earlier on the trip when they were at their camp. L1 tells the Dad we will continue our response, pending receipt of a 'check in' message.
Via Dispatch, L1 is able to relay this new info to S17, who agrees we need to maintain our response. Several minutes later L1 notices the 'check in' message has arrived on the SPOT map, and again calls the Dad, who also has just seen the 'check in'. The Dad and his wife are satisfied that this means the boys are OK, that we don't need to keep going, and they thank us for being there to help. He says that, out of their whole trip, the spot where the track stopped was the most precarious, and it was too much of a coincidence for them to ignore, thus the call to us for help.
Via Dispatch, L1 relays the news to S17, and because the responders are now in the canyon with poor pager coverage, S17 will await everyone's arrival before returning. Just before 19:00 S17 radios that all responders are accounted for and all are headed home.
At 20:50 the page goes out that all ES/SAR/DPSP/SORT resources are back in town.
Next morning L1 checks the URL to see that the boys SPOT track shows them back in Fort Collins.
FIELD RESPONSE NUMBERS
LCSAR members:1
ES:1
SORT:1
Other Agencies: 5
Total Personnel:8
Other Agency Names: Diamond Peaks Ski Patrol
Total Hours:28
Total Miles Driven:1440

March 23, 2016 (Sunday): Lory State Park/Arthur's Rock Area - Possible Overdue Campers
Subjects were a couple in their 20's, who had obtained a backcountry camping permit at Lory State Park on 3/22 for specific sites near Arthur's Rock. They were scheduled to return around noon the following day (3/23/16).
Overnight considerable snow fell in the area, making the roads in and out of the park (as well as many other areas of the county) impassable. The reporting party was the father of the female camper, and he became concerned when he could not contact them after the snow storm. The RP thought the couple had adequate camping provision for the night and following day, as well as appropriate medication for a known medical condition.
Park rangers confirmed the couple's car was still in the parking lot following the snow storm, but verified they would not be able to leave due to the snow drifts on the road.
LCSAR was contacted to essentially do a welfare check on the couple----to snowshoe to the campsite and confirm the couple was ok and/or offer to assist them in coming out to their car. ES brought the snowcat to the scene with the anticipation LCSAR members would be taken by snowcat as far as possible, and then snowshoe in from there. There were no known issue. In other words, there was no belief the party was lost or injured or needed help. But LCSAR was asked to respond as a precaution. A small group of members was asked to stage at the park entrance, while a larger group of members was held in reserve in the event it turned into a rescue or all out search.
Shortly after the team staged, the LC park ranger received a text message from the couple, after he had texted them, indicating they were able to self recover to their car. They were fine, and in their car, but were stuck in the snow in the parking area. Rangers and plows made their way to the parking area to get the couple's car out.
SAR Manager: Allen Weaver
ITC: John Lee
LCSAR members:5
ES:2
SORT:2
Other Agency Names: State Park, Larimer County Parks, ES Support group
Other Agencies: 3+
Incident Hours: 2
Total Hours: 10
Round Trip Incident Miles: 15
Total Miles Driven: 210

January 24, 2016 (Sunday): Larimer County - Canine Assist for Weld County Sheriff
LCSAR was contacted by the Weld County Sheriff's Department for a canine resource to assist them with an ongoing investigation. One of our dog teams responded to search a small area in our county. No more details can be shared at this time.

January 23, 2016 (Saturday): Boulder County - Missing 20 Year Old Male Assist
LCSAR responded to a request from the Colorado Search and Rescue Board to assist Rocky Mountain Rescue Group from Boulder County search for a missing 20-YOM in the vicinity of Gross Reservoir. Five Team members responded and searched two areas SSE of Crown Point working in conjunction with searchers from Douglas County SAR and Coal Creek FD. Team members were debriefed and cleared by 1330. Subject had not been located at the time.
Resources:
LCSAR Team members = 5
Miles driven ~ 160
Person-hours ~ 50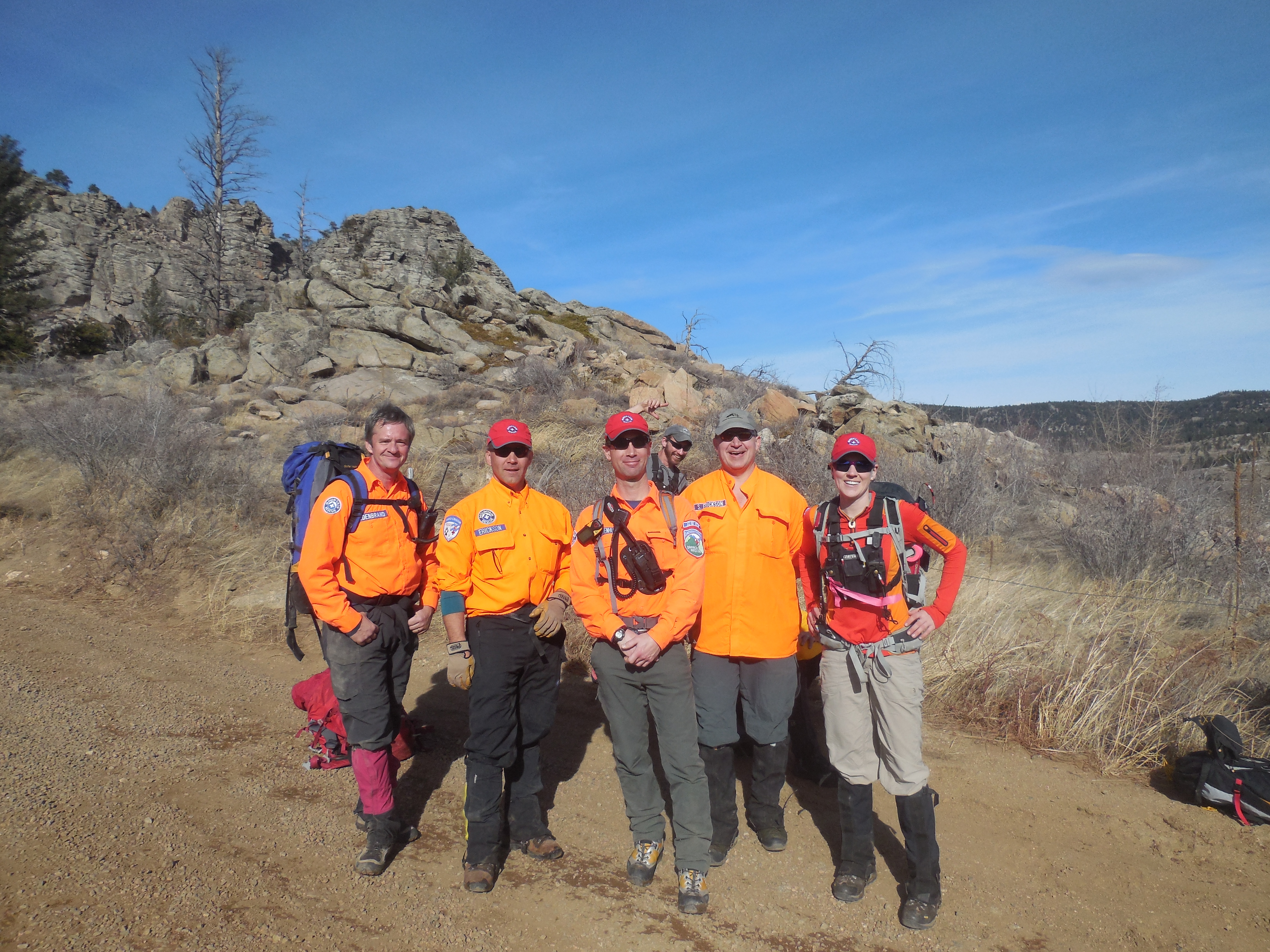 January 22, 2016 (Friday): Fort Collins Near Lincoln Junior High School - Missing 12 Year Old Male
SAR Team was paged at about 1900 hrs to respond for a search of a missing 12-YOM in the vicinity of Lincoln Jr. High. Team members were beginning assignments when another team member in route to the mission reported observing a youngster with a matching description of our subject about 6 km SE of the search area. After contacting Larimer County Sheriffs Dispatch, Fort Collins Police responded to the location of the youngster and confirmed he was our subject. SAR members were debriefed and cleared by 2030.
Resources:
15 SAR Team members (including SAR manager and ITC)
SAR Truck 10
SAR members driven miles ~ 320
Team Member person-hours ~ 15
Emergency Services Specialist (1)
Other Agencies: Larimer County Sheriffs Deputies and Fort Collins Police
Prepared by Jose Negron, SAR Manager

January 22, 2016 (Friday): Rocky Mountain National Park - Missing 58 YOM
LCSAR responded to Rocky Mountain National Park to assist searching for a 58-yom reported missing on Jan 21. Three LCSAR members responded and were on their way to the search area when the subject was located deceased at the base of a cliff near Peacock Pool. Team members were released after debriefing with park rangers.
Resources:
3 Team Members
18 person hours
220 miles driven
Rocky Mountain National Park News Release
January 22, 2016
For Immediate Release
Kyle Patterson 970-586-1363
Body Of Missing Man Recovered Near Peacock Pool In Rocky Mountain National Park
Today, during ground and aerial search efforts, Ronald Webber's body was located at the base of a broken cliff band at Peacock Pool. This is roughly 1/2 mile east of Chasm Lake. Rocky Mountain National Park Search and Rescue team members were flown to an area near Peacock Pool where they could more safely access his body. His body was flown from the scene to a landing spot at Upper Beaver Meadows and transferred to the Boulder County Coroner. It appears that he had an approximate 200 foot fall. The exact cause of death will be determined by the Boulder County Coroner's office
Ronald Webber, 58 of Maitland, Florida, was reported overdue yesterday afternoon, January 21, from a reported mountaineering trek to Rocky Mountain National Park and was believed to be in the Longs Peak area. He left the trailhead on Tuesday morning, January 19. His vehicle was found at the trailhead. It was unclear where he was intending to go.
Rocky Mountain National Park Search and Rescue team members searched a small segment of this large search area yesterday afternoon, January 21, including the Roaring Fork drainage and the east cirque of Longs Peak in the Chasm Lake area. Aerial search efforts also took place. Today, teams were continuing search efforts in this area when his body was found.
No further information is available at this time.
-NPS-
Kyle Patterson
Public Affairs Officer
Rocky Mountain National Park
(970) 586-1363
www.nps.gov/romo
www.facebook.com/RockyNPS
The National Park Service cares for special places saved by the American people so that all may experience our heritage.
EXPERIENCE YOUR AMERICA

January 2, 2016 (Saturday): Grey Rock Area - Lost Hikers
It was close to 6 pm on a chilly Saturday night when the on call SAR manager was paged by Emergency Services (ES). Larimer County Search and Rescue was being tasked with a search for two lost hikers near Grey Rock. A call had come in that they were turned around and did not know which way to go. With temperatures already in the low 20's, and their report that they were getting colder, it was decided to have our responders report directly to the trail head where the on call ES specialists would field members. Shortly after the SAR manager's arrival, the first team departed on their assignment. With the freeze and thaw cycles this time of year we knew trail conditions would be marginal at best. The north facing portions were snow packed and icy. Spots that received sun throughout the day were muddy and/or dry. Everyone was encouraged to use traction devices on their footwear. Such as Yaktrax or IceTrekkers. They proved to be a valuable tool. About one hour into their assignment, Team 1 made contact with the subjects. After an evaluation and comments from the subjects, it was determined that they were cold and tired. A little before 9pm Team 1 and the subjects began to head back down the trail to operations. It was very close to 10 when all arrived at the trail head at which point they were evaluated by the medical team waiting on scene. They were the released without incident.
Note: It's common that when the weather during the day is nice many adventurers go out of doors to enjoy it. Please go prepared for what you might experience. Cold temperatures, no readily available water, and poor trail conditions. A map and compass are also usefull tools if you know how to use them. We will come searching for you if we have to, but would ask that you be prepared. Thanks to all SAR members that responded and hiked in the cold and difficult conditions.
Giesey: L1


### END REPORTS 2016 ###